2022 James Madison vs UNC Wilmington
Janel Gamache Brings Family Fire to UNCW
Janel Gamache Brings Family Fire to UNCW
Gamache neared .400 at the plate a season ago, and she enters the home stretch of the 2022 season approaching a variety of program records.
Apr 1, 2022
by Kyle Kensing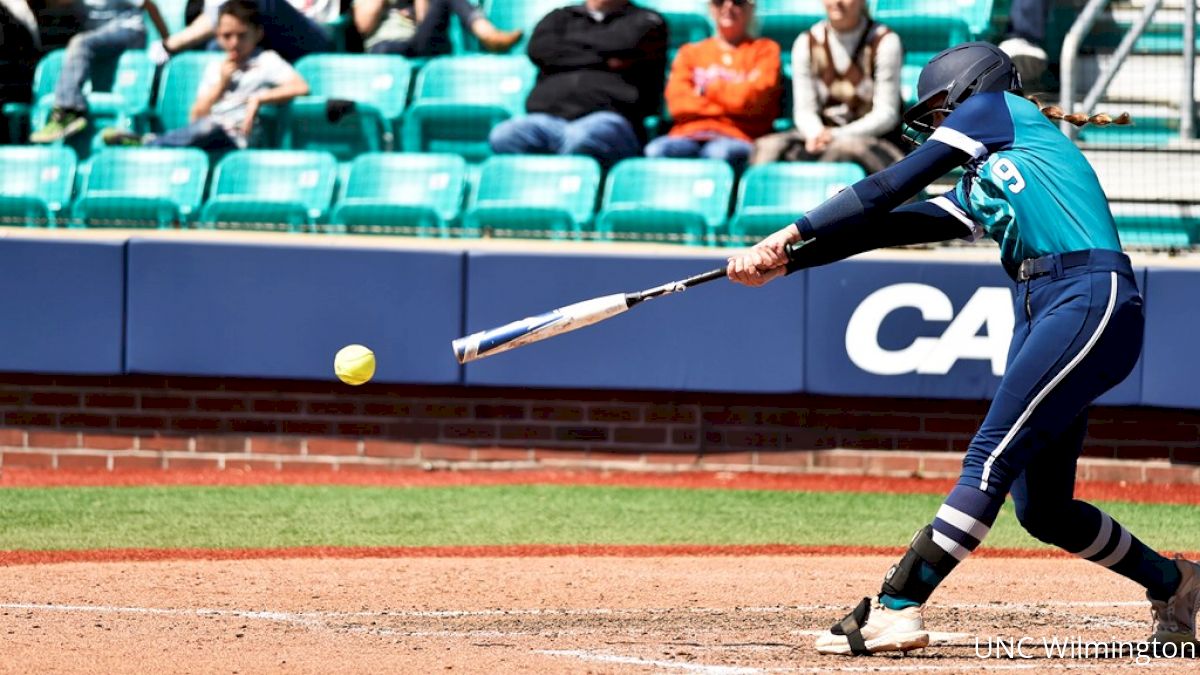 Excellence on the diamond is a family tradition that Janel Gamache is glad to carry on.
The youngest of four, the UNC Wilmington standout grew up in a line of baseball and softball players, and some quality time was spent around the games.
"It was a bonding thing," Gamache said.
"We'd all go out to the batting cages and hit with each other."
Family outings paid off. Gamache's brother Dan batted .337 with 16 home runs in three seasons at Auburn before being drafted to the Pittsburgh Pirates organization in 2011, and Reed capped his career at Binghamton batting .366 with 46 RBI in 2016.
Sister Olivia was a pitching ace at Tennessee State, then pursued coaching after college. As most any younger sibling can attest, Janel's elders provided inspiration.
"I learned by watching and wanted to try it out myself," Gamache said.
And, like siblings of any age know well, loving rivalry develops.
"It's kind of a running joke, you get asked who's the best out of the four of us. We all say ourselves," Janel said.
The youngest Gamache has a strong case as best in the family. She has excelled in all phases for the Seahawks, who at 20-6 boast the Colonial Athletic Association's best record going into April.
Gamache is batting .355 with 26 RBI on 27 hits, has fielded at better than .960, and ranks in the top 40 of all Div. I pitchers with a 1.48 ERA.
If there's anything that might give her a leg up in any sibling rivalry, being one of college softball's best batters and pitchers is an impressive accomplishment.
"Growing up," she said, "I always tried to do everything I could on the mound and on the plate, too."
Gamache doesn't prefer being at the plate over stepping into the circle, or vice versa, which might explain her success in both.
"Honestly, anyway I'm out there to help my team…that's what I want to be doing," she said.
"If it's hitting that day, it's going to be hitting. If it's playing a position or pitching, it's going to be that. Really no favorites; I try to look at them all equally."
Gamache has taken equal strides during her UNCW career in both phases. She finished the 2019 season with an ERA approaching 8.00. That number plummeted by 2021 to 3.40, and is now down at the current pace, placing her among the nation's best.
Gamache neared .400 at the plate a season ago after finishing her first season below .200, and she enters the home stretch of the 2022 season approaching a variety of program records. She's second all-time in slugging percent, fifth in RBI and third in home runs.
As she continues to climb across a bevy of statistical categories all-time, Gamache also plays a central role in the pursuit of a CAA championship and NCAA Tournament berth. She's part of an excellent pitching rotation with Amberlyn Pearce, Emily Winstead and Kara Hammock.
Along with Tayler Vitola and Morgan Britt this season, Gamache gives UNCW a consistent trio buoying the Seahawks bats.
Should this season result in a trip to the postseason, Seahawks softball can in part thank those Gamache family trips to the batting cage.