CAA
CAA Softball Report | April 12, 2022
CAA Softball Report | April 12, 2022
Catch up on the CAA Softball weekly news, notes, and awards.
Apr 12, 2022
by FloSoftball Staff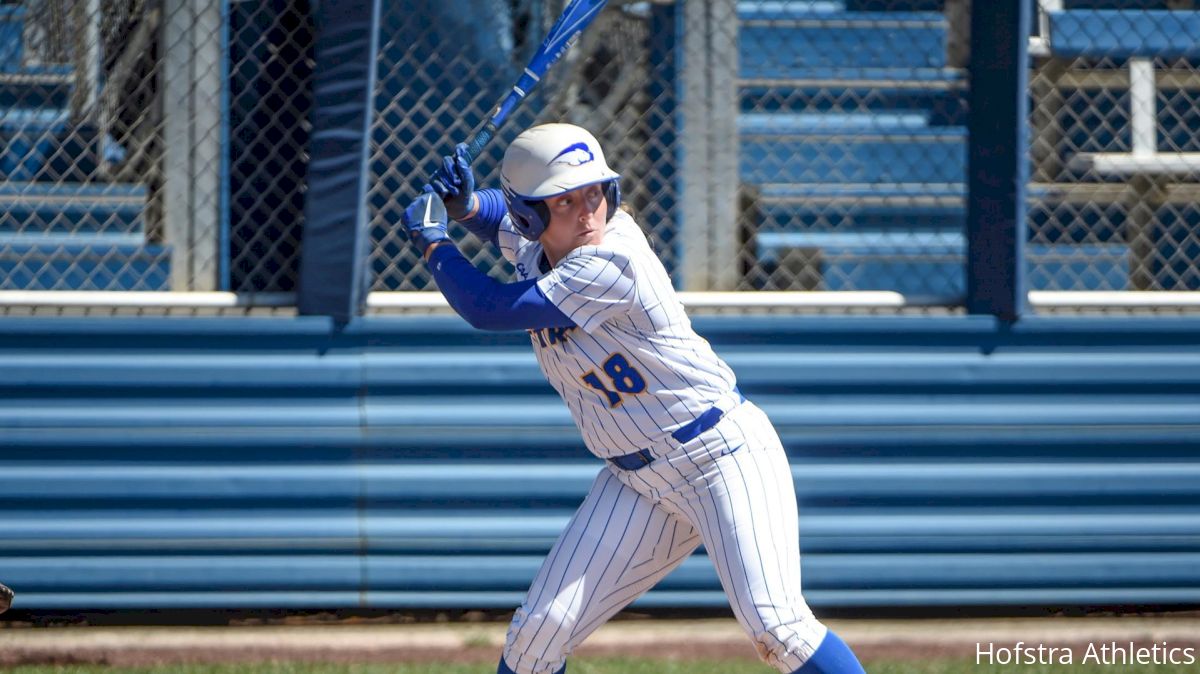 WEEKLY HONORS:
PLAYER OF THE WEEK
Meghan Giordano, Hofstra
Senior | Infield | Croton-on-Hudson, N.Y. / Croton Harmon
Giordano recorded a .556 batting average and posted a .692 on-base percentage, leading Hofstra to its third straight CAA series win, taking two of three from James Madison. The senior infielder went 5-for-9 at the plate with two home runs, three RBIs and three runs scored while drawing four walks over the weekend. Giordano tallied hits in all three games, including the game-winning single in the series opener. She went 2-for-4 in the first game of the series with a home run, two RBIs and one run scored, helping Hofstra to a 4-3 nine-inning victory. In game two, Giordano reached base four times in five plate appearances, going 2-for-3 with two walks. She hit a home run, scored two runs, and knocked in one as the Pride clinched the series victory with a 6-5 extra-inning win.
PITCHER OF THE WEEK
Emily Winburn, Delaware
Junior | Fort Lauderdale, Fla. / Chaminade Madonna
Winburn made three appearances in the circle, going 2-0 in 15.2 innings without allowing an earned run. The junior right-hander limited the opposition to a .175 batting average and collected 11 strikeouts in her work over the weekend. Winburn threw 7.1 innings in the series opener against Drexel, scattering six hits and striking out five as the Blue Hens prevailed 2-1 in 14 innings. She picked up her two wins in the final two games against the Dragons, helping Delaware earn the CAA series sweep. Winburn tossed 3.0 innings of shutout ball in relief during game two before starting the series finale and throwing 5.1 scoreless innings.
ROOKIE OF THE WEEK
Graceyn Frost, Delaware
Freshman | Pitcher | Newark, Del. / Delaware Military Academy
Frost posted a 1-0 record with a 0.60 ERA in 11.2 innings, tallying 10 strikeouts over three appearances last week. The freshman lefty picked up the win in the 14-inning series opener against Drexel. She tossed 6.2 innings of relief, scattering four hits without allowing an earned run and struck out five in the effort. Frost started game two of the series, throwing 4.0 innings, allowing one earned run and striking out four as the Blue Hens took game two and went on to sweep the weekend series. With the win, Frost improved to 11-3 this spring and leads the CAA in wins this season.
NOTES:
Charleston (7-27, 2-6 CAA): The Cougars picked up one win in three games against Elon over the weekend. Drayton Siegling went 1-0 in the circle and posted a 2.21 ERA. She threw 6.1 innings in the Charleston win, scattering seven hits and allowing two earned runs while striking out five. Noel Dominguez hit .375 to pace the Cougars, while Jenna Carter followed, batting .300. The duo recorded three hits apiece, and Carter led the team with two runs scored. Dominguez was the lone Cougar to record a hit in all three games, and she added one RBI and one run scored. Charleston will head to Winthrop for a doubleheader on Wednesday before hosting James Madison for three games this weekend.
Delaware (24-11, 7-2 CAA): The Blue Hens went 4-0, earning a CAA series sweep over Drexel after a mid-week win over Lehigh. The Delaware pitching staff was terrific, allowing just two earned runs in 33.0 innings of work. Emily Winburn went 2-0 in the circle, pitching 15.2 innings without allowing an earned run and recording 11 strikeouts. Graceyn Frost posted a 1-0 record, tossing 11.2 innings. Frost recorded a 0.60 ERA and tallied 10 strikeouts in her work. Offensively, Brittney Mendoza paced the Blue Hens, hitting .385 with team-highs in hits (5) and RBIs (8). On the base path, Hannah Garber racked up a team-best 8 runs scored and three stolen bags. Delaware has won seven games in a row following CAA sweeps on consecutive weekends. The Blue Hens will look to stay hot when they visit Towson this weekend.
Drexel (18-12, 4-5 CAA): Drexel played seven games last week, posting a 3-4 record. In the circle, Brooklyn Daly racked up 27.2 innings of work. Daly posted a 2-0 record with a 1.77 ERA and 14 strikeouts throughout the week. Jackie Masone paced Drexel hitting .370 and matched a team-high with 10 hits. Kristi DiMeo also tallied 10 hits and posted a .357 batting average for the week. DiMeo recorded hits in six of the seven games, seeing her 10-game hitting streak come to a halt in the weekend finale. Ashley Errico scored a team-best seven runs and Megan Trivelpiece recorded a team-high six RBIs. Additionally, Errico post a team-high .500 on-base percentage as she hit .300 (6-20) but drew seven walks. Drexel will play another five games this week, hosting UMES for a doubleheader on Wednesday before traveling to Elon for a three-game series over the weekend.
Elon (20-18, 3-6 CAA): The Phoenix posted a 3-1 week, picking up a mid-week win over NC A&T before earning their first CAA series win of the spring over Charleston. Gabi Schaal paced the Elon lineup, hitting .417 with a team-best five hits throughout the week. She recorded one home run, matched a team-high with three RBIs and added three runs scored. Rebecca Murray hit .308 (4-13) and scored a team-high five runs. Additionally, she had two RBIs and hit one home run. In the circle, Alexa Nemeth went 3-0, accounting for all the Phoenix winning decisions. Nemeth made all three of her appearances out of the bullpen, recording 10.2 innings of work without allowing an earned run. Elon will look to carry the momentum into this weekend as the Phoenix welcome Drexel to town for three games.
Hofstra (13-19, 6-2 CAA): The Pride won their third straight CAA series, taking two of three from James Madison over the weekend. Meghan Giordano led Hofstra offensively, recording a .556 batting average, .692 on-base percentage and 1.222 slugging percentage. Giordano tallied team-highs with five hits, two home runs, three RBIs and three runs scored. Devyn Losco hit .333 (3-9) with two runs scored and one RBI. Losco recorded a hit in all three games, extending her hitting streak to six games. On the rubber, Julia Apsel factored into all three decisions for the Pride going 2-1. Apsel tossed 16.0 innings and posted a 1.31 ERA. She held the opposition to a .148 batting average and collected 11 strikeouts in her work. Hofstra will have four home games on the schedule this week as the Pride host Fordham on Wednesday before welcoming in UNCW for three games over the weekend.
James Madison (16-18, 5-4 CAA): JMU went 1-3, falling to Virginia in a mid-week contest before dropping two of three to Hofstra. Alexis Bermudez appeared in all four games for the Dukes, posting a team-high 20.0 innings pitched. Bermudez went 1-0 with a 1.75 ERA and 18 strikeouts over her four appearances. At the plate, Hallie Hall had a team-best .462 batting average and led JMU with six hits. She had at least one hit in all four games, including two multi-hit performances, while adding three runs scored and two RBIs. Jasmine Hall had a team-high four runs scored, posting a .308 (4-13) batting average, while Hannah Shifflett, Emily Phillips and Lauren Bernett matched a team-high with two RBIs apiece. JMU will host No.12 Duke for a doubleheader on Tuesday before traveling to Charleston for a three-game series over the weekend.
UNCW (24-8, 6-3 CAA): The Seahawks took two of three from Towson to win their third straight CAA series to begin the spring. The Winstead sisters led the way for UNCW as Elizabeth hit .625 and had a team-high five hits, recording at least one in all three games. Elizabeth also tallied three stolen bases and scored one run. Emily went 1-1 in the circle, throwing 11.0 innings and posting a 1.71 ERA with 15 strikeouts. Elizabeth has now recorded a hit in each of her last five games, while Emily has struck out at least seven batters in her previous seven outings. Additionally, Arial Pearce had a team-best .667 batting average (4-6), while Anna Knox posted team-highs in runs scored (2) and RBIs (2). UNCW will remain on the road for its longest road stretch of the year. The Seahawks will finish a six-game road trip, visiting Hofstra for three games this weekend.
Towson (12-22, 2-7 CAA): The Tigers went 1-3, falling to Georgetown in non-conference competition before dropping two of three to UNCW; however, Towson did pick up a win in its final game of the weekend. At the plate, Cori Jones had at least one hit in all four games, posting a team-high .545 batting average (6-11). Briana Ramirez matched Jones' team-high six hits, recording a .400 batting average, adding two runs scored and one RBI. Rylee Penrod topped the team with four RBIs and added one run scored throughout the week. In the circle, Julia Jackson went 1-1 tossing a pair of complete games to record 14.0 innings of work. Jackson posted a 1.50 ERA and tallied eight strikeouts over her two starts. Towson remains at home for another four games this week. The Tigers will host George Mason for a mid-week contest on Wednesday before entertaining Delaware for three games over the weekend.
CLOSE AT THE TOP
• Delaware moved into first place in the conference standings following its second straight CAA series sweep. After dropping their first two conference contests, the Blue Hens have won seven straight to sit at 7-2 on the season. Hofstra and UNCW have won three straight conference series to begin the spring and have earned six CAA wins apiece. Hofstra sits in second with a 6-2 conference record, while UNCW is one game back in the loss column at 6-3. The Seahawks and Pride will meet in Hempstead this weekend for a three-game series with conference standings implications on the line.
RISING IN THE RANKS
• Drexel's Kristi DiMeo continues to climb the CAA career ranks in several categories. The graduate student ranks second in league history in batting average and runs batted in. DiMeo maintains a .412 career batting average with 220 RBIs, ranking behind Drexel alum Linda Rush in both categories (.426/245). DiMeo is also third all-time in the CAA in career home runs with 51.
HOME RUN DERBY
• James Madison broke the NCAA single-inning record for home runs with six in the fifth of game two against Radford on March 22. The Dukes lead the CAA with 53 homers this spring and rank 14th in the NCAA in home runs per game (1.54).
A CLASS OF HER OWN
• Drexel's Kristi DiMeo was among the top 30 softball student-athlete candidates selected for the 2022 Senior CLASS award. The honor highlights seniors that show exemplary excellence in four categories: community, classroom, character and competition. As a top candidate, DiMeo will be eligible for the finalist ballot that narrows the pool to 10 candidates for the award's final vote.
BIG WINS FOR THE BIRDS
• Delaware has earned three wins over Power Five opponents while Elon has picked up two.
• The Blue Hens have defeated two Big Ten adversaries, topping Purdue 6-5 in extra innings on Feb. 19 and Penn State 6-4 on Mar. 11. They also earned a convincing 12-4 win over NC State on Feb. 26.
• On Feb. 16, the Phoenix earned a walk-off win over in-state, ACC foe North Carolina, defeating the Tar Heels 4-3. Last week, Elon earned a 2-0 win over Michigan State out of the Big Ten.
HOT START DOWN SOUTH
• UNCW posted a 20-5 record through its first 25 games this spring. The 2022 team is the fastest UNCW team to reach 20 wins as the Seahawks are off to their best start in program history. UNCW ranks first in the CAA in team ERA (1.89) and is the only team below 2.00 while ranking second in batting average (.288) and third in field percentage (.965).
NEW FACES AROUND THE LEAGUE
• Three CAA teams enter 2022 under new leadership in their head coach position.
• Tracey Lynch takes over at Charleston, where she was an assistant coach during the 2013 season. For the past six years, Lynch served as an Assistant Coach at UNCG.
• The Katie Jansson era of Drexel softball starts in 2022. Jansson arrives at Drexel after three seasons of head coaching duties at her alma matter Iona.
• Adrienne Clark returns to Hofstra after an illustrious career as a student-athlete and assistant coach. During her time as a player and Assistant Coach, Clark won five CAA Championships and 14 NCAA Tournament games.
NEW MEMBERS COMING 2023
• The Colonial Athletic Association announced Hampton, Monmouth, and Stony Brook will join the conference as full members in 2023. Subsequently, CAA Softball will grow from eight teams to ten.
• Half the league will get a 2023 preview facing the newest members of the CAA this spring. Drexel will face Hampton twice at Hampton's Pirate Invitational, and see Stony Brook at the Rutgers tournament. Towson will host Monmouth for a pair of games at Towson's TU Tiger Clash. Hofstra will face Long Island rival Stony Brook in a home-and-home, while Delaware will host Monmouth in a mid-week non-conference matchup.
2021 SEASON IN REVIEW
• 2021 was a historic year in CAA Softball as James Madison become the first team in conference history to win an NCAA Super Regional, advance to the WCWS and win a game at the WCWS.
• JMU won its second consecutive CAA Tournament title following a 17-1 CAA regular season.
• James Madison's Odicci Alexander was named the Softball America Player of the Year, in addition to the D1 Softball Women of the Year and was a second-team All-American.
• The JMU coaching staff earned NFCA and D1 Softball Coaching Staff of the Year accolades, while Associate Head Coach Jennifer Herzig was named NFCA Assistant Coach of the Year.
YEAR FOR THE RECORDS
• Two of the most storied athletes in CAA Softball history battled each other in the CAA record books throughout the 2021 season.
• Drexel's Linda Rush finished her career ranked first in the CAA record books in batting average (.426), runs scored (210) and RBIs (245), while she was second in home runs (68) and hits (269).
• JMU's Kate Gordan, a three-time conference champion, ended her career as the conference's all-time leader in home runs (71). Additionally, Gordon ranks second in CAA history in batting average (.407), runs scored (201) and RBIs (200).
• Rush and Gordon are the only two players in CAA history that have recorded over 200 runs scored, 200 RBIs and 65 home runs.
2022 PRESEASON RUNDOWN
• We return to a traditional 21-game round-robin format in conference play, with each team playing one three-game series against all conferences teams throughout the season.
• James Madison was picked atop the CAA preseason poll with six first-place votes and 48 total points. Delaware received one first-place vote and 42 points, while Elon collected the final first-place vote and 35 points to finish second and third, respectively. Fourth through sixth were separated by just six points, as Hofstra tallied 28, Drexel totaled 24, and UNCW accumulated 22. Charleston and Towson rounded out the field with 14 and 11 points, respectively.
• The 2022 CAA Softball Championship is set to take place May 12-14 at Hunt Softball Park on the campus of Elon University.