2022 Georgetown vs DePaul - DH, Game 1
DePaul's Anna Wohlers Quickly Acclimates To BIG EAST Softball
DePaul's Anna Wohlers Quickly Acclimates To BIG EAST Softball
The freshman Blue Demon has hit .360 and started in each of DePaul's first 40 games, she's also driven in 25 runs and knocked six home runs.
Apr 22, 2022
by Kyle Kensing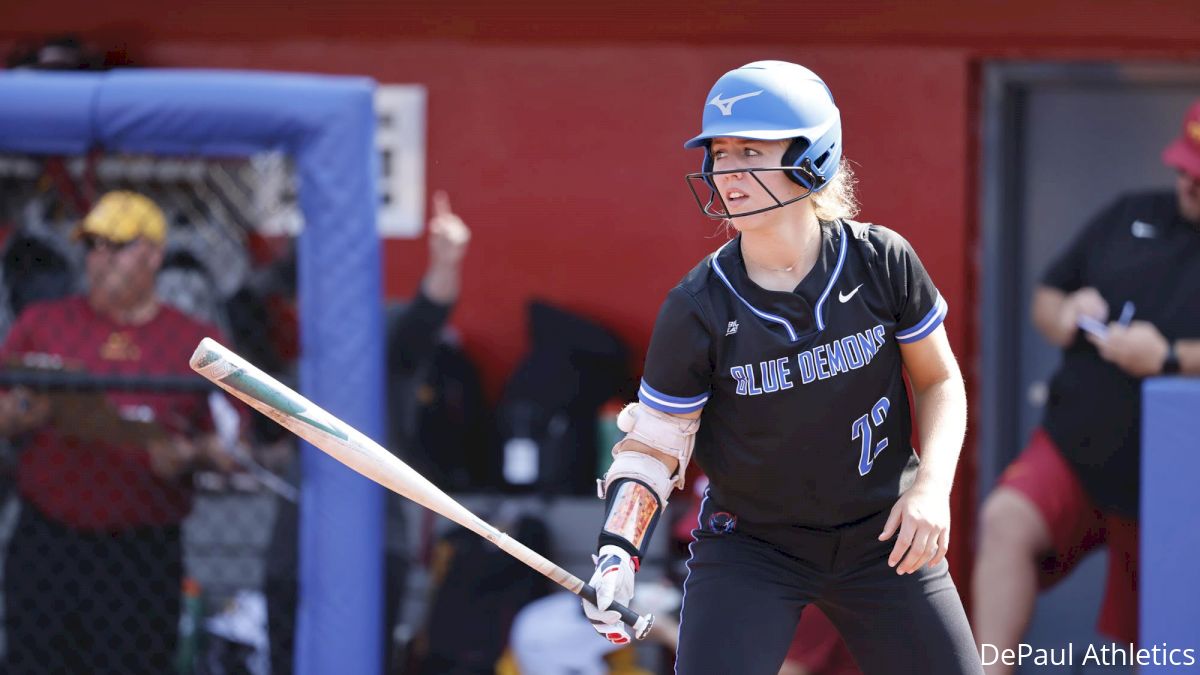 With the impact she made immediately for DePaul, catcher Anna Wohlers has looked like there were no adjustments needed going from high school to BIG EAST softball.
Not so.
"I'm getting used to the weather still," Wohlers said.
"For Iowa [Girls High School Athletic Union], we played in the summer. It was always nice and warm. Playing in the cold was pretty different; I'm still trying to get used to it."
Winter and early spring can certainly be brisk throughout the BIG EAST Conference's regional footprint, but Wohlers' bat has been red hot.
The freshman Blue Demon has hit .360 and started in each of DePaul's first 40 games, she's also driven in 25 runs and knocked six home runs. Only Brooke Johnson has more homers with 11—not just on the DePaul roster, but across the entire BIG EAST.
BLUE DEMONS GO BACK-TO-BACK!

Anna Wohlers goes yard for the fourth time this season and its 2-0!#BlueGrit pic.twitter.com/JYWFpGdftb

— DePaul Softball (@DePaulSB) April 15, 2022
To say Wohlers, a product of Davenport's Assumption High School, has acclimated quickly and effectively to college competition is an understatement, reflected in a dual conference Player and Freshman of the Week selection the first week of April. Wohlers finished with six hits and four RBI in a series win over Villanova, helping set the tone for the Blue Demons' 10-2 mark for the month ahead of the last full weekend.
Pursuit of the BIG EAST Tournament and a bid in the NCAA Tournament is warming up. DePaul's April surge has the team firmly in the mix of a five-team race to the top of the league with UConn, Villanova, Butler and Providence. Despite the cold, Wohlers has been an integral part of that chase.
For as naturally as she's transitioned to college both at and behind the plate, though, it wasn't just the weather that presented some new challenges.
Wohlers said strength and conditioning coordinator Jimmy Duba's program required adjustment.
"Hitting the weight room two to three times a week in college is different from high school," she said.
"Having coach Jimmy really pushing us in the weight room, it's shown in the field and in my hitting."
ANNA WOHLERS HAVE A DAY!

Down to the last out, @annakw16 sends a solo shot to center field to tie the game in the seventh!#BlueGrit pic.twitter.com/uIIJupAYfi

— DePaul Softball (@DePaulSB) March 25, 2022
With Duba helping build Wohlers' physical strength, the Davenport product credited her veteran teammates for the mental approach.
She described the feedback from seniors as invaluable, helping her view the college game as just that.
"It's a game," Wohlers said.
"And I love to play it."
Wohlers loves her teammates, too, and the bond among the Blue Demons is at the heart of DePaul's entire push for the postseason. The squad's upperclassmen seek a return after last reaching the NCAA Tournament in 2019.
"This is their last go-around. Most of them have been in it, like Maranda [Gutierrez] and Skylor [Hilger] but it would be really nice to cap them off with a BIG EAST Tournament win this year," Wohlers said.
"They've done a great job and I really look up to them," she also said of the seniors.
"I'm going to miss them next year, and the whole team will, too."
While the Blue Demons aim to conclude these next few weeks on a high for the seniors, the freshman Wohlers still has plenty of college softball still to come. And she's just getting warmed up.