BIG EAST Softball
Alvers, Johnson & Rauch Earn #BIGEASTsb Weekly Awards
Alvers, Johnson & Rauch Earn #BIGEASTsb Weekly Awards
Brooke Johnson batted .555 on the weekend with a pair of home runs and 5 runs scored.
Apr 25, 2022
by FloSoftball Staff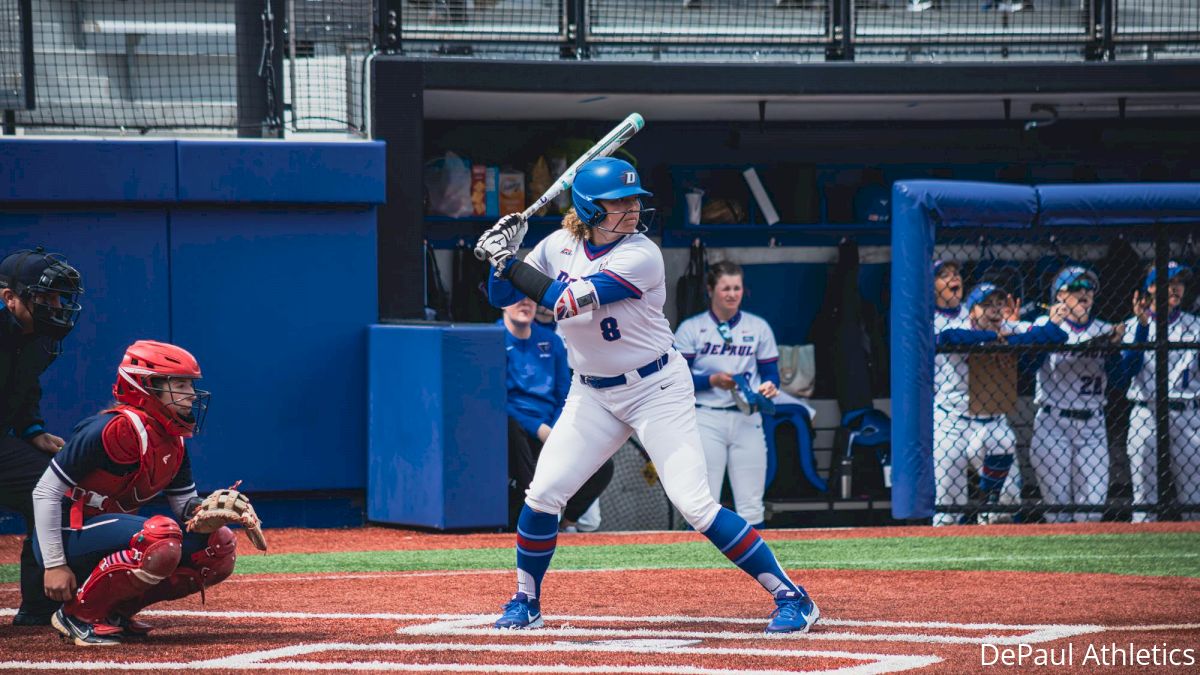 BIG EAST Softball Player and Freshman of the Week
Brooke Johnson, DePaul, Jr., 1B (Chini Hills, Calif.)
DePaul's Brooke Johnson had a big weekend at the dish as part of the Blue Demons' sweep over Georgetown in Chicago. The junior batted .555 on the weekend with a pair of home runs and five runs scored. Johnson had multiple hits in each of the final two games against the Hoyas, and also drove in 10 runs in the series. On the week, Johnson had eight base hits, five of which went for extra bases.
BIG EAST Softball Pitcher of the Week
Paige Rauch, Villanova, Gr., P/UT (Windsor, N.Y.)
Villanova's Paige Rauch made history again this weekend as she pitched her second career no-hitter in Sunday's win over Providence. The graduate struck out four batters and allowes just two baserunners en route to the 35th no-no in Villanova softball history. Rauch also fired a complete-game, three-hit shutout in game one of the series while striking out 10 as the Wildcats did not surrender a run to Providence in the three-game sweep.
BIG EAST Softball Freshman of the Week
Carly Alvers, DePaul, Fr., INF (Mokena, Ill.)
DePaul freshman Carly Alvers stepped up in a big way in the weekend sweep over Georgetown. The Mokena, Ill. native went 4-for-8 in the series with two home runs, both of which came in game two of Saturday's doubleheader. Alvers also drove in five runs in that game two victory, while scoring two runs herself to help lead the Blue Demons to victory.
BIG EAST Softball Weekly Honor Roll
Alyssa Graves, Butler, Gr., P (East Peoria, Ill.) – Graves was lights out in 16 innings of work this past weekend against Creighton. The graduate fired two complete game two-hitters, the second of which was a shutout in Sunday's series finale.
Briana Marcelino, UConn, Gr., INF (Easton, Conn.) – Marcelino hit .454 in the weekend sweep over Seton Hall. The graduate has multiple hits in the final two games of the series, while also hitting one over the fence in each of the three games in South Orange.
Elise Sokolsky, UConn, Fr., P (Centerton, Ark.) – Sokolsky had 15 strikeouts in nine innings of work this past weekend against Seton Hall. She went five innings in Friday's victory, allowing just one hit and one run while striking out eight.
Erin Hocker, DePaul, Sr., P (Great Falls, Mont.) – Hocker went six innings in Saturday's victory over Georgetown. The senior allowed just four hits and two earned runs while striking out four.
Megan Kern, Villanova, Sr., SS (Royersford, Pa.) – Kern went 4-for-9 in the weekend sweep on the road at Providence. The shortstop went 2-for-3 in Saturday's win, including launching her eighth home run of the season.