CAA
Softball Greatness Only Part Of Who Lauren Bernett Was
Softball Greatness Only Part Of Who Lauren Bernett Was
Friends, family, JMU teammates and the softball community mourn the loss of Lauren Bernett.
Apr 26, 2022
by Kyle Kensing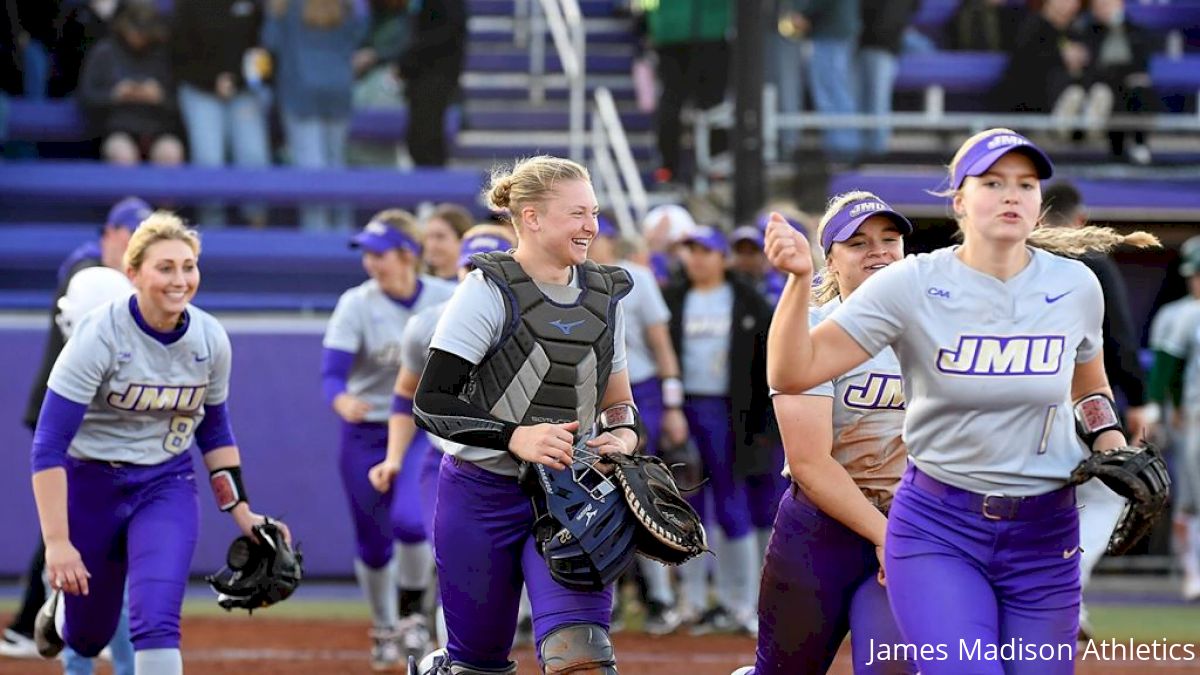 News of Laurent Bernett's death April 26 at age 20 labeled her a James Madison softball player, and her successes on the diamond should indeed be celebrated. But Bernett's passing takes a daughter, a friend, a student, and a softball player far too soon.
Softball is unquestionably a central part of Bernett's story. For those in the JMU community, and the larger softball community, her place in Dukes history will never be forgotten.
Bernett was front-and-center in what was arguably the definitive moment of James Madison's 2021 Women's College World Series run, pointing and jumping with joy as Odicci Alexander made a diving tag at the plate to put out an Oklahoma State baserunner.
That moment of elation puts Bernett in the foreground of Dukes softball's most iconic moment, but more importantly, the Dukes may not have reached that moment without Bernett's presence on the roster.
She was virtually perfect on defense throughout 2021, catching for both Alexander and fellow freshman standout Alissa Humphrey. Bernett's work behind the plate places her in so many plays beyond the tag that shape JMU history.
Alexander shared a snapshot of the memories, a moment caught in time that is now both bitter and sweet.
Love you LB 💔 pic.twitter.com/4nHtx3PODR

— Odicci Alexander (@2seas__) April 26, 2022
In 2022, Bernett was becoming as outstanding at the plate as behind it. Her April included a walk-off homer against Hofstra…
IT'S A WALK-OFF!! DUKES WIN!

Lauren Bernett takes the first pitch of the seventh over the wall in center to cap the weekend with a win!#GoDukes pic.twitter.com/XJt6vzKT0m

— JMU Softball (@JMUSoftball) April 10, 2022
…matching a James Madison program-record seven RBI against Charleston, and a 7-of-9 weekend to lead a sweep of Drexel.
Bernett's stellar hitting against the Dragons earned Colonial Athletic Association Player of the Week, an honor announced the day before her death.
🥎 𝐏𝐥𝐚𝐲𝐞𝐫 𝐨𝐟 𝐭𝐡𝐞 𝐖𝐞𝐞𝐤 🥎

Lauren Bernett has been named the conference Player of the Week after her impressive performance this weekend!

📰 https://t.co/954Q6Gnhe2#GoDukes pic.twitter.com/ssxzJh6uTA

— JMU Softball (@JMUSoftball) April 25, 2022
Noting the myriad incredible achievements she reached in softball is essential for explaining why she'll be remembered even by those who never met her. For those who did, softball expanded the scope of family who now feel the pain of her loss, and who will now be entrusted with keeping a light on her memory.
A joint statement JMU president Jonathan Alger and athletic director Jeff Bourne issued touches on those relationships:
"College athletics is great because of the people with whom we get to interact every day. We are a tight family. We are grateful that Lauren has been part of our JMU Athletics community and will always consider her to be a Duke. We will miss her dearly."
The game is only a part of who Bernett—or any athlete—is. And it's of dire importance for anyone involved in the games to remember that while their feats seem superhuman, even the greatest in their sport are still human.
The people we see beamed from around the world doing the extraordinary are still sons and daughters‌, brothers and sisters, friends and even family to teammates. At the college level, they are students with the same challenges as their peers, but with the added pressure of performing at peak physical level with captive audiences following their moves.
Softball lost a great player in Lauren Bernett. But more importantly, friends and family lost one of their own.