CAA Softball
CAA Softball Report | May 3, 2022
CAA Softball Report | May 3, 2022
Catch up on the CAA Softball weekly news, notes, and awards.
May 4, 2022
by FloSoftball Staff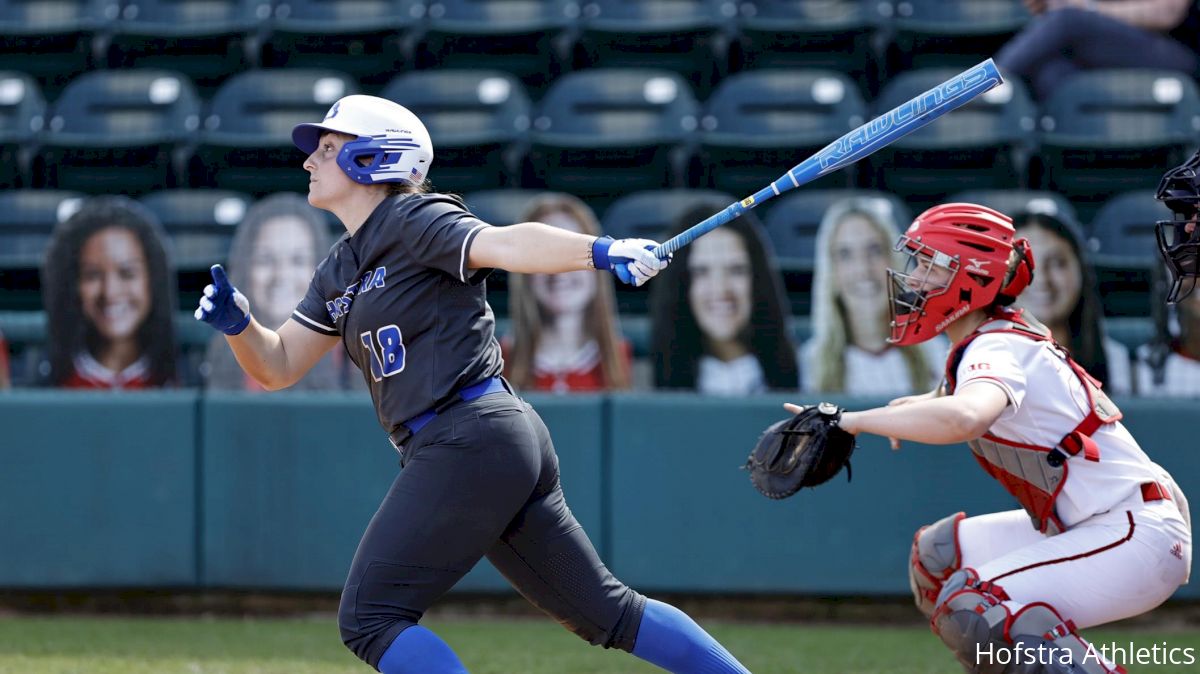 WEEKLY HONORS:
PLAYER OF THE WEEK
Meghan Giordano, Hofstra
Senior | Shortstop | Cronton-on-Hudson, N.Y. / Cronton Harmon
Giordano hit .500 (5-for-10) with seven RBIs and four runs scored, recording a .571 on-base percentage over the week as Hofstra clinched a CAA tournament berth following a series win over Drexel. The senior shortstop recorded at least one hit in all four games throughout the week, extending her hitting streak to six games and her reached base streak to 16. In the conference series, Giordano hit .429 (3-for-7) with a homer, six RBIs, three runs scored and two walks, leading the Pride to a doubleheader sweep and series victory.
PITCHER OF THE WEEK
Carli McCants, Charleston
Junior | Andrews, S.C. / Andrews
McCants went 2-0 in three appearances, pitching 17.2 innings without allowing an earned run and striking out 16 in a 4-1 week for Charleston. In a CAA series against Towson, the junior right-hander tossed a pair of complete game shutouts, leading the Cougars to their first conference series sweep this spring. In the series opener, McCants scattered four hits and fanned nine, allowing Charleston to pick up a 2-0 victory. She concluded the weekend limiting the Tigers to three hits and a .130 batting average, while collecting five strikeouts as the Cougars completed the weekend sweep with a 1-0 win.
ROOKIE OF THE WEEK
Taylor Cherry, Elon
Freshman | Pitcher | Suffolk, Va. / Nansemond River
Cherry posted a 2-0 record in two appearances with a 0.70 ERA and seven strikeouts in 10.0 innings pitched, helping Elon to a series win over UNCW. The freshman righty allowed just two hits in her work, limiting the Seahawks to a .069 batting average while she was in the circle. Cherry started the series opener, throwing a complete game with five strikeouts, allowing just two hits and one earned run in a 3-1 victory for the Phoenix. She entered the circle in relief during the series finale, pitching 3.0 innings without surrendering a hit and striking out to as Elon prevailed in eight innings 1-0.
NOTES:
Charleston (14-35, 7-10 CAA): The Cougars went 4-1, splitting a mid-week doubleheader with Winthrop before sweeping a CAA series against Towson. The Cougars' pitching staff was terrific. Carli McCants went 2-0 and did not allow an earned run in 17.2 innings pitched. McCants recorded 16 strikeouts and held the opposition to a .133 batting average. Peyton Lemire was nearly as impressive, going 2-0 in the circle with a 0.50 ERA. Lemire recorded back-to-back complete games, throwing 14.0 innings and collecting seven strikeouts. At the plate, Noel Dominguez hit a team-best .357, recording a team-high five hits. She recorded one hit in all five games, extending her hit streak to eight games. Charleston will conclude its regular season at Delaware, looking to secure a berth in the CAA tournament.
Delaware (28-14, 11-4 CAA): The Blue Hens did not play last week but will be back in action this weekend. Delaware will finish the regular season by hosting Charleston on Friday and Saturday. This season, Hanna Garber paces Delaware hitting .368 with team-highs in hits (53), stolen bases (16) and runs scored. Garber leads the CAA with 48 runs scored and ranks fourth in batting average. Additionally, Brooke Glanden (.321) leads the team in home runs (9) and RBIs, ranking second in the conference with 38 RBIs. In the circle, the Blue Hens feature the one-two punch of Gracyn Frost and Emily Winburn. Frost is 13-4 on the season with a 2.76 ERA, and 97 strikeouts in 106.1 innings pitched. Winburn is 12-8 this spring, sporting a 2.75 ERA in 122.1 innings of work and ranks third in the CAA with 108 strikeouts.
Drexel (24-22, 5-13 CAA): Drexel picked up three non-conference wins before dropping two of three against Hofstra in a CAA series over the weekend. Ameryn Humble recorded a team-high nine hits, including three multi-hit games, posting a .409 batting average throughout the week. Humble scored five runs to lead Drexel while knocking in four. Sarah Clinton hit .353 (6-17) and recorded at least one hit in all five games she appeared. Clinton paced Drexel with six RBIs and added four runs scored. In the circle, Jessica Schable led the effort, going 2-0 in her two starts. Schable tossed a pair of complete games, posting a 2.00 ERA and striking out 11 while limiting the opposition to a .192 batting average. Drexel concludes the regular season with a three-game set against UNCW this weekend.
Elon (27-20, 10-8 CAA): The Phoenix took two of three from UNCW and in doing so secured a berth in the CAA tournament. Elon's pitching staff had a pair of outstanding performances. Taylor Cherry led the way, picking up both Phoenix wins, going 2-0 in the circle. Cherry posted a 0.70 ERA with seven strikeouts in 10.0 innings of work while holding the opposition to a .069 batting average. McKenna McCard made two appearances, throwing 5.0 innings without allowing an earned run and limiting the Seahawks to a .063 batting average against her. Offensively, Drew Menscer was the lone player for Elon to record more than one hit. Menscer posted a .625 on-base percentage to lead the team, going 3-for-6 with two walks. She recorded a team-high three runs scored, while Rebecca Murray had two RBIs to pace the Phoenix. Elon will be back in action for the CAA Championship, awaiting play in the conference tournament.
Hofstra (18-25, 11-6 CAA): The Pride dropped a mid-week contest to Stony Brook before taking two of three from Drexel over the weekend, clinching a berth in the CAA tournament. Meghan Giordano hit .500 (5-10) throughout the week and posted a team-high .571 on-base percentage. Additionally, she recorded a double, homer and led Hofstra with seven RBIs and four runs scored. Chelsea Manto recorded a team-best eight hits in 16 at-bats for a .500 batting average. She recorded at least one hit in all four games, including a pair of multi-hit efforts. Manto also led the team with four stolen bases and matched a team-high with four runs scored. Haley Venturini made three appearances in the circle, going 1-0 with a 1.85 ERA. She threw 11.1 innings, tallying 10 strikeouts while holding the opposition to a .139 batting average. Hofstra will play LIU on Tuesday before visiting Towson for a series this weekend.
James Madison (21-21, 10-5 CAA): JMU announced the decision to cancel the remainder of its season due to the unfortunate passing of sophomore catcher Lauren Bernett. The Dukes finished the year 21-21 overall with a 10-5 record in CAA play. Offensively, JMU leads the CAA, scoring 5.5 runs per game and 66 home runs. The Dukes rank 14th in the nation, averaging 1.57 home runs per game. Hannah Shifflet leads the CAA with a .393 batting average and 15 home runs while ranking third in the league with 53 hits. She also recorded team-highs with 39 RBIs and 42 runs scored. In the circle, Alissa Humphrey tossed a team-high 130.1 innings and ranks second in the CAA with 136 strikeouts.
UNCW (28-13, 10-8 CAA): The Seahawks earned one win against Elon this weekend and clinched a berth in the CAA tournament. Emily Winstead was on the wrong side of two losing decisions. Despite going 0-2, Winstead tossed a team-high 15.0 innings and posted a 1.40 ERA while holding the Phoenix to a 0.43 batting average. Additionally, she recorded 24 strikeouts and set the UNCW single-season freshman record for strikeouts in a season. Kara Hammock picked up the win for the Seahawks, throwing 6.0 innings without allowing an earned run in the UNCW victory. At the plate, Tayler Vitola hit .429 (3-7) and posted a .600 on-base percentage while scoring a team-best three runs. Morgan Britt was the other Seahawk to record multiple hits (2-8) over the weekend and paced UNCW with three RBIs. UNCW will finish the regular season on the road with three games at Drexel this weekend.
Towson (14-31, 4-14 CAA): The Tigers dropped all three games to Charleston during their weekend series. Mackenzie Lake, Chloe Poulich and Briana Ramirez recorded one hit in all three games against Charleston to lead Towson with three hits apiece. Poulich picked up the Tigers' lone RBI, while Ramirez scored one run. Despite losing a pair of decisions, Julia Jackson posted a 1.75 ERA with five strikeouts in 12.0 innings. She scattered nine hits and allowed three earned runs over her two appearances. Towson will conclude its season at home this weekend, hosting Hofstra for a three-game series.
ONE TICKET PLEASE
• Three teams clinched a CAA tournament berth last weekend, leaving one spot for two teams. Elon, Hofstra and UNCW secured their spot in the conference tournament, joining Delaware, who clinched the first tournament berth. Charleston and Drexel are the final two teams battling for the last spot in the tournament field this weekend.
FRESHMEN PHENOMS
• Drexel shortstop Jackie Masone and UNCW pitcher Emily Winstead were named to the Schutt Sports/NFCA Freshman of the Year Top 25 announced by the NFCA on April 28.
• Masone is hitting .365 with nine doubles, seven homers, 25 RBIs and 37 runs scored. She ranks fourth in the conference in runs scored and fifth in batting average.
• Winstead has a 10-8 record in 22 appearances this season with a 1.84 ERA and 162 strikeouts. She leads the CAA in ERA, strikeouts, strike-out-to-Walk ratio (3.68) and strikeouts per seven innings (9.9).
HARD TO SWEEP A SERIES
• The brooms have stayed in the closet for the most part throughout CAA play, as there have only been five sweeps in 23 conference series. Home and road splits have been fairly close as the home teams have claimed 14 series victories while the visitor has won nine.
RISING IN THE RANKS
• Drexel's Kristi DiMeo continues to climb the CAA career ranks in several categories. The graduate student ranks second in league history in runs batted in and third in batting average as well as home runs. DiMeo has 226 career RBIs while maintaining a .401 batting average with 52 home runs.
A CLASS OF HER OWN
• Drexel's Kristi DiMeo was among the top 30 softball student-athlete candidates selected for the 2022 Senior CLASS award. The honor highlights seniors that show exemplary excellence in four categories: community, classroom, character and competition. As a top candidate, DiMeo will be eligible for the finalist ballot that narrows the pool to 10 candidates for the award's final vote.
BIG WINS FOR THE BIRDS
• Delaware has earned three wins over Power Five opponents while Elon has picked up two.
• The Blue Hens have defeated two Big Ten adversaries, topping Purdue 6-5 in extra innings on Feb. 19 and Penn State 6-4 on Mar. 11. They also earned a convincing 12-4 win over NC State on Feb. 26.
• On Feb. 16, the Phoenix earned a walk-off win over, ACC foe North Carolina, defeating the Tar Heels 4-3. Mar. 4, Elon earned a 2-0 win over Michigan State out of the Big Ten.
HOT START DOWN SOUTH
• UNCW posted a 20-5 record through its first 25 games this spring. The 2022 team is the fastest UNCW team to reach 20 wins, marking its best start in program history. UNCW ranks first in the CAA in team ERA (1.83) and is the only team below 2.00. The Seahawks sit fourth in batting average (.267) and third in field percentage (.963).
NEW FACES AROUND THE LEAGUE
• Three CAA teams enter 2022 under new leadership in their head coach position.
• Tracey Lynch takes over at Charleston, where she was an assistant coach during the 2013 season. For the past six years, Lynch served as an Assistant Coach at UNCG.
• The Katie Jansson era of Drexel softball starts in 2022. Jansson arrives at Drexel after three seasons of head coaching duties at her alma matter Iona.
• Adrienne Clark returns to Hofstra after an illustrious career as a student-athlete and assistant coach. During her time as a player and Assistant Coach, Clark won five CAA Championships and 14 NCAA Tournament games.
NEW MEMBERS COMING 2023
• The Colonial Athletic Association announced Hampton, Monmouth, and Stony Brook will join the conference as full members in 2023. Subsequently, CAA Softball will grow from eight teams to ten.
• Half the league will get a 2023 preview facing the newest members of the CAA this spring. Drexel will face Hampton twice at Hampton's Pirate Invitational, and see Stony Brook at the Rutgers tournament. Towson will host Monmouth for a pair of games at Towson's TU Tiger Clash. Hofstra will face Long Island rival Stony Brook in a home-and-home, while Delaware will host Monmouth in a mid-week non-conference matchup.
2021 SEASON IN REVIEW
• 2021 was a historic year in CAA Softball as James Madison become the first team in conference history to win an NCAA Super Regional, advance to the WCWS and win a game at the WCWS.
• JMU won its second consecutive CAA Tournament title following a 17-1 CAA regular season.
• James Madison's Odicci Alexander was named the Softball America Player of the Year, in addition to the D1 Softball Women of the Year and was a second-team All-American.
• The JMU coaching staff earned NFCA and D1 Softball Coaching Staff of the Year accolades, while Associate Head Coach Jennifer Herzig was named NFCA Assistant Coach of the Year.
YEAR FOR THE RECORDS
• Two of the most storied athletes in CAA Softball history battled each other in the CAA record books throughout the 2021 season.
• Drexel's Linda Rush finished her career ranked first in the CAA record books in batting average (.426), runs scored (210) and RBIs (245), while she was second in home runs (68) and hits (269).
• JMU's Kate Gordan, a three-time conference champion, ended her career as the conference's all-time leader in home runs (71). Additionally, Gordon ranks second in CAA history in batting average (.407), runs scored (201) and RBIs (200).
• Rush and Gordon are the only two players in CAA history that have recorded over 200 runs scored, 200 RBIs and 65 home runs.
2022 PRESEASON RUNDOWN
• We return to a traditional 21-game round-robin format in conference play, with each team playing one three-game series against all conference teams throughout the season.
• James Madison was picked atop the CAA preseason poll with six first-place votes and 48 total points. Delaware received one first-place vote and 42 points, while Elon collected the final first-place vote and 35 points to finish second and third, respectively. Fourth through sixth were separated by just six points, as Hofstra tallied 28, Drexel totaled 24, and UNCW accumulated 22. Charleston and Towson rounded out the field with 14 and 11 points, respectively.
• The 2022 CAA Softball Championship is set to take place May 12-14 at Hunt Softball Park on the campus of Elon University.