2022 Big East Softball Championship Game #2
BIG EAST Softball Championship Preview: Top Four Battle
BIG EAST Softball Championship Preview: Top Four Battle
The best teams from the league's regular season will play to determine who is worthy to advance to the NCAA tournament with an automatic bid.
May 10, 2022
by Briar Napier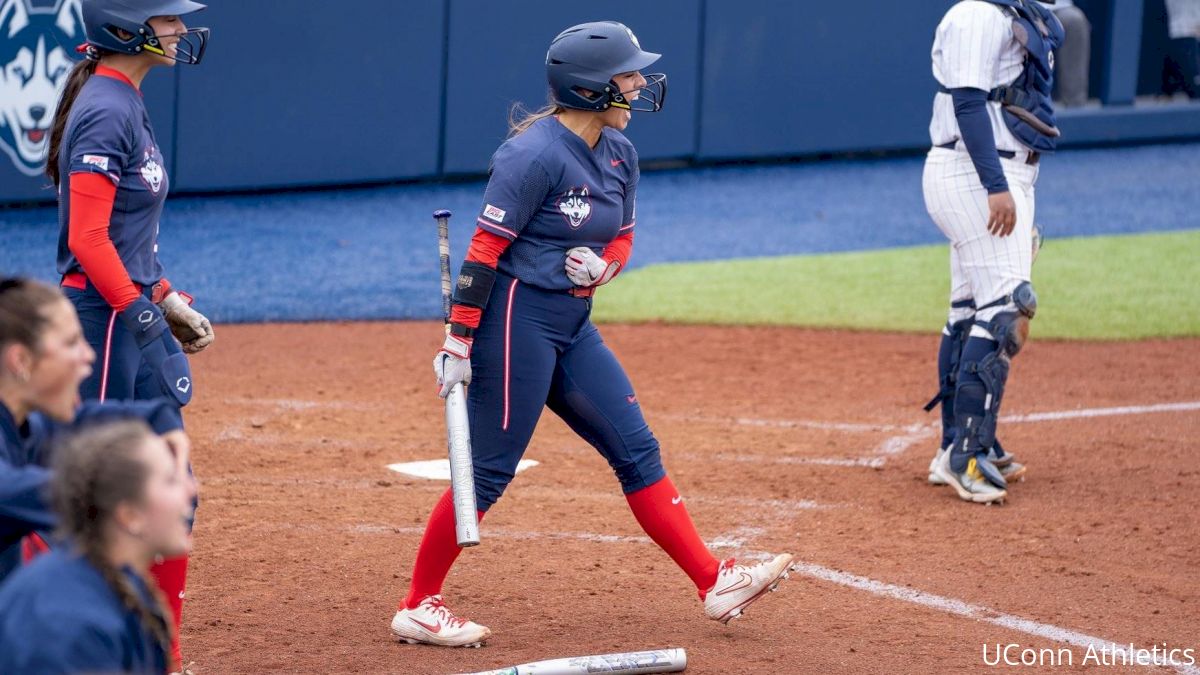 The BIG EAST softball season is reaching its thrilling conclusion, though only one of four teams can represent the league at the highest stage in college softball—the NCAA Tournament.
Which school that is will be decided through the weekend—from Thursday to Saturday—at the Parkway Bank Sports Complex in Rosemont, Illinois. The best teams from the league's regular season will duke it out to determine who is worthy of advancing on to the next round of the postseason as an automatic bid.
Check out what to expect from each of the four teams qualified for the BIG EAST Softball Championship, which will be partly streamed live on FloSoftball later this week.
No. 4 DePaul Blue Demons
The record: 28-22 (16-8 BIG EAST)
The lowdown: Things were a touch-and-go for DePaul as it sat 6-6 in league play early on this year, but the Blue Demons ended up winning 10 of their final 12 BIG EAST games to close out the regular season and comfortably clinch a spot in the postseason. The conference's leader in a plethora of offensive categories including team batting average (.288), home runs (54) and RBI (282), DePaul is fun to watch and has the firepower to beat any team on any given night through an offensive explosion.
Junior first baseman Brooke Johnson leads the charge at the plate and is almost certainly on her way to an All-BIG EAST selection with a statline of a .376 average, 13 homers and 49 RBI, though she's merely one of seven different players on the roster that has at least 25 RBI to their name this year. DePaul's main detraction might be that it likes to beat up on lesser competition. Against the other three teams in the bracket, the Blue Demons were a measly 3-6 in the regular season—a mark that includes being swept by its first-round opponent, UConn, back in March.
When to watch: vs. UConn, Thursday, May 12 at 12:00 p.m. ET on FloSports
No. 3 Villanova Wildcats
The record: 29-22 (16-7 BIG EAST)
The lowdown: The reigning BIG EAST Championship title holders, the Wildcats don't have all the personnel from the 37-15 team a year ago, but don't think for a second that 'Nova can't go out and win the whole thing again. The regular season-ending series against UConn—which included a 4-2 win over the Huskies in the finale—provided a good litmus test for a strong Wildcats team that features the league's top defense by fielding percentage (.968), an elite rotation (2.80 ERA) and one of the BIG EAST's top hitting duos in junior third baseman Chloe Smith (.340 average) and senior shortstop Megan Kern (.331).
Grad student Paige Rauch is the ace on the mound, holding a 14-6 record with a 2.53 ERA over 127⅓ innings, though senior Sara Kennedy's steady hand (2.82 ERA) has additionally helped out the Wildcats when Rauch isn't available. Villanova also had a 12-game winning streak in April—when the Cats get going, they're a tough unit to slow down.
When to watch: vs. Butler, Thursday, May 12 at 3 p.m. ET on FloSports
No. 2 Butler Bulldogs
The record: 31-15 (16-6 BIG EAST)
The lowdown: What's one of the easiest ways to win a softball game? Don't allow runs. No team was better at that in the BIG EAST than Butler, who led the league by far in team ERA (2.53). Only now does the Bulldogs' rotation really seem to be hitting its stride. Starting with a 3-0 shutout win over Purdue-Fort Wayne on April 19, Butler has allowed more than one run just twice in 10 games to close out the regular season, with the pitching pair of Alyssa Graves (1.91 ERA) and Karli Ricketts (2.21)—the two lowest single ERAs in the league—looking as dominant as ever.
Nonetheless, that strength in pitching has hidden what could be a fatal flaw in the Bulldogs' game: hitting. Except for St. John's, Butler had the lowest numbers in all of the league in home runs (27) and RBI (161) along with bottom-half numbers in slugging percentage and on-base percentage. The Bulldogs only hit double-digit runs once in 46 games. The strategy has gotten them this far, but can it stick long enough to earn an NCAA Tournament berth?
When to watch: vs. Villanova, Thursday, May 12 at 3 p.m. ET on FloSports
No. 1 UConn Huskies
The record: 36-16 (20-4 BIG EAST)
The lowdown: Consistency was vital in UConn establishing a team identity during the regular season. Never losing back-to-back games against league foes sets up the Huskies well for the double-elimination format that awaits them in the BIG EAST Championship. But a major reason second-year coach Laura Valentino's team is in this spot is because its hyper-aggressive style of softball is paying dividends.
UConn is fast and furious on the basepaths with 123 stolen bases, with graduate infielder Briana Marcelino having the most on the team (36), who is also a dangerous hitter (.366 average). Throw in a pitching staff that knows how to find the strike zone—UConn led the league in both most strikeouts (369) and fewest walks (98)—and it makes for a barrage few BIG EAST teams could handle, evidenced by the Huskies strong record in conference play. Assertive yet controlled, UConn is staring a tournament berth in the face, and now controls one more thing—its destiny.
When to watch: vs. DePaul, Thursday, May 12 at 12:00 p.m. ET on FloSports