2022 National Invitational Softball Championship
Top Talent Ready For Spotlight At 2022 NISC
Top Talent Ready For Spotlight At 2022 NISC
Featuring some of the nation's best batters, pitchers and defenders - proven veterans and freshmen phenoms alike - many can steal the show at the NISC.
May 18, 2022
by Kyle Kensing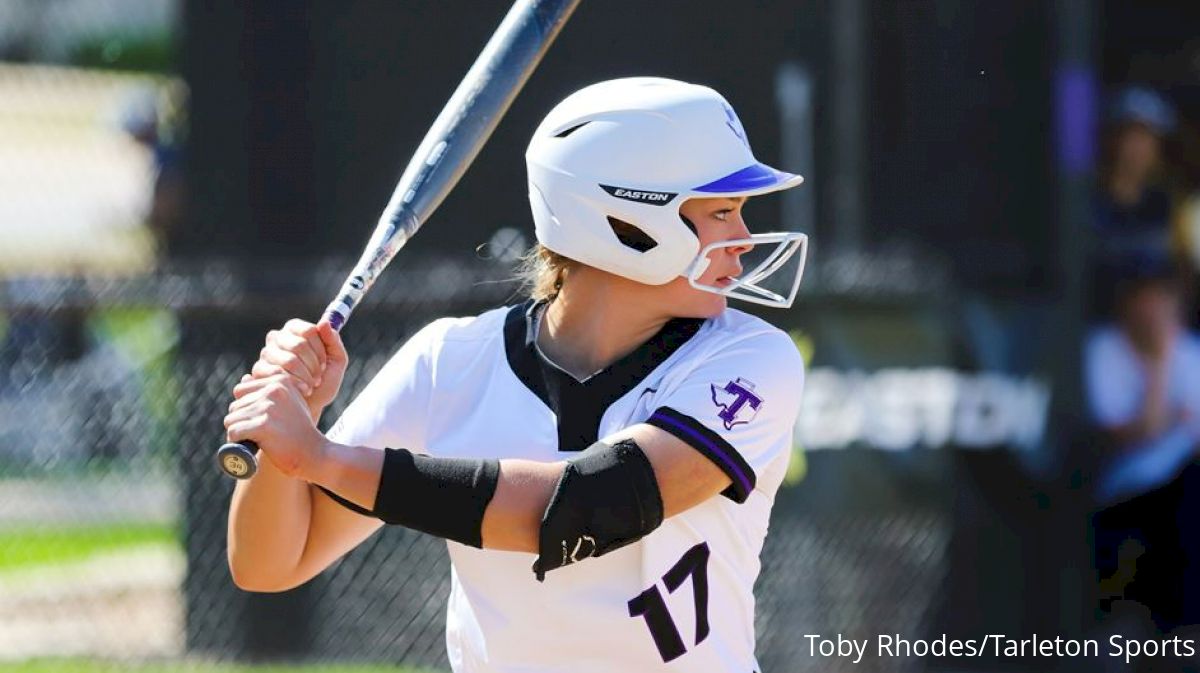 Tournament time is when stars shine their brightest, and the field at the 2022 National Invitational Softball Championship is rife with star power.
Featuring some of the nation's best batters, pitchers and defenders; proven veterans and freshmen phenoms alike; any number of playmakers can steal the show in Colorado.
The following are among the names to know:
Olivia Bruno, Kansas
To call All-Big 12 Conference and All-Big 12 Freshman selection Olivia Bruno a utility player undersells how diverse her contributions to the Jayhawks have been.
Bruno batted .308 with 10 home runs, was a defensive dynamo with a .978 fielding percentage and team-high 11 double-plays turned, and pitched almost 30 innings with 12 strikeouts.
Georgia Capell, Tarleton
Sporting a slugging percentage of .758, batting average of .383 and a whopping 1.253 OPS, Tarleton's Georgia Capell ranks among the most dangerous hitters in the NISC.
Capell comes into the postseason already with some program history to her credit, having become the university's top home-run hitter in softball and baseball.
First pitch of the 5th and @georgiacapell deposits one in the parking lot 🔥

It's HR #58 all-time and now she ties @TarletonBase HOFer Mike Cantu for the most HRs by any @TarletonState player in diamond sport history pic.twitter.com/BeTg5QgPUw

— Tarleton Softball (@TarletonSB) March 16, 2022
Jada Cecil, UC San Diego
Freshman Jada Cecil wasted no time making an impression on the college softball landscape. The UC San Diego super-frosh comes into the NISC with a 1.62 ERA and .84 WHIP.
Cecil has struck out 230 in 173.1 innings and held opposing batters to a collective average of just .173.
Sarah Coon, Virginia
Standout Virginia freshman Sarah Coon earned all-conference recognition in the loaded ACC, and with good reason. She matched a team-high with 32 RBI, has a .902 OPS and showed plate discipline belying her youth with 25 walks drawn - far and away most among the Cavaliers.
Payton Gottshall, Bowling Green
Payton Gottshall is one of the nation's very best pitchers by pretty much any metric. Her 1.54 ERA stands up against any pitcher regardless of role, say nothing of other starters who have been as workmanlike as her 237 innings worked. Only three players in Division I have more innings to their credit.
She mows down batters with a staggering 356 strikeouts, but doesn't allow hits very often when a pitch is put into play. Her opponent batting average is .166. Across the board, there isn't a better pitcher, even if some may be as good, and as long as Gottshall's in the circle, Bowling Green has a chance to win.
Tremere Harris & Jenna Wildeman, Central Arkansas
Watch out when the Central Arkansas tandem of Tremere Harris and Jenna Wildeman get on base. With 25 and 39 steals, respectively, Harris and Wildeman rank tied for 47th in the NCAA.
What's more, the two are UCA's most effective batters, with averages of .400 for Harris and .367 for Wildeman.
Georgia Land/Harley Stokes/Emma Broadfoot, North Alabama
When it's time to launch, it's time for Land.
Georgia Land closed the regular season with 17 home runs, tied for 25th among all Division I batters. Along with fellow second-team All-ASUN honoree Harley Stokes, who knocked out 15 homers, North Alabama boasts what might be the NISC's most formidable power duo.
The two also are leaders among a contingent of seven Lions with batting averages above .300. Leading that group is first-team All-ASUN selection Emma Broadfoot with her .373 mark. Broadfoot's 55 RBI also leads UNA, and she's more than capable of touching them all when an at-bat presents the opportunity.
EMMA BROADFOOT💣‼️@UNASoftball wins it on a walk-off 3️⃣-run HR💪👏#ASUNSB | #RoarLions🦁 pic.twitter.com/tQFPPVe2bl

— ASUN Softball🥎 (@ASUNSoftball) May 11, 2022
Kyleigh Sand, Rutgers
Sophomore shortstop Kyleigh Sand comes into the NISC looking to add a championship to the history she already made alongside teammate Gabrielle Callaway.
🗣️ Meet #RUSB's First-Ever First Team All-B1G Honorees

Congrats to Gabrielle Callaway & Kyleigh Sand for earning First Team All-Big Ten honors in a vote by the league's coaches

Read more about Gaby & Kyleigh's accomplishments this season ⬇️#GoRU | #ChallengeAccepted

— Rutgers Softball (@RUSoftball) May 11, 2022
Sand ranks among the game's most proficient when it comes to reaching base, boasting a batting average of .400 and drawing 32 walks on the season. Once on base, Sand is a terror with 22 steals - third-most in the Big Ten Conference in 2022.
April Visser, UNLV
First Team All-Mountain West selection April Visser is partially responsible for UNLV's team .317 batting average - 17th-best in all Division I - with a stout .366 average. She balances her consistent hitting with plate discipline, forcing 33 base-on-balls as part of her .510 on-base percentage. That's good for 27th among all players in the country.
But, Visser's offensive game isn't just about getting on base - she clears them effectively, too. Her 14 home runs leads the Rebels and is fourth in the Mountain West.
Kassidy Wilbur, Stephen F. Austin
Two-hundred and thirty-six strikeouts, more than 210 innings pitched and 22 wins highlight Kassidy Wilbur's All-Western Athletic Conference campaign.
The senior Wilbur embarks on the NISC already with an impressive career resume that includes winning Player of the Year in the Southland Conference a year ago. She'll look to pitch the Lumberjacks to a championship in her last go-around.
Alexa Williams, George Washington
The 2022 season has marked quite an encore from an outstanding freshman campaign in 2021 for Alexa Williams. The first-year standout a season ago stepped up as the Colonials' best hitter this year, batting .379 with 11 home runs and 52 RBI - all team-highs.
In fact, Williams leads George Washington in six batting categories.
McKenzie Wilson, Baylor
Boasting the nation's 30th-best batting average at a whopping .413, and with team-highs of 27 RBI and 27 stolen bases, McKenzie Wilson carved out a place on the first team of the Big 12 Conference.
Wilson's terrific performance at the plate this season punctuates a remarkable comeback story for the Long Beach, California, native. After suffering a devastating shoulder injury while at Fresno State, Wilson endured a lengthy absence from competition before resurfacing at Baylor.