2022 National Invitational Softball Championship
Comeback, No-Hitter Land Baylor & UNLV In NISC Championship
Comeback, No-Hitter Land Baylor & UNLV In NISC Championship
Let's hope the NISC championship game, between Baylor and UNLV, is as exciting as the semifinals.
May 26, 2022
by Kyle Kensing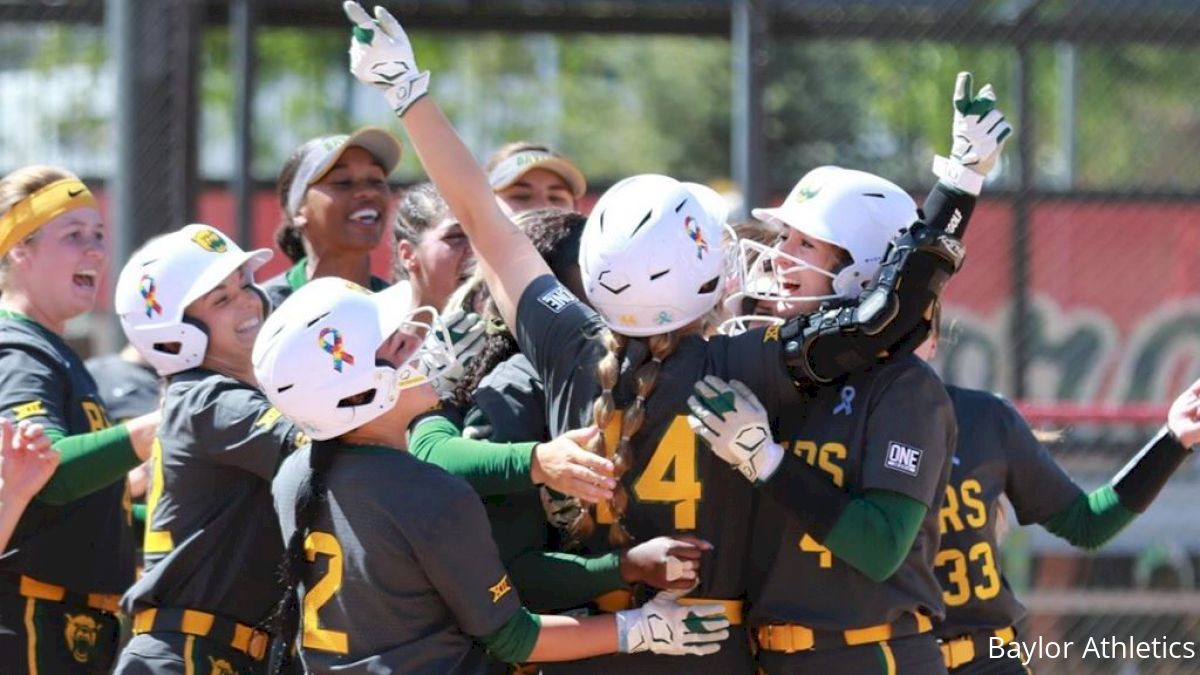 Semifinal wins for Baylor and UNLV on Wednesday followed much different trajectories, but both were uniquely remarkable.
Now, the 2022 National Invitational Softball Championship crowns a winner Thursday in Colorado.
Baylor Vs. UNLV
Thursday, May 26 at 1 p.m. ET
How They Got Here:
After dropping its first contest in the NISC, 9-5 on Sunday against North Alabama, UNLV played pristine softball.
You might even call it near-perfect. That description certainly works for the Rebels' championship game-clinching victory over Central Arkansas on Wednesday.
Jasmine Martin and Jenny Bressler combined to throw a no-hitter, with Martin going six and giving up just three walks and Bressler closing it out in the seventh. The save proved history-making for Bressler.
Jenny Bressler becomes UNLV's career saves leader. #BEaREBEL x #NISC pic.twitter.com/0g3zNzw16g

— UNLV Softball (@UNLVSoftball) May 25, 2022
UNLV needed every bit of that outstanding pitching, as Denise Armendariz's fourth-inning solo shot accounted for the game's sole run.
🤯 Just crown her tournament MVP already. #BEaREBEL x #NISC pic.twitter.com/JyAQOQv2dU

— UNLV Softball (@UNLVSoftball) May 25, 2022
While UNLV came to Colorado as one of the top overall hitting teams in the field, its pitching and defense are central to the Rebels' championship pursuit. They have given up six total runs in four games since the opening loss to UNA.
UNLV's defensive prowess contrasts with the excellent offense that powered Baylor to Thursday's championship—an offense that, while missing early in the semifinal, surfaced at the most opportune time.
A furious rally against Big 12 Conference counterpart Kansas landed Baylor in the championship game.
The Jayhawks were on a Cinderella run through the NISC, which began with a 4-3 win over George Washington, included an 8-0 drubbing of Stephen F. Austin, then culminated in 8-3 and 4-2 defeats of Bowling Green and top-seeded Virginia. Their inspired play continued through the first three innings of Wednesday's semifinal.
First, let's talk about Bruno. Kansas' Olivia Bruno went 3-for-3, including a run-scoring double in the first inning to jumpstart the Jayhawks scoring. She pushed another run through in the third.
2️⃣3️⃣ is 3-for-3 today!

T6 | KU: 4, BU: 3#KUsoftball | #RockChalk pic.twitter.com/b2dI2Sxdiv

— Kansas Softball (@KUSoftball) May 25, 2022
Bruno's two RBI at-bats bookended Lyric Moore's triple in the first, which scored Bruno after her double. With a 4-0 lead through three, KU softball looked poised to prove its not just Jayhawk hoops that can get to a title round in 2022.
But Baylor responded with one of the most dramatic comebacks in all of college softball this season, plating five from the fourth-through-seventh innings including the last two in the final inning.
Baylor's seventh was small-ball perfection, with runners getting on base via HBP, base-hit bunt, and then an Emily Hott single that pulled the score even.
TIE GAME! @BaylorSoftball ties the game against @KUSoftball 4-4 in the bottom of the 7th! #NISC #Softball #ClimbToColorado @triplecrownspts pic.twitter.com/Qg0OcrulxI

— Postseason NISC (@WomensNISC) May 25, 2022
That then set the scene for Josie Bower, who delivered the base hit that walked Baylor off the semifinal and into the championship.
Wednesday's win produced the same result as Baylor's previous two NISC contests—also Bears victories—but came in a much different fashion.
Baylor scored 28 total runs in routs of UC San Diego, 10-2 on Sunday; and North Alabama, 18-8 on Tuesday. Ana Watons drove in five runs against the Lions, and was one of five Bears to connect for three hits. Bower, Kaci West, Taylor Strain and McKenzie Wilson joined in the parade.