Big Ten
2022 Women's College World Series Preview
2022 Women's College World Series Preview
What started as a 64-team NCAA Tournament field has been whittled down to eight, as the Women's College World Series begins June 2 in Oklahoma City.
May 31, 2022
by Stephen Kerr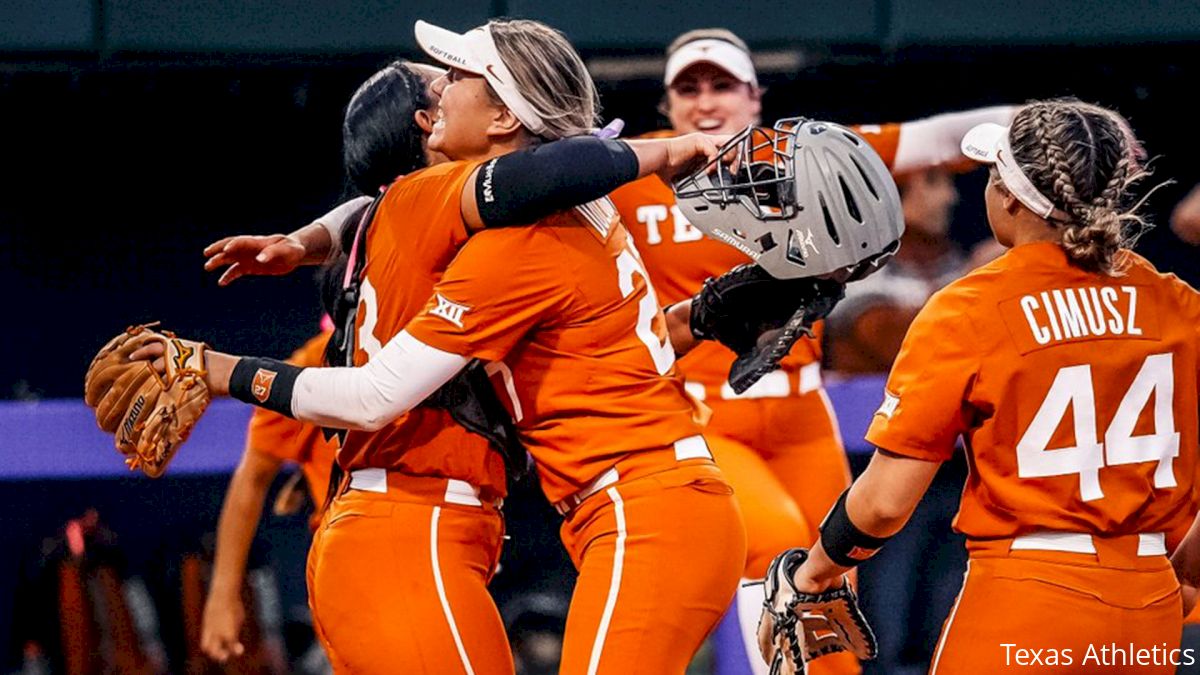 All year, college softball teams have prepared for the first week of June. Now, it's finally arrived.
What started as a 64-team NCAA Tournament field has been whittled down to the final eight, as the Women's College World Series begins June 2 at ASA Softball Hall of Fame Stadium in Oklahoma City. As always, some teams who were expected to be there did not disappoint; others exceeded expectations and find themselves on the sport's biggest stage.
Oklahoma Sooners
Oklahoma City has become a familiar site for the defending WCWS champions, as they secured their sixth straight appearance and 15th in program history with a sweep over Central Florida in the Norman Super Regional.
Neither game left much room for doubt. Hope Trautwein tossed her second no-hitter of the season in Game 1 as the Sooners run-ruled UCF 8-0. OU took the second game 7-1 behind Nicole May's three-hit complete game gem. Jocelyn Alo hit her 29th home run of the season and NCAA-record 117th of her career in Game 2.
🐐

𝐍𝐨𝐭 𝐝𝐨𝐧𝐞 𝐲𝐞𝐭. pic.twitter.com/M7omTNRw4O

— Oklahoma Softball (@OU_Softball) May 28, 2022
The Sooners have outscored their five postseason opponents 52-3 and are seeking their sixth national championship and fourth in the last six under Hall of Fame head coach Patty Gasso. After setting an NCAA record for the best start to a season (38-0), they look to become the ninth team in NCAA history to win back-to-back WCWS titles. Doing so would mark the second time in program history.
Northwestern Wildcats
After capturing their first Big Ten regular season title since 2008, the Wildcats punched their ticket to Oklahoma City for the sixth time in program history.
After coming from behind for a thrilling 4-3 11-inning victory over Arizona State in Game 1 of the Tempe Super Regional, Northwestern dropped the second game before storming back again to take the deciding game 8-6.
The Wildcats put themselves in an early 5-0 hole in Game 3 before outscoring the Sun Devils 8-1. Big Ten Pitcher of the Year Danielle Williams settled down to allow just one run and one hit over the final four frames.
Senior Jordyn Rudd had four hits and three RBI and senior Maeve Nelson had three hits. The Wildcats' last appearance in the WCWS came in 2007.
UCLA Bruins
The No. 5 seed Bruins are headed to their seventh consecutive appearance in the Women's College World Series. Their 8-2 win over Duke in the Los Angeles Super Regional set up their WCWS opener against Texas.
Pac-12 Pitcher of the Year Megan Faraimo (22-4) threw three innings of shutout relief in the clinching victory, striking out seven Blue Devils and allowing just two hits to earn her seventh save of the season. Starter Holly Azevedo (20-2) pitched the first four innings, striking out four. She and Faraimo became the first 20-win Bruin duo since Keira Goerl and Amanda Freed accomplished the feat in 2002.
The scene from BP3's final out at Easton is as good as it gets 🖼#GoBruins | @briiperezz pic.twitter.com/I64eEv1MEa

— UCLA Softball (@UCLASoftball) May 29, 2022
The Bruins' 43-8 record in the 2022 regular season marked the 16th time in the last 22 years they have won at least 40 games prior to the postseason. Their +25 run differential in last weekend's NCAA Regional was the most in a Regional since 2001.
Texas Longhorns
For the first time since 2013, the Horns find themselves on college softball's biggest stage. It will be their sixth appearance in program history.
Texas had a tough task facing them in the Fayetteville Super Regional. Arkansas hadn't lost a three-game series all season and had yet to lose back-to-back games.
That all changed over the weekend, as UT stunned the No. 4 Razorbacks 3-0 in Game 3 after dropping the opener 7-1 and winning the second game 3-1. It was the Longhorns' first-ever Super Regional triumph on the road, and 11 of their wins this season have come against nationally-ranked teams.
Senior second baseman Janae Jefferson has been on fire this postseason, batting .522 (12-for-23) over seven games with nine runs scored, three homers, three doubles and a .577 on-base percentage. Freshman pitcher Sophia Simpson (8-4) had her finest performance in the circle in game three, giving up four hits and four walks while striking out seven for a complete-game shutout.
Florida Gators
Florida was the No. 14 seed coming into the Blacksburg Super Regional against Virginia Tech. But after splitting the first two games, the Gators run-ruled their way to a 12-0 victory, claiming their 11th WCWS berth in decisive fashion.
It was the first time all season Virginia Tech had been run-ruled, and the Gators scored in every inning of the five-inning contest. The 12 runs were the most scored this season on a VTU pitching staff that included All-American Keely Rochard. During this year's NCAA Tournament, the Gators have outscored their opponents 47-10, and the offense has notched 10 or more hits in five of their six postseason games.
Oregon State Beavers
OSU swept the Stanford Super Regional for their first WCWS appearance since 2006 and second in program history.
Heading to OKC with 𝗔𝗟𝗟 the energy. 🔋#RoadToWCWS x @BeaverSoftballpic.twitter.com/7dFlwIpglk

— NCAA Softball (@NCAASoftball) May 30, 2022
The Beavers put a stamp on their trip to Oklahoma City with a 2-0 shutout of the Cardinal to improve their record to 39-20. They have won their last five games dating back to the Knoxville Regional. Freshman pitcher Sarah Haendiges continued her dominant season in the circle, picking up her 13th win of the season and third of the NCAA Tournament to remain unbeaten in the postseason. Senior Mariah Mazon pitched 2.2 scoreless innings for the save. She, Haendiges and the Beaver defense combined for four three-up-three-down innings, including the final two.
Oklahoma State Cowgirls
No. 7 seed Oklahoma State swept its Super Regional over 10th-seeded Clemson to earn their third consecutive trip to the WCWS.
OSU is undefeated this postseason for the first time in program history since the Super Regionals were added to the postseason in 2005. Morgan Day (13-4) tossed 5.1 innings to earn the victory in the final game, allowing one run on five hits with seven strikeouts. She has 104 K's this season, joining Kelly Maxwell and Miranda Elish as the only pitching staff in OSU history to have three pitchers with at least 100 strikeouts.
The trip to OKC wasn't the only good news for the Cowgirls this past weekend. Head coach Kenny Gajewski received a contract extension that will keep him with the program through 2027. The Cowgirls have been in the postseason every year since his arrival, and they secured their first Big 12 Conference Tournament title with a win over the defending WCWS Champion Oklahoma Sooners.
Arizona Wildcats
Even though this is her first season as Wildcats head coach following the retirement of Mike Candrea, Caitlin Lowe is no stranger to winning.
The four-time Arizona All-American and Olympic silver medalist spent nine seasons as an assistant on Candrea's staff, including the previous four as associate head coach. In the eight years since she came aboard, the Wildcats have won 40 or more games and advanced to Super Regionals every season.
So it should come as no surprise that Lowe has guided her team to its third straight WCWS and 25th in program history. The Wildcats swept Mississippi State in the Starkville Super Regional to assure themselves a spot in the eight-team field.
𝑯𝒊𝒔𝒕𝒐𝒓𝒚 𝒎𝒂𝒅𝒆 ✍️

In the Super Regional era, we are the 𝐎𝐍𝐋𝐘 unseeded team to go undefeated on the road on the way to the WCWS.#RoadWarriors pic.twitter.com/WSCfoPqET9

— Arizona Softball (@ArizonaSoftball) May 30, 2022
Coming into postseason play, the Wildcats were leading the Pac-12 in batting average (.326) and hits (469). They were the only team in the conference with three players in the top five in home runs and RBI: Allie Skaggs, Sharlize Palacios and Carlie Scupin.
In 24 previous WCWS appearances, Arizona sports a 62-34 record with eight national championships. Heading into the Starkville Super Regional, their overall NCAA Tournament record was 181-65.
Schedule
All times are Eastern, and TV schedule and networks are subject to change.
Thursday, June 2
Game 1: 12 p.m. | Texas at No. 5 UCLA | ESPN
Game 2: 2:30 p.m. | No. 9 Northwestern at No. 1 Oklahoma | ESPN
Game 3: 7 p.m. | Oregon State at No. 14 Florida | ESPN
Game 4: 9:30 p.m. | Arizona at No. 7 Oklahoma State | ESPN
Friday, June 3
Game 5: 7 p.m. | Loser of game 1 vs. Loser of game 2 | ESPN2
Game 6: 9:30 p.m. | Loser of game 3 vs. Loser of game 4 | ESPN2
Saturday, June 4
Game 7: 3 p.m. | Winner of game 1 vs. Winner of game 2 | ABC
Game 8: 7 p.m. | Winner of game 3 vs. Winner of game 4 | ESPN
Sunday, June 5
Game 9: 3 p.m. | Winner of game 5 vs. Loser of game 8 | ABC
Game 10: 7 p.m. | Winner of game 6 vs. Loser of game 7 | ESPN2
Monday, June 6
Game 11: 12 p.m. | Winner of game 7 vs. Winner of game 9 | ESPN
Game 12 (if necessary): 2:30 p.m.
Game 13: 7 p.m. | Winner of game 8 vs. Winner of game 10 | ESPN
Game 14 (if necessary): 9:30 p.m.
WCWS Finals
Game 1: 8:30 p.m. on Wednesday, June 8
Game 2: 7:30 p.m. on Thursday, June 9
Game 3: 8:30 p.m. (if necessary), on Friday, June 10