Big 12
Impressive Performances Send Oklahoma, Texas To WCWS Final
Impressive Performances Send Oklahoma, Texas To WCWS Final
Home runs and defense from Oklahoma and Texas in their semifinal games, cleared a path for the teams to meet in the Women's College World Series final.
Jun 7, 2022
by Kyle Kensing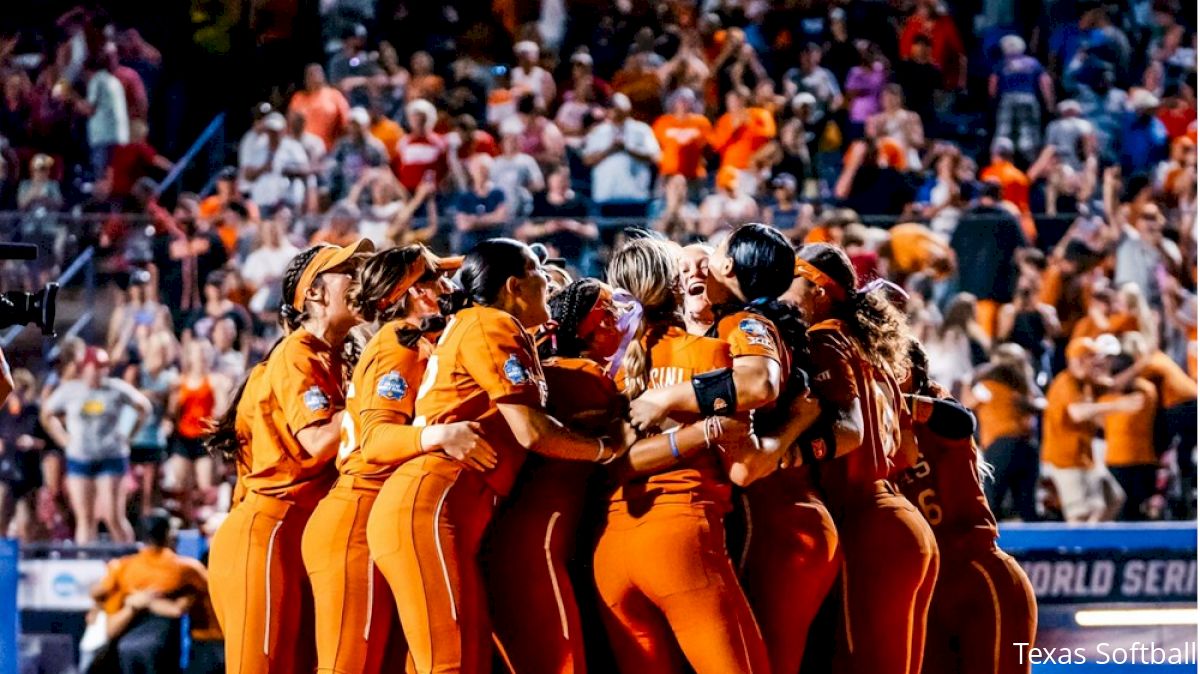 Home-run queen Jocelyn Alo summed it up best.
"No one beats the Sooners twice," she said in Monday's postgame press conference following a 15-0 rout of UCLA.
The bludgeoning of the Bruins came on the heels of a 7-3 UCLA win earlier in the day, setting the stage for a one-game matchup to determine which team would advance to the Women's College World Series championship round.
Oklahoma's fortunes couldn't have reversed any more dramatically between the halves of the doubleheader. Alo alone accounted for more RBI in the decisive blowout as UCLA scored in the entire series, including a three-run shot in the second inning…
JOCELYN.
ALO.
WOW.

😮 @NCAASoftball pic.twitter.com/XQ1MOhNuEC

— B/R Walk-Off (@BRWalkoff) June 6, 2022
…and a grand slam to put an appropriate bow on the reigning champion Sooners' advancing win.
GRAND SLAMMMMMMMM JOCELYN ALO‼️

Sooners up 15-0!#WCWS x @OU_Softball

📺 @espn | https://t.co/kZAwSMnJoG pic.twitter.com/Uyr28URyNR

— Big 12 Conference (@Big12Conference) June 6, 2022
Alo's two jaw-dropping jacks marked No. 31 and 32 on the season, and 119/120 in her history-making career. But for as impressive as her swing is, Sooners coach Patty Gasso credited another facet of Oklahoma's game for its march back to the WCWS finale.
"I love defense. I love home runs. I love Joce. I love all that, but I love defense, and I do believe that defense wins championships in about every sport," she said.
The seven runs Oklahoma allowed in the first semifinal were the second-highest Sooners yield of the season. Before that game, OU had been so stingy defensively throughout the postseason. In seven previous Regional, Super Regional and WCWS contests, OU allowed seven runs combined.
Hope Trautwein went all five innings of the decisive contests with six strikeouts and just two hits allowed. She improved to 21-1 on the season with a staggering 0.58 ERA.
The North Texas transfer Trautwein helped buoy Oklahoma during the month the Sooners were without freshman phenom Jordy Bahl. Nicole May, boasting 96 strikeouts and a 1.36 ERA, has also contributed to the Sooners' ongoing dominance.
"As a staff we have each other's back, and we know that going into each and every game," Trautwein said in the postgame press conference.
"When Nicole gets the start, we know we're behind her 100 percent.
"But it's also huge for Jordy to come in and perform as she did," Trautwein added, in reference to Bahl's first appearance since early May. Bahl pitched 4 ⅔ innings in the first semifinal against UCLA.
"This wasn't a setback for Jordy. It was just her being able to come back at the World Series as a freshman and perform the way she did. She's been impressing me all season, and she only has to go up from here."
Following Oklahoma's no-doubt-about-it win, Texas scored back-to-back wins over Oklahoma State to set up the WCWS Championship.
The Longhorns' two wins followed markedly different trajectories. By the second inning, Estelle Czech had all the run support she needed on a four-hit shutout in the first contest.
Courtney Day went yard for a three-run shot–her second in as many WCWS contests (and she wasn't finished)–that effectively iced a 5-0 Texas win.
COURTNEY DAY WITH THE THREE-RUN HR TO PUT TEXAS IN FRONT🤘 pic.twitter.com/4xIF2rAoow

— ESPN (@espn) June 7, 2022
Day again came up huge in the winner-advances second matchup. Another three-run home run in the fourth inning ignited a Longhorns comeback from down 5-0, scratching across the first three.
TEXAS STRIKES BACK 😤

COURTNEY DAY HITS A THREE-RUN HOMER. pic.twitter.com/iqa22pOTho

— ESPN (@espn) June 7, 2022
"When a pitcher makes a mistake, I'm able to take advantage of it, which I did today and yesterday," Day said in her postgame press conference.
Capitalizing on opponent mistakes was the theme for Texas moving on. In the fifth inning, a disastrous sequence of Oklahoma State errors led to the Longhorns scoring the three, go-ahead runs.
A Bella Dayton single turned into a fielding error and throwing error that plated Jordyn Whitaker and Mia Scott.
"It was definitely a momentum shift in our energy as a team" Day said.
"And after that happened, we were hyped, and we took advantage."