Big 12
It's A Red River WCWS As Dark-Horse Longhorns Face Juggernaut Sooners
It's A Red River WCWS As Dark-Horse Longhorns Face Juggernaut Sooners
The Red River Rivalry comes to OKC as the Oklahoma Sonners take on the Texas Longhorns for college softball's top prize at the Women's College World Series.
Jun 8, 2022
by Kyle Kensing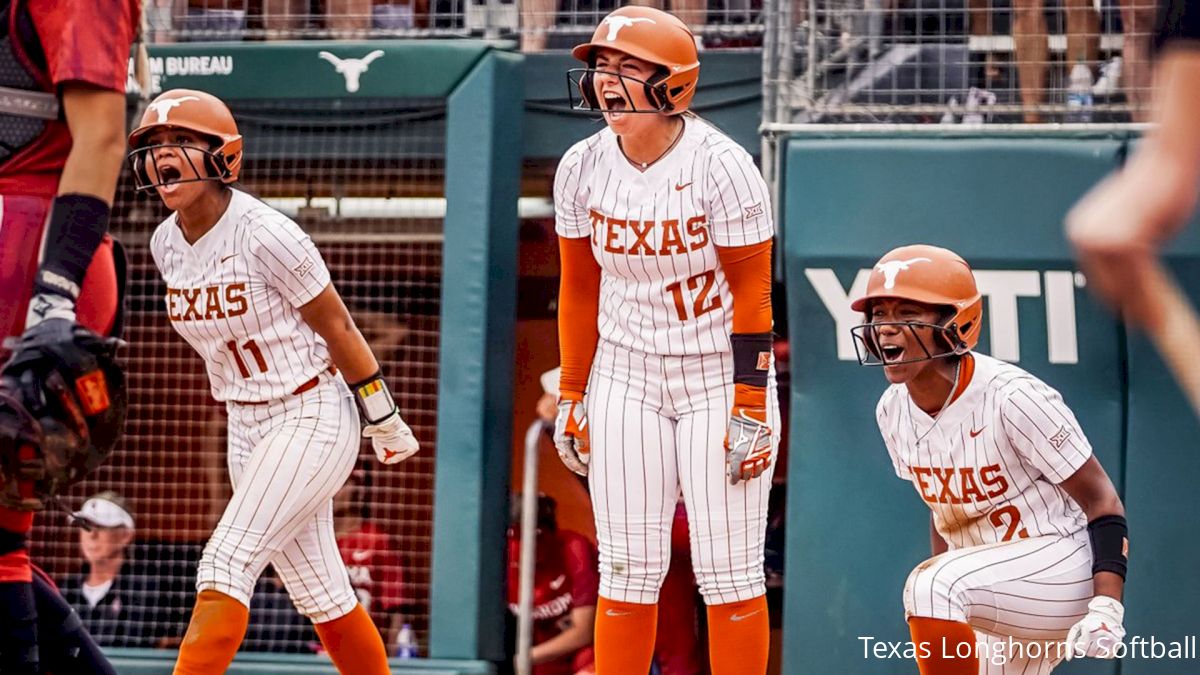 The Red River Rivalry takes over Oklahoma City as longtime foes Oklahoma and Texas face for the 2022 NCAA softball championship.
Reigning national champ Oklahoma faced little resistance in returning to the title round. The Sooners gave up 14 combined runs over nine games–seven of which came in their sole loss, a semifinal matchup with UCLA.
Oklahoma's postseason dominance continues after a Herculean regular season, one in which the Sooners lost just two games.
One of those defeats? A 4-2 loss to Texas on April 16.
The Longhorns' victory ended Oklahoma's perfect start to 2022. It also foreshadowed the championship mettle that has Texas playing for a national championship.
"Everything came together, and we started to believe, and we started to play well," Longhorns coach Mike White said at the team's press conference on Tuesday.
"Of course, it's hard to repeat that all the time, but we know that's the standard we can get to. We really started coming out with let's do ordinary better and let the extraordinary happen."
Circumstances landing Texas in the championship round required the extraordinary vis-a-vis two straight wins over powerhouse Oklahoma State.
Courtney Day's home-run streak she carries into the finale, the pitching of Estelle Czech and Hailey Dolcini and a variety of other contributions continued what's been an expectations-defying run for these Horns throughout the postseason.
going to the ship in our favorite rocket ship @courtneyydayy | #HookEm pic.twitter.com/mcxnoWEkLH

— Texas Softball (@TexasSoftball) June 7, 2022
Never mind the championship round, or even the Women's College World Series, the lack of swag at the game for Texas' Regional win over Arkansas suggests this team wasn't supposed to reach the Super Regional.
"We smelled a hint of disrespect, and we used that as fuel to fire us through the rest of this postseason," Mary Iakopo said on Tuesday when asked about the missing Regional champs t-shirts and caps.
A familiar refrain ushers Texas into the title tilt. Oklahoma is a juggernaut, arguably the greatest team in college softball history. At 57-3, the Sooners certainly can make that case.
With the all-time greatest home-run hitter in the sport, Jocelyn Alo—a stellar pitching staff that includes prodigy Jordy Bahl (now back from injury) and Hope Trautwein, and difference-makers across every position up and down the lineup, Oklahoma shows little vulnerability.
𝙍𝙪𝙣 𝙄𝙩 𝘽𝙖𝙘𝙠 ⏮#WCWS x @OU_Softball pic.twitter.com/0rmgF12rYr

— NCAA Softball (@NCAASoftball) June 7, 2022
But Texas has shown once it can be better than the best for seven innings. The Longhorns handed Bahl her first-ever collegiate loss that April day and Dolcini pitched an outstanding game that included an 0-for from Alo.
The question now: Can Texas do it twice?
Alo said following Oklahoma's advancing rout of UCLA that, after the Sooners' earlier 7-3 loss to the Bruins, OU doesn't lose twice in a row.
That's certainly held true to form, but past results don't always dictate future performance. Such is the message Oklahoma is embracing.
"We didn't look in the past, and I think we all dove deeper to find our why, find our passion for the game, and we all stuck within our inner circle," said Tiare Jennings.
"We knew this is a new journey, a new road that we're going to have to keep grinding and trusting in our preparation to get here, and we're playing for our seniors, you're playing to have their back, and to find the ultimate goal."