Big 12
Oklahoma Puts Exclamation On GOAT Claim With 2022 National Title
Oklahoma Puts Exclamation On GOAT Claim With 2022 National Title
OU didn't just win its second consecutive Women's College WS, and fourth since 2016, so much as it used the stage to assert its historic excellence.
Jun 10, 2022
by Kyle Kensing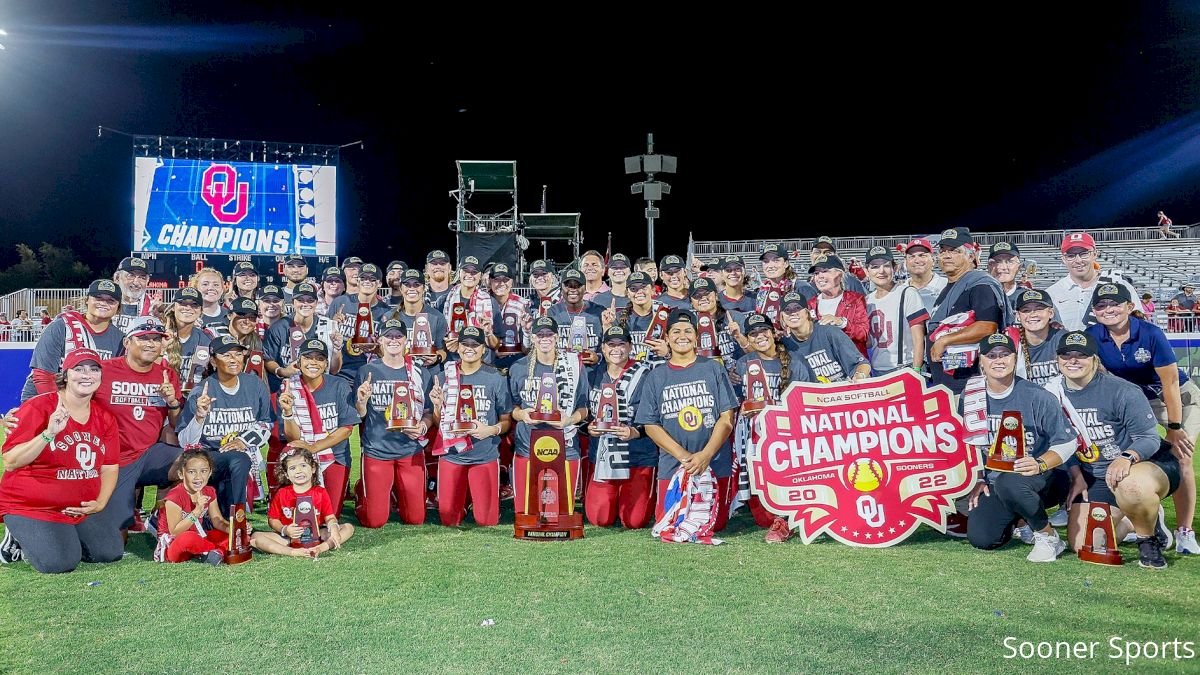 Sports fans and pundits alike love debating the topic Greatest of All Time. Rarely, however, if at all, does an audience get to watch the Greatest of All Time ply their trade in real time and it be plainly evident that they're greatest.
But such is the case for the back-to-back NCAA champion Oklahoma Sooners.
Oklahoma did not just win its second consecutive Women's College World Series, and fourth since 2016, so much as it used the championship stage to assert its historic excellence.
The Sooners completed a postseason in which they outscored opponents 116-13, with championship-round blowouts of rival Texas, 16-1 and 10-5.
The latter, which sewed up Oklahoma's national championship, wasn't as close as the final score indicates. After Texas took an early 2-0 lead, and Longhorns pitcher Estelle Czech held the Sooners in check for three innings, Oklahoma did what it had done all season and brought the deluge.
Alyssa Brito doubled in the fifth, scoring a run that - combined with a pair tallied in the fourth - gave Oklahoma its first lead.
Kinzie Hansen then blasted a three-run homer, her eighth round-tripper of the season.
KINZIE GOES YARD 💣

📺 ESPN2#WCWS x @OU_Softball pic.twitter.com/CVv8fSS01m

— NCAA Softball (@NCAASoftball) June 10, 2022
Grace Lyons added another home run, and the rout officially was on.
Texas' Mia Scott hit a three-run shot to complete a solid 2-of-4 finale, but the bottom-of-the-seventh homer was cosmetic.
For the Sooners to send two out of the park in the championship-clinching spot, and neither come from primary home-run hitters Jocelyn Alo or Tiare Jennings, speaks to the collective strength this team boasted at the plate.
Not that Lyons was any slouch in the power department, however, as her WCWS bash gave her 23 for the season, tied for eighth-most in the country. That the nation's eighth-most prolific home-run hitter was the third-most on her own team, sums up Oklahoma's greatness.
In case you needed a more definitive statement to that end, here's all-time home-run queen Alo and Jennings, who finished 2022 with 29 homers, following the Sooners' 16-1 romp in the first of the championship-round contests:
𝐅𝐎𝐔𝐑 total home runs between @OU_Softball's Jocelyn Alo & Tiare Jennings in Game 1 🤯

"No better time for both of us to be hot right now. We're coming for it all."@78jocelyn_alo | @_tiarejennings pic.twitter.com/jgtc61boBz

— espnW (@espnW) June 9, 2022
After the finale, and no longer beholden to the expectation of outward humility any great coach like Patty Gasso sets for her team, Alo wrote the exclamation mark.
"I would say with me being a senior, I think this is the best team [ever]," she said in the postgame press conference.
At 59-3, Oklahoma finishes 2022 with the best winning percentage of any champion since the 65-4 Arizona squad of 2001. This year's championship marked the sixth of Gasso's illustrious career, putting her within striking distance of Mike Candrea, coach of that '01 Arizona team.
And, while 2022 might be the best Sooners team yet, you can anticipate plenty more greatness to come out of Norman in Gasso's tenure.
"One thing about Sooner softball, and I've seen it year in and year out, is they just continue to get better," Alo said. "I don't know what next year holds, but I know they could be a run for the best team, too, and years to come."
Even if next season fails to match the dominance of this year, with Jennings, Brito, Hansen and freshman phenom pitcher Jordy Bahl all back in 2023, Oklahoma has the foundation to make a run at three consecutive titles.
Only UCLA from 1988 through 1990 has ever accomplished the three-peat. Matching that accomplishment certainly would add to the evidence that this run makes Oklahoma the greatest program of all-time.
As for best individual teams, arguing against the 2022 Sooners is tough. To Alo's point, sports are always evolving, and a new contender for greatest is guaranteed to come along.
Basketball had Kareem, then Jordan, then LeBron. Tennis had Martina Navratilova, Steffi Graf, then Serena Williams. Baseball had Babe, Ted Williams and Barry Bonds.
(And, if you want to compare baseball and softball, we had Bonds, then we had Jocelyn Alo).
According to @643Charts, Jocelyn Alo's Weighted Runs Created Plus (wRC+) this season is 303, which is 203% better than the D-I average (100).

The highest wRC+ in MLB history is 244 (Barry Bonds in 2002). Alo is 59% better at the plate than the best season in MLB history. pic.twitter.com/JaMRsvkYEV

— ESPN Stats & Info (@ESPNStatsInfo) June 8, 2022
No matter the game though, Greatest of All Time is a difficult debate because someone is going to come along at some point and do it better. Maybe another Oklahoma team, or another college softball team somewhere around the country, eclipses these Sooners sooner than later.
Until that time comes, though, this Oklahoma bunch made an emphatic claim to the crown Greatest of All Time.