2022 PGF Nationals 16U Premier
Rising Star: Bandits' Audrey Lowry Weathers The Highs & Lows Of Softball
Rising Star: Bandits' Audrey Lowry Weathers The Highs & Lows Of Softball
Lowry has become an elite pitcher and hitter, helping the Bandits to third-place at PGF in '21 and coming within a game of a high school state championship.
Jul 27, 2022
by Stephen Kerr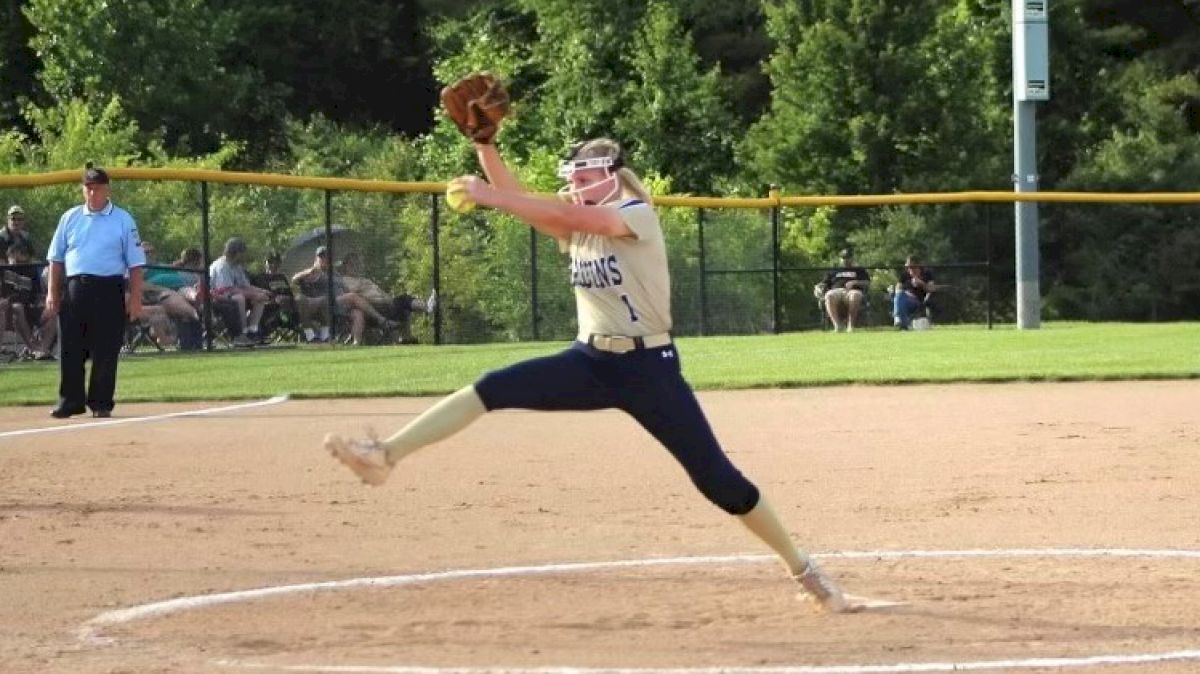 April Lowry will never forget the first time she and her husband James took their daughter Audrey to a hitting lesson. Audrey was about seven, and James was insistent she give it a try.
When she first stepped to the plate, Audrey could barely hold the bat up. Each time she swung, her body would turn around in circles.
"She just thought that was hilarious," April recalled with a laugh.
"But as parents, we were like, 'oh my gosh, is this the best choice for her'?"
It turned out to be the right choice. Audrey has become an elite pitcher and hitter, won a PGF championship with Tennessee Mojo-Danley at 10U, helped the Beverly Bandits to a third-place finish at PGF in 2021 and came one game short of leading her high school team to a state championship this season.
The journey to that success is often full of ups and downs. That's why Audrey, one of the aces of the Bandits Premier 16U-Conroy pitching staff, tries to keep everything in perspective.
"I try to stay humble," the 5-8 lefthander explained.
"I don't really like to talk about winning all these huge games and losing. I just stay in the middle."
That humility is evident almost immediately. While she's reluctant to re-hash accomplishments, they're also hard to ignore. A native of Indiana, Audrey began playing with the Indiana Gators before Michael Danley from Tennessee Mojo recruited her for his 10U team, which featured standouts Keegan Rothrock and Ava Brown.
"From there on out, we knew she loved the game, loved pitching, loved competing," said her father James, a three-sport athlete in high school who played rec softball in college.
"She's crossed every hurdle and has become more elite. She's just taken off and it's been great."
As proud as she is of winning a national title at such a young age, Audrey fondly recalls the bond she formed with her teammates.
"I remember playing with some amazing athletes," she said.
"They were just great people. They were probably the best teammates I played with. They were high-level athletes and they did their job."
It was during her 10U season that Audrey first caught the eye of Beverly Bandits coaches. She began playing for them in 11U and has never looked back. She has not only thrived as a player under coach Bill Conroy, but has grown as a person off the field.
"He teaches us not really to be athletes but adults," Audrey explained.
"He's hard on us. We've had to learn from it. We've had bad moments, good moments, he treats us like his children and to look at the world and be a better person."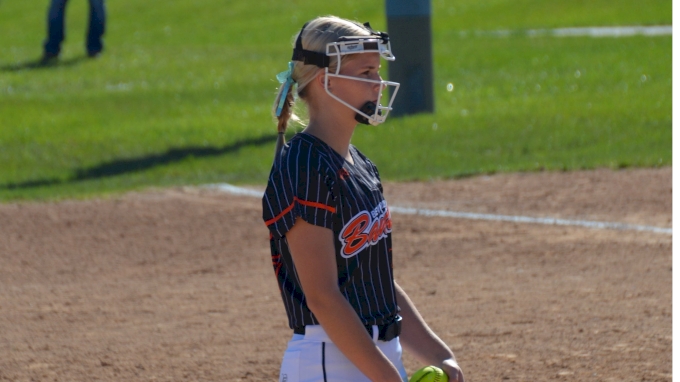 As a freshman at Tri-West Hendricks High in 2021, Audrey set a single-season school record with 236 strikeouts, going 17-3 with a 0.83 ERA and .149 OBA in 127 innings pitched. She hit .442 at the plate with two homers and 27 RBI, making both the All-County and All-Conference teams.
This past season, Audrey finished with 22 victories, a 0.42 ERA and 302 strikeouts in 148.1 innings. She led the team to the Class 3A state championship game and was poised to win a title when disappointment struck.
Audrey took a no-hitter into extra innings in a scoreless tie against South Bend Saint Joseph in the title game. With one out in the bottom of the ninth, Saint Joseph senior shortstop Haley West held back on an off-speed pitch and barreled a double to left field, breaking up the no-hitter. The next batter, Berkley Zache, hit a walk-off single to give Saint Joseph its first state championship in program history.
Audrey had walked three and struck out 22 until the last two batters. But that didn't make the loss any easier.
"It was a really tough loss because we've come a long way from last year to this year, working hard to make that goal," Audrey said.
"But it was a great game. It was back-and-forth. We both had chances to win and they ended up winning."
Conroy remembers Audrey as a "crafty lefty" when he first saw her in the circle. Over time, she has developed more velocity and late spin on her pitches. Up until this season, she was focusing on the outside of the plate. But with help from Conroy and her pitching instructor, Jonathon Hon, she has learned the importance of throwing more to the inside.
"She has finally bought in to throwing inside and outside," Conroy said.
"She had a lot of success throwing outside. But talking to her about playing at the college level, they're going to have tape on you. You're going to see the same opponent multiple times. If they know you're only going to use one half of the plate, you're going to be in a lot of trouble."
This September, Audrey will be officially allowed to begin the college recruiting process. She has attended numerous camps and learned a great deal about a college athlete's routines. While she doesn't have a specific school in mind yet, she knows the most important thing her dream program must have.
"A coach that I respect," Audrey said.
"You're going there for softball, but you're also going there for someone who's going to teach you lessons and make you a better athlete and person."
James and April, with Conroy's help, have encouraged Audrey to begin compiling a list of top five schools she might want to visit once recruiting is in full swing. In Conroy's view, the program Audrey eventually chooses has a lot to do with putting herself in the best position possible.
"She (won PGF) as a 10-year-old, but she wasn't a No. 1 or No. 2 pitcher," Conroy said.
"Here, she will be. I have three No. 1's but she knows she's going to have that chance to be on the mound when we're in a championship game."
On days she pitches, Audrey believes it's important to get in a lot of stretching to minimize soreness after the game. She is particular about putting her uniform on the same way every game and applies glitter to her cheekbones before getting in the circle.
"I like glitter," she explained.
"It's nice to look at. Even though some people can't see it, I can in a mirror. It makes me happy."
Away from the field, Audrey loves to fish. Being on the water has a calming effect, and she once caught a five-pound bass.
"When you get a fish, it's a great feeling," Audrey said with a laugh.
As she enters her junior year of high school, Audrey is committed to working on being a better teammate as well as a player on the field.
"You can always be a better person," Audrey said.
"It never stops. You have to be for college, high school, travel ball. It just sets you up for the whole world."