2022 PGF Nationals 16U Premier
Rising Star: Complete-Game Victory From Erin Nuwer Caps PGF 16U Title
Rising Star: Complete-Game Victory From Erin Nuwer Caps PGF 16U Title
When final out of the 2022 PGF 16U championship game was made, Georgia Impact Caymol pitcher Erin Nuwer already had decided what she would do first.
Aug 3, 2022
by Stephen Kerr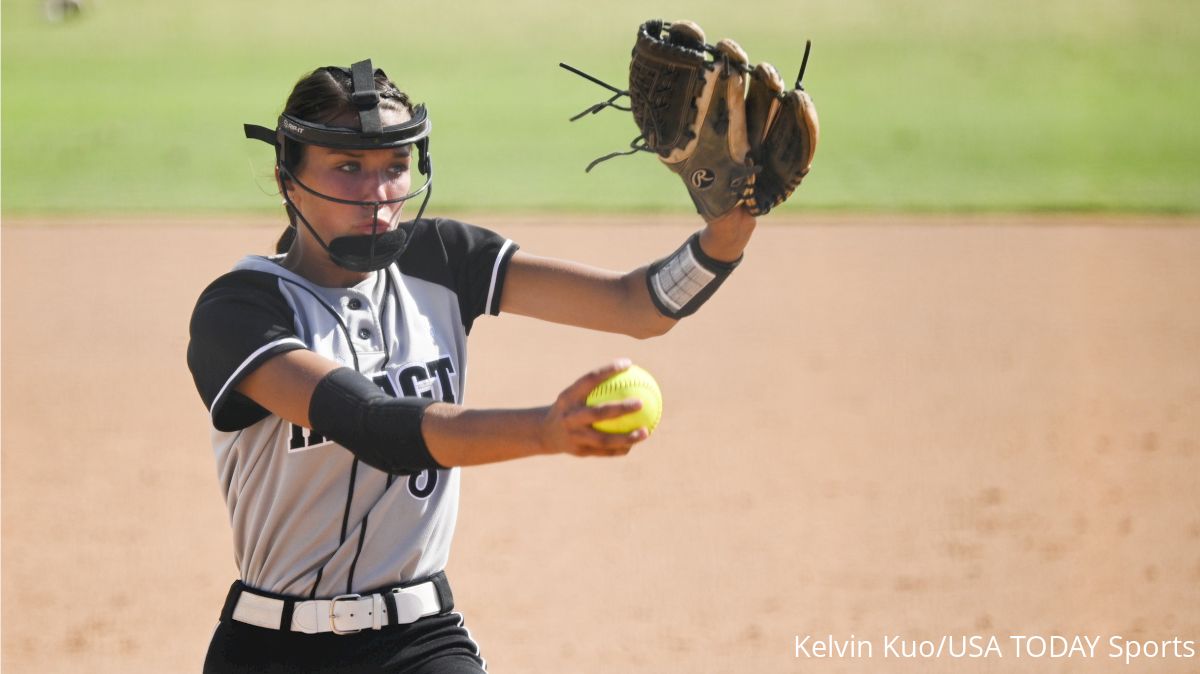 As the final out of the 2022 PGF 16U championship game was made, Georgia Impact Caymol pitcher Erin Nuwer already had decided what she would do first when the celebrating began.
The Buffalo, New York, right-hander rushed over to infielder Taylor Pipkins and gave her a big hug.
Pipkins had come to the plate in the top of the fourth with the bases loaded and nobody out. Impact was trailing against the favored Beverly Bandits 16U Conroy squad, 2-0, but Pipkins had a chance to get her team back in the game.
The North Forsyth (Georgia) High junior came through in a big way, lining a three-run triple down the right-field line to give Impact a lead that wouldn't be relinquished in a 5-2 victory.
"(Taylor) is always our rock in the field, and then she came up with that clutch hit," Nuwer said. "It was crazy. I still can't stop thinking about it. My group chat for the team, it hasn't stopped since we left the field."
Nuwer had another reason for enveloping Pipkins in a post-game bear hug.
The hit erased a shaky third inning, in which she walked the Bandits' No. 8 and 9 hitters, before allowing a two-run double by Addie DeLong. Nuwer got out of the inning without further damage but felt a sense of dejection as she headed toward the dugout.
That's when John Oda, one of the Impact coaches, came over and gave her a pep talk.
"Listen to me," he told her. "I've seen all the best pitchers in the world. You're just like them. You can do it. The team has your back."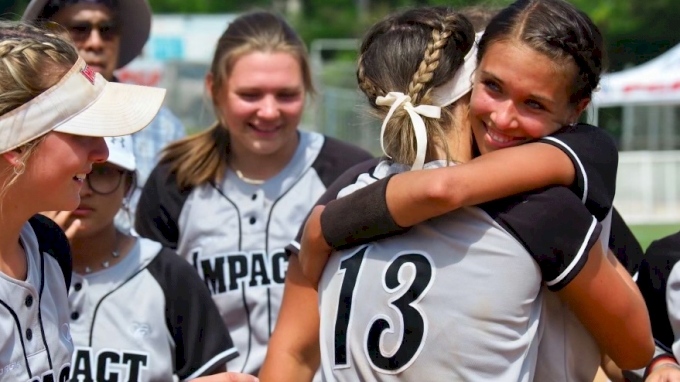 It was exactly the motivation Nuwer needed. She shut down the Bandits the rest of the way for a complete-game victory that gave the Impact organization its third championship of the summer. Two other Impact squads captured the USA/ASA Nationals and TCS Southeast title.
Impact head coach Teo Caymol had Carter Wachtel warming up in case Nuwer ran into more trouble. But he was confident she could go the rest of the way, especially after the team added a couple of insurance runs.
"I thought that if we could get through that top of the order, I could probably leave her in and see if she could settle down, which she did," Caymol said. "The good thing about her is she has a short memory, like most good pitchers do. She refocused and dialed back in."
Nuwer has been eyeing a PGF championship since age 12, when she played for a local team called the Stars, before two different stints with Tennessee Fury.
She made a guest appearance with Impact in the fall of 2020 after the Stars had shut down following the coronavirus pandemic. After her Fury team disbanded, Nuwer asked Caymol if she could join the team permanently, and he agreed.
"I already knew a lot of girls on the team, so I was pretty comfortable going (there)," she explained.
One of the greatest lessons Nuwer has learned from Caymol is the importance of preparation. But, it's more than just preaching it. Caymol demonstrates it by example.
"He'll wake up three hours before the game starts, even if it's an 8 a.m. game, and he'll watch some much game footage," Nuwer said. "He'll know the basic pitches to call. He teaches me there's a lot more work that goes into it as far as throwing a pitch."
Early in the PGF championship game, Nuwer relied on her drop ball. After the first inning, she reverted to her favorite pitch, the rise ball. It's easier for her to locate, and she induces more swings and misses or light contact.
"We tried to start off with the drop because I knew (the Bandits) thought we were going to come quickly with that off-speed rise," Caymol explained. "We got through their lineup the first time throwing more drops. I knew once we came around the second time, they would have a little bit of trouble with that rise."
Nuwer played on her father Aaron's T-ball team and also competed in gymnastics, basketball and volleyball. She enjoyed softball for its team aspect and getting the chance to travel the country. Aaron helped coach her until 14U, when he realized it was time to sit back and enjoy watching others mold his daughter into an elite pitcher.
That's not an easy transition for any parent to make, but Aaron has enjoyed seeing her thrive under the guidance of Caymol and private pitching instructor Mike Muhleisen.
"I get way more stressed out as a parent than I did when I was coaching," admitted Aaron, who competed in football and baseball in high school and currently plays for an adult volleyball team. "I put my earbuds in and stay to myself when she's pitching. It's different, but I've truly enjoyed it and I think it's helped her prepare for the future."
Nuwer became serious about pitching at age 10. She gained a lot of her mental toughness in the circle by watching pitchers like Odicci Alexander, who led James Madison to the 2021 Women's College World Series. Nuwer was inspired by the success of Alexander and the team against heavy odds.
"She was an underdog and always had confidence in herself," Nuwer said of Alexander. "She made JMU such a good program. I felt she overcame (underdog status) really well."
At Nardin Academy High School, Nuwer led her team to two consecutive regional finals, before bowing out to the same team on both occasions. The losses were particularly tough to swallow, since they came at the hands of her best friend Anna Dovey's team. Dovey plays for the Impact 18U squad.
"It was a best-of-three and we lost both games," Nuwer said of this year's playoff loss. "It sucked. This year, they're losing Anna, their best player, so I think we'll be good."
Impact practices can be quite intense.
Each spring, Caymol puts the team through all-day workouts for a week. For Nuwer, the appeal of softball comes through relationships with friends and teammates no matter how tough things may get.
"My best friends play softball with me because I can't practice out of state every single day," she explained. "I just work out with them."
Nuwer has come through several major injuries during her softball career.
At 14, she broke her hip during a pitching workout after landing the wrong way. She also has broken the same arm four different times (not her pitching arm, thankfully). Each one occurred in a different way: a gymnastics routine, rollerblading, catching a fly ball the wrong way.
"It's crazy," Nuwer admitted with a chuckle.
Now that PGF is behind her, Nuwer is preparing for her junior year of high school and recruiting. Her goals for the coming year are simple: lead her high school team to that elusive state championship and capture a second PGF title.
"That's an experience I would love to relive," she said.