2022 PGF Nationals 18U Premier
Rising Star: Kylie Brockman Brings Energy, Motivation & Inspiration
Rising Star: Kylie Brockman Brings Energy, Motivation & Inspiration
Kylie Brockman and her Select Fastpitch teammates know that if you believe in yourself, you can do anything. If your team believes you can go far, you can.
Aug 13, 2022
by Stephen Kerr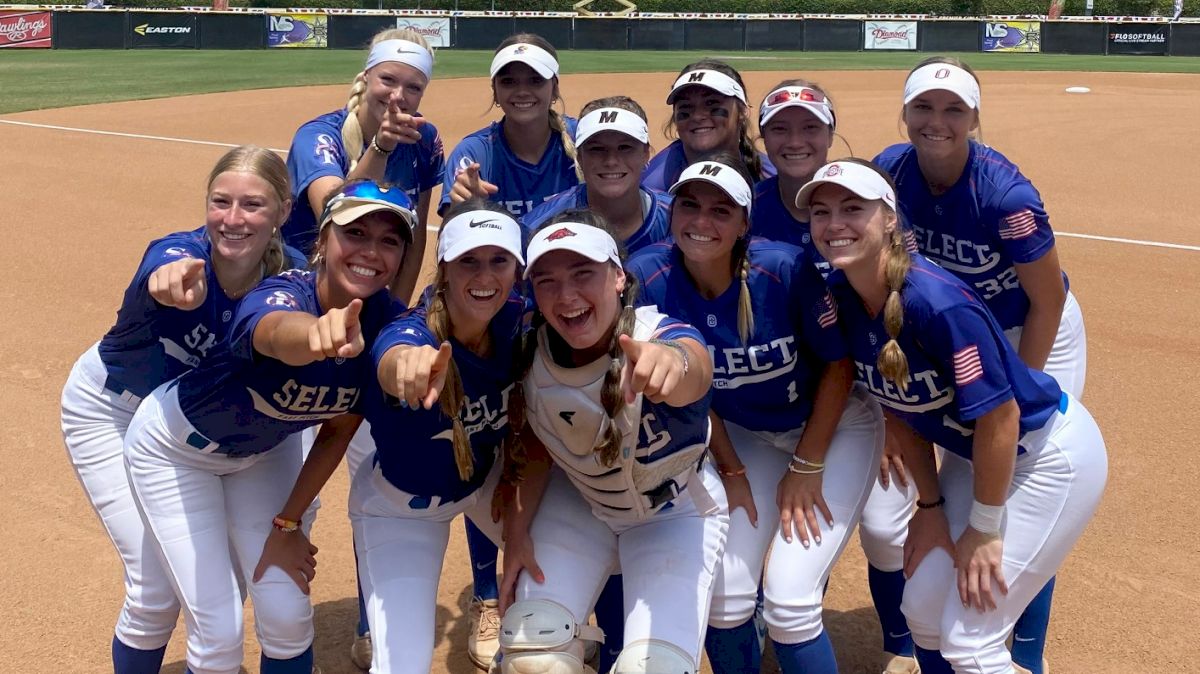 If you believe in yourself, you can do anything. If your team believes you can go far, you're more than capable.
Catcher Kylie Brockman and her Select Fastpitch teammates are great examples of those maxims. This became evident in the semifinals of the 2022 PGF Nationals in California.
The 18U squad out of Kansas City dropped the first semifinal matchup with Lady Magic 5-1, but since they were unbeaten through bracket play, Select would have to lose the 'if necessary' game to be eliminated.
It didn't happen. Select took the game 6-0, earning the right to face Birmingham Thunderbolts Rocky for the title. Even though they fell short in that contest, Select sent a message that they belonged in the conversation as one of the top teams in the country.
"We knew if we lost, we were going home," said Brockman, a Kansas City native and 2023 Arkansas commit of the possible extra game. "The game before, we had been pressing a little bit, just not really playing freely. Then, we come out and score in the first inning. Our pitching was lights out, and our defense was great. Everyone was making contact."
The team began the summer with 18 on the roster. Through injuries and several departures, they came to PGF with just 10 original players and two who were making guest appearances. Brockman attributes their success to building trust and working with what they had.
"We've been competing with these big teams all summer," she said. "We've played Nebraska Gold multiple times, Lady Dukes Lamar, Beverly Bandits Conroy, Tampa Mustangs... We lost sometimes, but we also beat them. We competed all year long. Going down to California, we knew we had a shot, but I don't think many people thought we did."
Brockman's father, Joe, recalls his daughter having a competitive nature early on, no matter what sport she participated in. Softball eventually ruled as her priority, and he coached her Little League teams before she began playing competitively at the 12U level.
"It came to a point where (the two of us) were too alike," recalled Joe Brockman, who wrestled and played baseball in high school. "We realized it was time for me to step away and allow somebody else to coach her. At home, I would still work with her, challenge her and try to be realistic with her as far as where her skill level was at the moment."
Brockman's stepmother, Lynne, is quick to point out that while she and Joe required their daughter to finish anything she started, it was Kylie who took the lead in setting goals for herself.
"She did that all by herself and just blew us away," Lynne said. "She will constantly come up and ask, 'dad, I want to do some work; will you come out in the garage and help me'? Her personal motivation has really been inspiring."
Brockman took up pitching when she first got into softball. One day after an offseason practice, she decided to try catching for fun. To her surprise, she fell in love with it almost instantly. She decided to devote her workouts full-time to catching.
"I really love being involved in every single pitch and every play," she explained. "It's such a crucial part of the game. My coaches trust me to call the game, so I've really developed that way. I think it's helped my softball IQ and knowing more about the game."
Brockman has worked hard to learn the intricate aspects of catching, whether it's framing pitches, blocking balls to keep runners from advancing bases or getting her pitchers to change the eye level and speed of their pitches.
What Select Fastpitch coach Eric Jones appreciates most is her energy behind the plate.
"You can tell by the way she plays the game that she's always upbeat," Jones said. "Girls love to throw to her because when you get that third-strike call, Kylie's really pumped up. That brings a lot of energy and passion to the pitchers."
That energy carries over to the batter's box. Whether she's 4-for-4 or 0-for-4, Brockman remains aggressive, believing she can hit any pitcher. Her private hitting instructor, Tony Milz, constantly emphasizes lower body movement and using her hips during her swing.
"People tell me to shorten up, but I kind of feel like my swing is all or nothing," Brockman said. "Tony has let me know that I can get anything done with my swing. I can hit balls over the fence, but I can also hit a little dinker or ground ball, just put the ball in play and be consistent."
Brockman was born with an overgrowth on her femur, which has caused numerous hip problems.
Last fall, she tore her labrum and needed surgery. Doctors had to shave the bone to prevent such injuries from reoccurring. She was on crutches for about a month and was cleared to return after four months. She hit the gym and worked on her upper body while physical therapy helped regain her lower body strength.
She decided to sit out the spring softball season at Piper High School, opting instead to play spring travel ball.
"I wanted to play spring ball with Select just to see better competition to get ready for the summer, which I think was very beneficial," she explained.
Last year, Brockman won the state powerlifting championship. She became interested in CrossFit during middle school. Her social studies teacher, who happened to be the powerlifting coach at Piper High, encouraged her to join once she began high school.
"I love it," Brockman said. "The boys support you, the girls support you. Everyone from every school is pushing you to get the weight up, to lift the most that you can. It's a really cool environment."
As a fan of Kansas University growing up, Kylie didn't initially have Arkansas on her recruiting radar. But, after attending a Razorbacks camp in January 2021, she realized there were other great schools besides KU to consider.
"That was the moment I knew I wanted to go there," Brockman said of her decision to commit to Arkansas. "That's when I started following (them) a lot more. Since then, that has been my goal, that's what I've had my mind set on."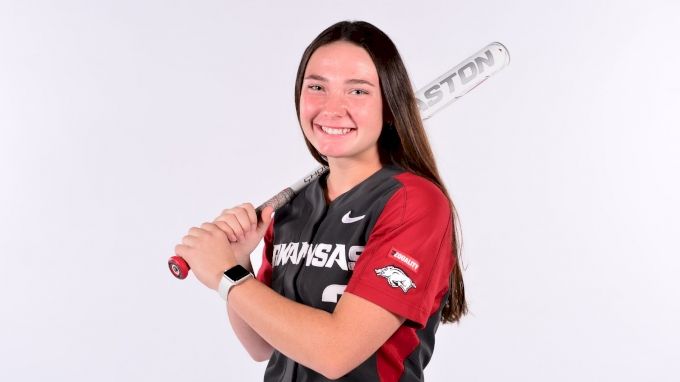 Following the PGF championship game, Brockman participated in the All-American Futures and Seniors Game. She was named as the starting catcher for pitcher and 2022 National Gatorade Player of the Year Keegan Rothrock.
"I was excited, but I had never caught (Keegan)," Brockman said. "I wanted to get some pitches thrown to me so I knew her movement before we went onto the field. Thankfully, we were the visitors. While we were hitting, we went to the bullpen, and she threw a little to me. It was really fun to just play with those girls who are some of the best athletes in my class."
As intense as she is on the field, Brockman still manages to keep things light. She often addresses everyone as 'Queen,' which has earned her the nickname among teammates and coaches. Her personality is one of the biggest reasons Jones enjoys coaching her.
"She's a great clubhouse kid," Jones said. "Any long road trips, long games, you can always count on her to have that positive attitude."