Rising Stars: From Club To College Softball
Rising Star: Taylor Troutman Plays The Game With A Smile
Rising Star: Taylor Troutman Plays The Game With A Smile
Hitting balls over the fence seems to come naturally to Taylor Troutman, but the junior outfielder is versatile and talented well beyond her big swing.
Sep 15, 2022
by Stephen Kerr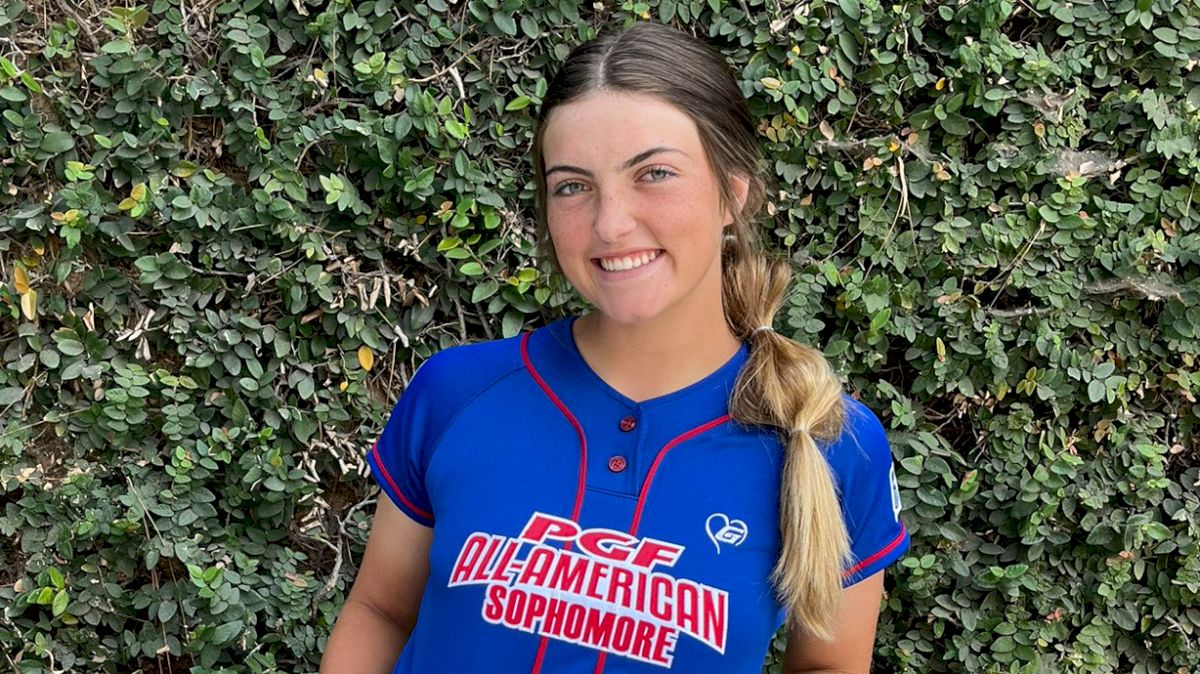 Occasionally before a practice, Shannon Troutman gathers his Henderson County (Kentucky) High softball team into several groups to square off in a home run contest. It's a fun way to not only get the competitive juices flowing, but to encourage the players to challenge themselves and each other.
Shannon's daughter, Taylor, wins most of them. Her "opponents" are no slouches, as a number of the girls have committed to play for college programs.
"They challenge each other," said Shannon, a former baseball player at Oakland City University who has coached Henderson County for five years. "It is very competitive because there are a lot of good players. They're all friends, so they really (enjoy) competing with each other. They have a good time with it."
Hitting balls over the fence seems to come naturally to the 5-foot-11 left-handed-hitting junior outfielder who also plays for the Top Gun 18U National travel team.
Troutman came out swinging her freshman year by breaking the school's single-season records for home runs and RBIs. In fact, she broke both records with one swing against rival Madisonville.
Last season, Troutman became the Lady Colonels' all-time home run leader.
Her team made it to the Sweet 16 in the state tournament her freshman season and the Elite Eight last spring. (Kentucky is one of the few states that has only one state championship).
Troutman not only had to prove she belonged on the varsity team as a freshman, she wanted to eliminate the stigma of being the coach's daughter.
"I was really nervous at first," she admitted. "I wanted to prove myself because of the term 'coach's daughter.' I didn't want to be that. I wanted to show everyone that I'm ready to play, I'm going to compete and I want to be there."
Home runs may be Troutman's specialty, but that doesn't mean she goes up to the plate swinging for the fences every time.
She also can hit for average, batting .450 during PGF Premier Nationals this summer. Her exit velocity hovers around 80 mph, and she bats anywhere from fourth to sixth in Top Gun's lineup.
Over time, her mindset has shifted to becoming more of a complete hitter.
"I love to hit home runs," Troutman said. "The first and second strikes, I go up there swinging with all my might. When I get two strikes, I'm like, 'it's going to be OK to hit doubles or triples. Let's go for the line drives.' I tone it down a little bit."
Troutman played basketball during her middle school years and volleyball until her sophomore year of high school. Softball always has been her favorite. She recalls fondly how her grandparents, who are both deceased, often came to watch her play.
Once Troutman decided she wanted to play at a high level, her father was a bit uncertain at first whether she would be willing to put in the necessary hard work. Those fears were quickly laid to rest.
"When she made her mind up, she worked every day," Shannon Troutman said. "She hit every day, and she'd throw. When there was nobody to throw with, I have a basket that's got 180 balls in it. She'd throw by herself to strengthen her arm. Her work ethic went through the roof."
As intense as Troutman is on the field, it doesn't take long for her bubbly, outgoing personality to become contagious. If positive and lighthearted can be mentioned in the same sentence when describing an ultra-competitive athlete, Troutman fits the definition.
"She competes, and she's there to win, but she is a kid who loves her teammates," Top Gun 18U coach Bob Turner said. "She encourages her teammates and is a very supportive kid. In the dugout, she helps keep it light. She fits right in to keep the energy positive and light."
Even as she prepared for the Sept. 1 recruiting window, Troutman showed none of the anxiety that sometimes accompanies the experience. She couldn't wait for midnight of the big day to come around.
"I couldn't stop smiling," Troutman said on receiving her first call from a college coach. "It was so exciting. It's been really fun, a little overwhelming, so many emotions. But I wouldn't trade it for the world."
Troutman played for a local travel team called the Freedom until it split up in 2020. After a brief stint with Indiana Magic Gold, she joined Top Gun National. Playing up is something that helps drive her to be better every day.
"I have learned so much," Troutman said. "I played with girls (who) all committed this summer, so I learned a lot about the game of softball. But I also learned about the next level, too. They taught me so much to help with the process I'm going through now."
Troutman typically plays in right field. Her length and running ability allow her to cover ground quickly, though her mother, Danielle, jokes about her occasional clumsiness when running.
"She has the largest feet, and she trips over them in the air and everything," Danielle said. "She has crawled to bases and tripped over some bases. She's had some moments."
Those moments are exceptions, to be sure. Turner plans to give Troutman more experience at the other two outfield spots to make her more versatile.
"She's really come on in the grass," Turner said. "She's a kid that's constantly working and definitely has an arm to play (right field). This year, we're going to flex her in all three outfield spots and make sure she has a high level of comfort across all three when she heads off to college."
Enjoy tomorrow 2024's!! September 1 comes every year but it means more to those that put in the sweat, work, and dedication. @TaylorTroutman6 deserves this day whether she gets 1 call, 10 calls, or no calls. This kid WORKS!!! You will find where you are supposed to be! pic.twitter.com/cutqJR6wNw

— Coach Troutman (@HCHS_SB_coachT) August 31, 2022
Speaking of college, Troutman has a list of what she wants in a school. It must have a solid elementary education program, since she plans to become a teacher. She wants an environment that feels like home and to be able to have a good relationship with her coaches. She's also looking for a strong mental health program.
"It's going to be my home away from home, and I want to make sure I feel at home there," she explained.
Troutman has a special talent for juggling, something she learned while attending a softball camp. When the coronavirus pandemic forced a halt to sports activities, she practiced juggling to pass the time.
"I love juggling so much," she said with a laugh. "I love throwing all three balls in the air at the same time. When I finally got it, I started looking up YouTube tricks on how to do that."
Troutman plans to play softball as long as she can, but she knows that window will close one day, and she hopes to carry over many of the characteristics she learned from the game into other aspects of her life.
"Since I want to be a teacher, I want to be a hard worker," Troutman said. "I have dedication for this sport, so I want to have dedication to my kids when I'm a teacher."
College is less than two years away, but Turner fully expects Troutman to make a quick impact and leave her chosen program better than she found it.
"She's already done that here at Top Gun," Turner said. "We're better today as an organization because Taylor Troutman's a part of it. But I firmly believe that's going to be the experience at the home she finds at the collegiate level."