Rising Stars: From Club To College Softball
Rising Star: Mattie Beliveau Is A Bulldog In The Circle
Rising Star: Mattie Beliveau Is A Bulldog In The Circle
College is still less than two years away, but Mattie Beliveau is as determined as ever to improve her mechanics, ball movement and spin.
Sep 22, 2022
by Stephen Kerr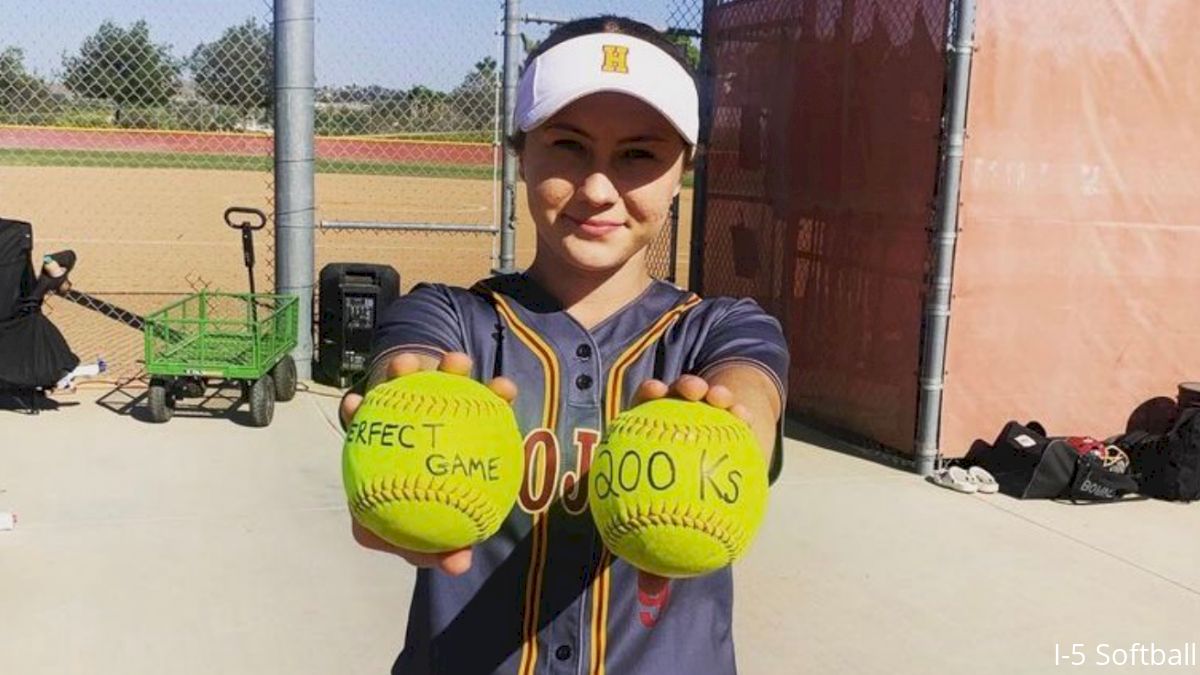 Illness knows no season. It can strike anytime: on Christmas, a birthday, even before a high school softball playoff game.
Hillcrest (California) High right-hander Mattie Beliveau woke up two days before her team's first game in the CIF Southern Section playoffs with a sore throat. As the day progressed, she began finding it difficult to breathe. By the next morning, her tonsils were so swollen she could hardly eat or swallow.
That's when Beliveau's parents, Matthew and Jale, took her to the emergency room. Doctors ran a series of tests but couldn't find anything wrong. She was put on an IV for several hours, then sent home.
The day of the game, Beliveau felt better, though she still wasn't at full strength. There was no question about whether she would pitch that day, however.
"I didn't feel my best, but I wanted to be there for my team for the game," explained the 2024 Hawaii commit, who also pitches for I-5 Softball Snyder/Fitz. "I went out there and shut everyone down."
Indeed, she did.
Beliveau didn't allow a run that day and only gave up two the entire postseason, up until the championship game.
Hillcrest was tied 4-4 with Elsinore in the seventh inning, when shortstop Melody Acevedo cranked an opposite-field home run that gave the team its first CIF Southern championship.
Beliveau struggled in the middle innings but rallied to retire the final eight batters. She struck out 10 and finished the playoffs with 71 strikeouts.
"I had adrenaline going, and I was really locked in," Beliveau said of the title game. "I just focused on getting the ball to the catcher's glove and making sure my (pitches) were moving. When our shortstop hit a home run in the seventh inning, I guess it gave me more of a reason to keep going and gave us that extra boost. It was my job to get these last three outs."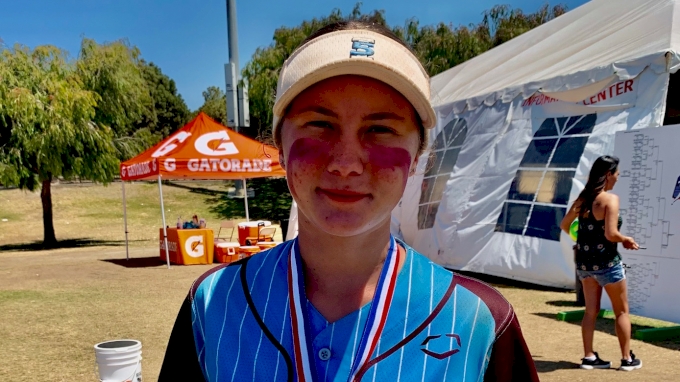 Beliveau still has no idea what caused her to be sick, though she suspects it may have come from swimming on the last day of school.
Her physical stamina was tested again just this month after she came down with the flu. Nevertheless, she insisted on pitching in an intrasquad game.
Beliveau's refusal to quit doesn't come as a shock to those who know her. Hillcrest head coach Tony Carvajal calls her a 'bulldog,' whether she's attacking a hitter or an illness.
"She's all about the game," said Carvajal, who has coached the team for five seasons. "She's not there to mess around. That look she has, she's focused, she's on it."
The CIF championship was celebrated earlier this month at city hall during a council meeting, complete with highlights and a commendation. Winning the title culminated quite a turnaround for Hillcrest, which finished in last place the season before.
Beliveau didn't arrive at the school until this past season and had to sit out 30 days after transferring from Arlington High. Carvajal was shocked when he received a call from Beliveau's mother informing him she was transferring to Hillcrest.
"What?" Carvajal asked in surprise. "You mean Mattie, the Mattie from Arlington?"
That surprise quickly turned to elation. Despite not pitching a full season, Beliveau finished with 185 strikeouts and two perfect games, and she earned All-River Valley, All-CIF and All-State honors.
When the final out was recorded in the championship game, Beliveau didn't toss her glove in the air like many players. She threw it down and gave her first baseman a hug.
"We were all jumping around, I started crying," Beliveau recalled. "It hadn't sunk in yet that (our team) won CIF. It took a while."
Beliveau, an only child, grew up playing softball, club soccer and ran cross-country. Her father coaches a boys' soccer team. Her mother was a softball pitcher who played at Cal State Dominguez Hills, before going overseas to pitch professionally in Italy for two seasons. Mattie believes she inherits her intensity from Jale.
"She has that 'no one can mess with me' mentality on the mound," Mattie said. "I always grew up with a strong head and to not let anything bother me."
That intensity is sometimes mistaken for a lack of enthusiasm, particularly when Beliveau is in the circle. But Beliveau enjoys the game as much as anyone; she's just hyper focused.
"She attacks hitters, which I think is a lost quality in softball," I-5 coach Jared Snyder explained. "She's not afraid to attack hitters in, out, up, down... It doesn't matter. She has no fear."
Jale, now a pitching instructor in Southern California, remembers taking Mattie to lessons when she was just a toddler. Even then, she could strike a pitcher's pose.
"She was already standing on the mound the right way and had the windup," Jale recalled. "When she was 6 years old and playing with the 8U girls and striking people out, I knew she had the talent."
Beliveau pitched for the Corona Angels, Batbusters, Ohana Tigers and several others before joining I-5 Softball. She appreciates the support of Snyder and the other coaches, knowing they have her back even in the tightest situations.
"(Snyder) has always motivated me to keep working harder and reach my goals," Beliveau said. "It's something that kept me going in the sport."
Snyder believes Beliveau's best pitch is her drop curve, though she isn't afraid to throw the rise and changeup when she needs to.
"We use them all in different situations," Snyder explained. "It's very hard to pinpoint one you can go to because each game could be a different pitch based on how well she's throwing. It varies."
When midnight struck on Sept. 1, 2022--the first time DI college coaches could contact recruits directly--2024 Extra Elite 100 pitcher Mattie Beliveau got her dream call.https://t.co/WI0bhD9KV6 pic.twitter.com/4jB6VESOzP

— ExtraInningSoftball (@ExtraInningSB) September 10, 2022
When I-5 is not in action, Beliveau also plays for a travel team in Maui. Her interest in Hawaiian culture stems in part from a timeshare she and her family have there, along with the opportunity to play travel ball.
"Everything out there, it's like family, like Ohana (a term used to describe a family bond)," Beliveau explained. "You're always there with each other, always creating memories."
That fascination is one of the main reasons Beliveau verbally committed to Hawaii shortly after the Sept. 1 recruiting window opened. When head coach Bob Coolen telephoned her right at midnight, he told her he was willing to make an offer. It came the next day and Beliveau didn't have to think long to accept.
"Nothing else stuck out to me," she said. "I called, and I was like, 'I want it'."
College is still less than two years away, but Beliveau is as determined as ever to improve her mechanics, ball movement and spin. She wants to be remembered as someone who enjoys the game.
"I want to influence young kids to fulfill their dreams of being a softball player," Beliveau said. "Yes, it's a competitive sport, but you should also have fun. It's not the whole world. If you're not having fun, why are you playing?"
It's a mantra opposing hitters may need to remind themselves of each time they face her.