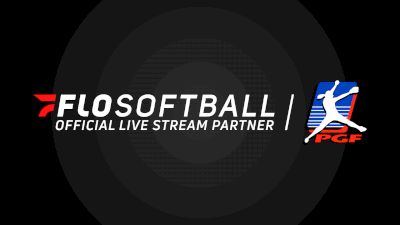 PGF Renews Partnership With FloSoftball As Official Streaming Partner
Mar 12, 2021
AUSTIN, Texas (March 11, 2020) – FloSports, a leading sports streaming and original content network, today announced it has reached a four-year partnership extension with Premier Girls Fastpitch (PGF) to remain the exclusive global streaming provider for the PGF National Championships. Under terms of the deal, FloSoftball will air coverage of all age group competitions through the 2024 tournament, bolstering its status as the industry-leading platform for softball.
The PGF showcases the best girls fastpitch players in the United States, with more than 600 teams from across the country competing in the 10U, 12U, 14U, 16U and 18U National Championships. Coverage of the 2021 tournament begins on July 23 and runs through August 8, with games being streamed live and will also be available on-demand via the FloSoftball platform.
"We're thrilled to extend our partnership with FloSports to continue spotlighting the top softball talent from around the country"

- Dan Hay, President/CEO of Premier Girls Fastpitch.
"FloSoftball is the go-to destination for fans of the sport and we know their coverage of the upcoming PGF National Championships will enhance the experience for global audiences."
"We've seen tremendous results from our partnership with PGF and we're excited to extend our relationship with them through 2024," said Adam Armstrong, Director, Global Rights Acquisition, FloSports. "As the leading platform for elite fastpitch softball, we strive to provide FloSoftball subscribers with unparalleled coverage and events access, and this deal furthers our commitment to the sports and its passionate global fanbase."
The 18U and 16U national championship takes place from July 23 to July 31, with the 14U, 12U, and 10U age groups competing from August 1 to August 8.
Connect with thrilling live and on-demand elite softball by becoming a FloSoftball subscriber. Subscriptions also unlock complete access to the entire network of FloSports verticals ranging from cycling, wrestling, football, baseball, racing, grappling, hockey, and more. Watch events across all screens by downloading the FloSports app on iOS, Android, Apple TV, Roku, Amazon Fire, and Chromecast.
About FloSports
Founded in 2006, FloSports is a venture-backed subscription video stream service dedicated to sports, offering live and on-demand access to hundreds of thousands of competition events across 25+ vertical sport categories in the US and abroad. FloSports vision is to give underserved sports the love they deserve. With a growing library of more than 300,000 hours of premium content including news, expert commentary, films, documentaries and more, FloSports has established itself as an innovator and leader in sports streaming. Finally, your sport has a home. For more information, please visit: flosports.tv.
About Premier Girls Fastpitch (PGF)
PGF was founded in 2009 and today crowns the unquestioned national champion across nine age divisions. In 2019, over 600 teams competed across those age groups, with the 17-day event held across parks in Huntington Beach, Fountain Valley and Irvine, California. Premier Girls Fastpitch is where the best of the best play in amateur fastpitch softball. Since 2009 thousands of female student athletes have realized their dreams to play on the college level by performing with top-level competition in front of college recruiters. PGF produces hundreds of tournaments and showcases each year across the country.