Lisa Maria Fernandez is a Puerto Rican-American, former collegiate four-time First Team All-American, 3-time medal-winning Olympian, right-handed hitting softball pitcher and third baseman, current softball assistant coach at UCLA, originally from Long Beach, California. She starred on both sides of the plate for the UCLA Bruins softball team from 1990-93 and won two National Championships.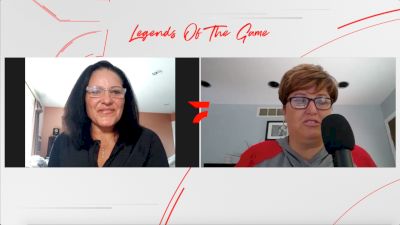 Lisa Fernandez | Legends Of The Game (Ep. 4)
Oct 7, 2020
Kris Caldwell hosts Lisa Fernandez on Legends of the Game to discuss some of her favorite moments and lessons.
Fernandez is a UCLA and USA Hall of Famer. She was a four-time winner of the Honda Sports Award for softball and was also the first softball player to win the Honda-Broderick Cup. A four-time, first-team All-American, Fernandez led UCLA to two national championships (1990 & 1992) and two runner-up finishes (1991 & 1993).
Need more Legends?
Have you seen Legacy: UCLA, the two-part documentary?
UCLA softball revolutionized the game by raising the standards of what meant to be a champion. 11 NCAA Championships and 15 Olympians later, hear the stories that have never been told by Sue Enquist, Kelly Inouye-Perez, and Lisa Fernandez. Watch how a system of excellence blossomed into a dynasty of dominance.