Hot 100 Rankings
2021 Hot 100 Rankings
FloSoftball has ranked the Hot 100 top fastpitch prospects beginning with the 2014 Class and has done every year since: 2015, '16, '17, '18, '19 and '20 and we've also updated most of those years several times (the 2019 Hot 100 being the most recent, updated in February).
And as for this initial 2021 list of standouts—who are just in the eighth grade, even though many are playing up at the varsity high school level already—we'll update the Hot 100 list several more times over the next five years so know this is just the starting point!
These honorees were chosen based on input and feedback from college and club coaches as well as our own FloSoftball event and in-person observations. Criteria for choosing and ranking the players includes performances at the club and high school levels and projecting how they will play at the collegiate level.
This September we will be updating the 2021 Hot 100 rankings. It's been quite a while and there have been so many changes since last year. That means that hundreds of new candidates from all over the country are being considered for this year's Hot 100 rankings.
Last year, Oklahoma-commit Quincee Lilio was named FloSoftball's 2021 Hot 100 #1 player and was followed by a slew of Pac-12, SEC, Big 12, and ACC commits.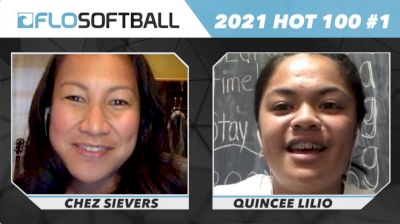 The FloSoftball team will be doing extensive research over the next few weeks to determine who will be recognized in the 2021 Hot 100.
What do we look at when we're evaluating Hot 100 players?
In game performances at elite tournaments
High School & Travel Ball stats
AthPro360 evaluations
Tournament finishes
Feedback from elite club coaches and college coaches
Let's take a look at #1 players we've recognized in the past:
2014 — #1 Jenna Lilley, IF (Oregon)
2015 — #1 Amanda Lorenz, OF (Florida)
2016 — #1 Miranda Elish, P (Oregon)
2017 — #1 Bri Perez, IF (UCLA)
2018 — #1 Megan Faraimo, P (UCLA)
2019 — #1 Alexis Kilfoyl, P (Alabama) — Last update coming Oct-Nov 2018
2020 — #1 Jayda Coleman, IF/OF (Oklahoma)
2021 — #1 Kinsey Fiedler, SS (Washington)
2022 — #1 Maci Bergeron, C (LSU)
How To Nominate a Player:
Only coaches can submit player nominations.
Nominate HERE
Where do you think she ranks in her class? Why?
Send us a headshot.
If you have any questions regarding the Hot 100 please email chez.sievers@flosports.tv
---
Read the full bios 2021 Hot 100 bios:
Up Next: Next In 201-300
Coming Soon: 2021 Top 10 Pitchers
Coming Soon: 2021 Top 10 Catchers
Coming Soon: 2021 Top 10 Infielders
Coming Soon: 2021 Top 10 Outfielders