Completed

,

May 27-29, 2017
Atlanta Legacy Prospects powered by USA Elite Select is hands down one of the best 12U tournaments this summer. From May 25-29, you will see the top teams out of the Southeast battle for bragging rights going into the summer.
Show Results
: 2017 Atlanta Legacy Prospects
Pool play has been completed at USA Elite Select's Atlanta Legacy Prospects 12U tournament with Georgia Impact Langston undefeated going into bracket play.
| Time | Field | Match Up | Score | Pool |
| --- | --- | --- | --- | --- |
| 8:00 | Central Park - #2 | [GA] Georgia Impact Langston VS. [NC] Lady Dukes | 3-0 | D |
| 8:00 | Central Park - #3 | [GA] Georgia Impact 05 Lewis VS. [FLS] FLORIDA POWER BLACK 04 - GERMAN | 6-1 | D |
| 9:30 | Central Park - #1 | [GA] Georgia Impact Langston VS. [GA] Atlanta Vipers 04 | 3-1 | D |
| 9:30 | Central Park - #2 | [TXS] Hotshots-Bailey VS. [GA] Georgia Impact 05 Lewis | 14-0 | D |
| 9:30 | Central Park - #3 | [NC] Lady Dukes VS. [FLS] FLORIDA POWER BLACK 04 - GERMAN | 5-0 | D |
| 9:30 | Central Park - #6 | [SC] Lady Lightning Select Hyatt VS. [AL] Armory 04 | 6-2 | C |
| 9:30 | Central Park - #7 | [AL] Birmingham Thunderbolts 05 VS. [AL] South Alabama Lady Titans 12U | 6-2 | C |
| 11:00 | Central Park - #1 | [AL] Thunderbolts 04 VS. [TXS] Diamond Sports Hotshots Gold | 1-0 | E |
| 11:00 | Central Park - #2 | [FLN] Gainesville Gold 12u Whitlock VS. [GA] EC Bullets Lunsford | 7-6 | E |
| 11:00 | Central Park - #3 | [GA] Atlanta Vipers 04 VS. [TXS] Hotshots-Bailey | 2-1 | D |
| 12:30 | Central Park - #1 | [AL] Thunderbolts 04 VS. [GA] Southern Force 04 | 4-2 | E |
| 12:30 | Central Park - #2 | [TXS] Diamond Sports Hotshots Gold VS. [GA] EC Bullets Lunsford | Tie (1-1) | E |
| 12:30 | Central Park - #3 | [GA] Georgia Impact Langston VS. [FLS] FLORIDA POWER BLACK 04 - GERMAN | 13-3 | D |
| 12:30 | Central Park - #4 | [OH] Ohio Stingrays 04 VS. [NC] Team NC Louisville Slugger (Eaton) | 9-7 | F |
| 12:30 | Central Park - #6 | [AL] South Alabama Lady Titans 12U VS. [SC] Lady Lightning Select Hyatt | 6-2 | C |
| 12:30 | Central Park - #7 | [IL] Beverly Bandits Premier VS. [FLS] South Florida Diamond Dusters 04 | 6-0 | C |
| 2:00 | Central Park - #1 | [FLN] Gainesville Gold 12u Whitlock VS. [GA] Southern Force 04 | 5-1 | E |
| 2:00 | Central Park - #2 | [GA] Georgia Impact 05 Lewis VS. [GA] Atlanta Vipers 04 | 8-2 | D |
| 2:00 | Central Park - #3 | [NC] Lady Dukes VS. [TXS] Hotshots-Bailey | 7-2 | D |
| 2:00 | Central Park - #4 | [FLS] Clearwater Lady Bombers - Barber 04 VS. [NC] Team NC Louisville Slugger (Eaton) | 2-0 | F |
| 2:00 | Central Park - #5 | [AL] Alabama Twisters - Barnett VS. [AL] Birmingham Vipers 04 | 10-2 | F |
| 2:00 | Central Park - #6 | [IL] Beverly Bandits Premier VS. [AL] Armory 04 | 8-0 | C |
| 2:00 | Central Park - #7 | [TXS] Impact Gold 12U Nationals Spencer VS. [FLS] South Florida Diamond Dusters 04 | 4-2 | C |
| 3:30 | Central Park - #1 | [AL] Thunderbolts 04 VS. [GA] EC Bullets Lunsford | 7-2 | E |
| 3:30 | Central Park - #2 | [GA] Atlanta Vipers 04 VS. [FLS] FLORIDA POWER BLACK 04 - GERMAN | 4-2 | D |
| 3:30 | Central Park - #3 | [NC] Lady Dukes VS. [GA] Georgia Impact 05 Lewis | 11-3 | D |
| 3:30 | Central Park - #4 | [FLS] Clearwater Lady Bombers - Barber 04 VS. [VA] VA Glory-Willemssen | 5-0 | F |
| 3:30 | Central Park - #5 | [OH] Ohio Stingrays 04 VS. [AL] Birmingham Vipers 04 | 2-0 | F |
| 3:30 | Central Park - #6 | [AL] Birmingham Thunderbolts 05 VS. [SC] Lady Lightning Select Hyatt | 4-1 | C |
| 3:30 | Central Park - #7 | [TXS] Impact Gold 12U Nationals Spencer VS. [AL] South Alabama Lady Titans 12U | 13-0 | C |
| 5:00 | Central Park - #6 | [AL] Birmingham Thunderbolts 05 VS. [AL] Armory 04 | 8-1 | C |
| 5:00 | Central Park - #7 | [IL] Beverly Bandits Premier VS. [SC] Lady Lightning Select Hyatt | 10-0 | C |
| 6:30 | Central Park - #6 | [TXS] Impact Gold 12U Nationals Spencer VS. [IL] Beverly Bandits Premier | Tie (2-2) | C |

Black Bracket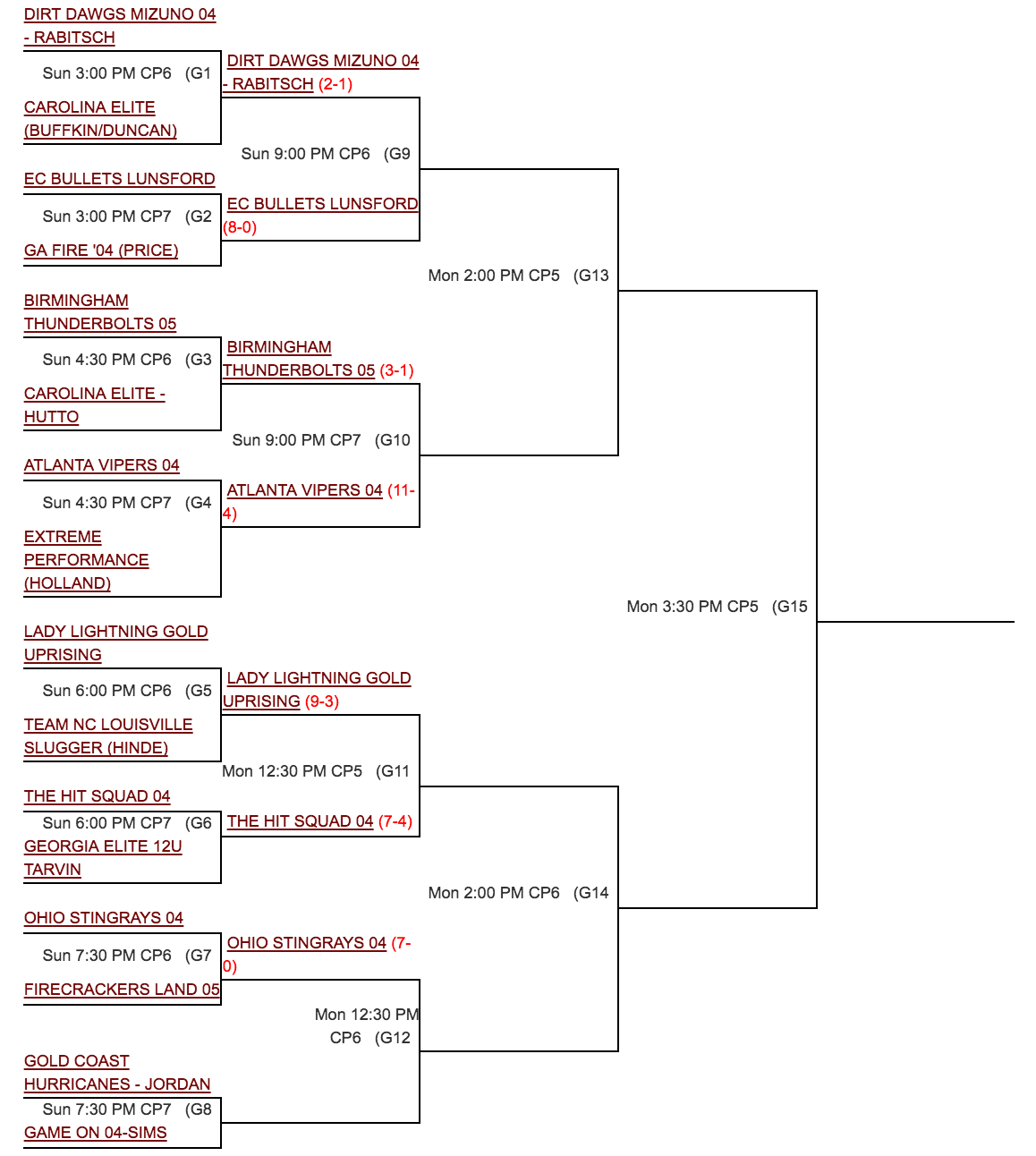 Navy Bracket