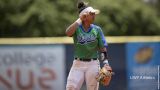 2019 NCAA Division II Softball Championship Results
May 23-27
On Friday, the Augustana softball team stuck to their routine, jumped out to an early lead and didn't look back for a 4-2 win over West Florida.
"We got some key hits today," Melsted said. "We did a great job of putting pressure on their defense throughout the game, and I'm really proud of our team for that."
Friday marked the ninth straight game with a home run for Augustana. Six different players have cleared the fence over the nine-game stretch.
Freshman Saidi Castillo (Kingsville, Texas) threw a three-hitter with 11 strikeouts and seniors Roxy Chapa (McAllen, Texas) and Victoria Schoonard-Saborio (Elk Grove, Texas) hit home runs as the Texas A&M-Kingsville softball team dropped the Young Harris Mountain Lions, 3-1, on Friday afternoon in TAMUK's second game at the College World Series at the Regency Athletic Complex in Denver.
| | | |
| --- | --- | --- |
| 5 | Young Harris vs Texas A&M Kingsville | 1-3 |
| 6 | West Florida vs Augustana | 2-4 |
| 7 | LIU Post vs Grand Valley State | 0-2 |
| 8 | West Chester vs UC San Diego | 7-6 |