Meet No. 1 2021 Hot 100 Player Quincee Lilio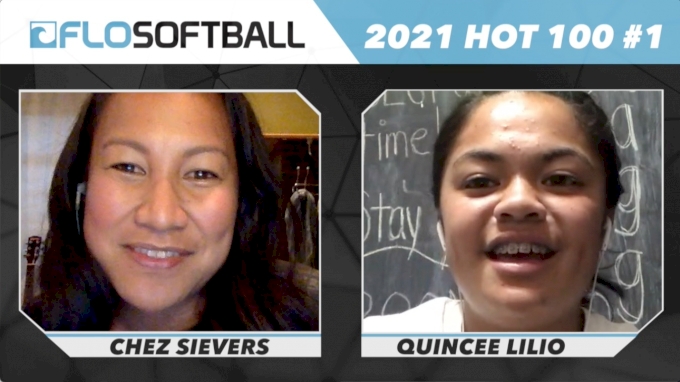 Create a free account to unlock this video!
Get Started
Already a subscriber? Log In
It's déjà vu all over again as we have a fourth straight Oklahoma commit headlining a Hot 100 class and for the second time in three years a member of David Mercado's Athletics organization out of Southern California after we previously selected pitcher Brooke Vestal (2018, Firecrackers-Rico); catcher Kinzie Hansen (2019, A's-Mercado) and infielder Jayda Coleman (2020, Texas Glory) to headline each's respective class. No, we're not on either coach's payroll (!) and, if anything, it would have made NOT putting Lilio as the #1 player the safer choice, but the evidence was too strong to go against the So Cal talent.

Lilio has won a pair of PGF National Championships over the last three years and is the only 2021 on the 16U squad that Hansen happens to be on which won the 14U PGF title last year. Not only was Lilio on the team, she was a vital contributor hitting .431 with an on-base percentage close to .500.

She usually bats in the 2-hole on a team that is loaded with players going to major programs like LSU, UCLA, Tennessee, South Carolina, Arizona and more. Lilio has been playing up and against the best teams in the country for years, against competitors two years older or more that are the elite in the country, and she is not just playing, she's dominating.

So what does she do to make her #1 overall? For one thing, she's like a coach on the field. Says David Mercado, "It starts with her IQ, she's to the point where I don't have to teach her any more. She thinks like I think on the field." "Q" usually starts in the outfield but also can play second. Her physical tools start with her speed, which one Southeast coach calls "blazing and legit." She has the speed to slap and the power to hit away and based on what the defense gives her she will smoke the ball down the line by the third baseman if the angle is there. "She's a five-tool player, no question," continues Mercado, "and she's the best player in her age group by far. She could be playing at the 18U level, she's that good, at any position but catcher or pitcher. Lilio is simply one of the top players I've ever trained."

You don't have to look far to see where her softball talent comes from--her grandfather, Eddie Aguon, was a huge baseball star in Guam--and she has a cousin, Jaylene Ignacio, who just graduated from San Diego State. With such softball DNA, it's not hard to see why she's on a fast track to success. This year she's batting .500 with six home runs already and one college coach says simply, "She's special, there no question about that. This kid should be an All-American someday."