Louisville Slugger Exposure Weekend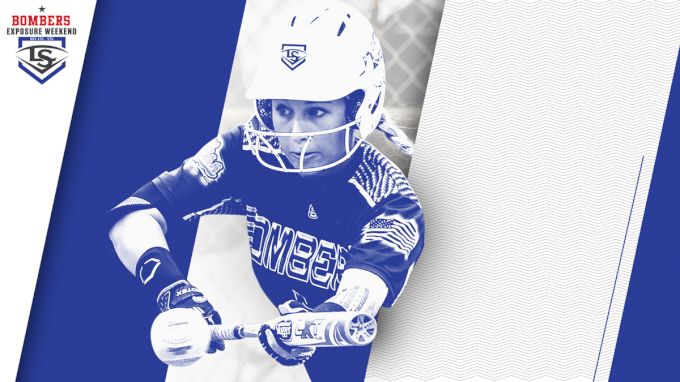 The seventh annual Louisville Slugger Exposure Weekend will stream LIVE on FloSoftball November 4-5 from the Scrap Yard in Conroe, Texas (Iron fields 1-4 only). Last year, nearly 80 colleges were in attendance, and the quality of this event continues to improve every year. This year features 16-20 teams per age group (14U, 16U, 18U) in the round robin showcase games.



The Texas Bombers run a first-class exposure tournament with the top talent for all levels of college softball. It is a great opportunity to evaluate some of the best talent in the State of Texas. The coaches receive all the information that is needed, and the Bomber Organization makes sure we are all well taken care of.
Jimmy Kolaitis, University of Oregon


Sign up to watch

Saturday, November 4 *All times are Central Standard Time
Location: The Scrapyard (Iron fields 1-4 only)
| Time | Field | Matchup | | | Age Group |
| --- | --- | --- | --- | --- | --- |
| 10:30 | 1 | Aces Express Futures | vs | TX Storm 14U | 14U |
| 10:30 | 2 | TX Bombers Gold | vs | Mizuno Impulse | 18U |
| 10:30 | 3 | TX Bombers Gold | vs | Marucci Patriots | |
| 10:30 | 4 | Glory Adkins | vs | SY International | 18U |
| | | | | | |
| 12:15 | 1 | TX Bombers Gold | vs | OC Tigers | 14U |
| 12:15 | 2 | Marucci Patriots | vs | TX Blaze | 18U |
| 12:15 | 3 | Mizuno Impulse | vs | TX Dirt Divas | 16U |
| 12:15 | 4 | Vision Gold | vs | Impact Gold Jackson | 18U |
| | | | | | |
| 2:00 | 1 | Marucci Patriots | vs | Impact Gold Vaughn | 14U |
| 2:00 | 2 | TX Bombers Gold | vs | TX Blaze Gold | 18U |
| 2:00 | 3 | TX Bombers Gold | vs | TX Dirt Divas | 16U |
| 2:00 | 4 | Aces Express McCorkle | vs | Impact Gold Jackson | 18U |
| | | | | | |
| 3:45 | 1 | TX Bombers Gold | vs | Hotshots Falterman | 14U |
| 3:45 | 2 | Mizuno Impulse | vs | Intensity Cain | 18U |
| 3:45 | 3 | Mizuno Impulse | vs | TX Rapid Fire | |
| 3:45 | 4 | TX Blaze Gold | vs | SY International | 18U |
| | | | | | |
| 5:30 | 1 | OC Tigers | vs | Impact Gold Vaughn | 14U |
| 5:30 | 2 | Aces Express McCorkle | vs | Glory Adkins | 18U |
| 5:30 | 3 | TX Bombers Gold Futures | vs | Centex Buzz | |
| 5:30 | 4 | Storm Gold 18U | vs | Intensity Cain | 18U |
| | | | | | |
| 7:15 | 1 | Blaze GTX | vs | Vision | 14U |
| 7:15 | 2 | Vision Gold | vs | Illusion Gold Plocheck | |
| 7:15 | 3 | Hotshots Gold | vs | AZ Bombers Gold | 18U |
| 7:15 | 4 | Storm Gold 18U | vs | Intensity Cain | 18U |
Sunday, November 5 *All times are Central Standard Time
Location: The Scrapyard (Iron fields 1-4 only)
| Time | Field | Matchup | | | Age Group |
| --- | --- | --- | --- | --- | --- |
| 8:00 | 1 | Bombers RGV Handy | vs | Illusions | 18U |
| 8:00 | 2 | TX Blaze Gold | vs | SY International | |
| 8:00 | 3 | Lady Stros HTX | vs | Aces Express Mata | 16U |
| 8:00 | 4 | TX Bombers Gold | vs | Marucci Patriots | 18U |
| | | | | | |
| 9:45 | 1 | Bombers HTX Rangel | vs | Blaze GTX | 14U |
| 9:45 | 2 | LA Bombers | vs | Glory Adkins | |
| 9:45 | 3 | AZ Bombers Gonzales | vs | Hotshots Dumezich | 16U |
| 9:45 | 4 | Mizuno Impulse | vs | Illusion Gold Plocheck | |
| | | | | | |
| 11:30 | 1 | Impact Gold Burgess | vs | Aces Express Futures | |
| 11:30 | 2 | Aces McCorkle | vs | Illusion Gold Plocheck | 18U |
| 11:30 | 3 | AZ Bombers Gonzales | vs | Centex Buzz | |
| 11:30 | 4 | TX Bombers Gold 18U | vs | TX Rapid Fire Gold | 18U |
| | | | | | |
| 1:15 | 1 | TX Bombers Gold Hybrid | vs | TX Blaze Hoyt | |
| 1:15 | 2 | Marucci Patriots | vs | SY International | |
| 1:15 | 3 | TX Bombers Gold Hybrid | vs | TX Rapid Fire | |
| 1:15 | 4 | LA Bombers | vs | Impact Gold Jackson | |
| | | | | | |
| 3:00 | 1 | TX Blaze Futures | vs | Impact Gold Vaughn | |
| 3:00 | 2 | Peppers Gold | vs | Glory Adkins | |
| 3:00 | 3 | Centex Buzz | vs | Aces Express Mata | |
| 3:00 | 4 | Impact Gold Jackson | vs | Intensity Cain | |
| | | | | | |
| 4:45 | 1 | Impact Gold Burgess | vs | Bombers HTX Rangel | 14U |
| 4:45 | 2 | Aces Express Futures | vs | TX Bombers Gold Futures | 14U |
| 4:45 | 3 | | vs | | |
| 4:45 | 4 | Intensity Cain | vs | TX Rapid Fire Gold | |