Here's The Deal Episode 31: Where Are These Transfers Going?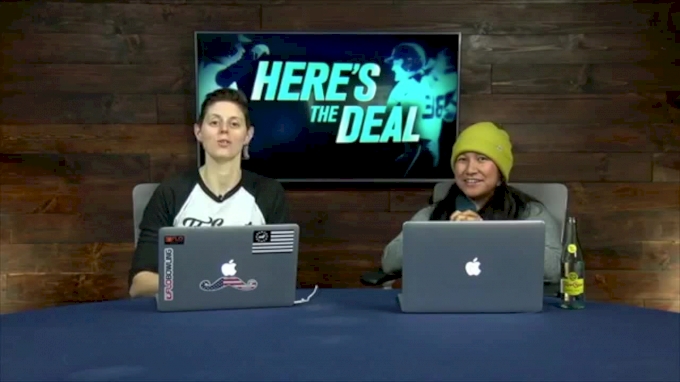 Unlock this video, live events, and more with a subscription!
Get Started
Already a subscriber? Log In
Transfer-mania continues with Giselle Juarez and Danielle Gibson making their choice this week. No. 1 player Kelley Lynch narrows her schools down to one Pac-12 program.
| | | | | |
| --- | --- | --- | --- | --- |
| Name | Position | Year | Transferring From | Transferring To |
| Gabrielle Callaway | OF | Junior | Alabama | |
| Raina Cooper | OF | Sophomore | Alabama-Birmingham | |
| Giselle Juarez | P | Junior | Arizona State | Oklahoma |
| Danielle Gibson | IF | Sophomore | Arizona State | Arkansas |
| Terra McGowan | C | Freshman | Arizona State | |
| Ryan Jackson | OF | Junior | Bethune-Cookman | Arkansas |
| Logan Bjorson | IF | Sophomore | Campbell | |
| Peyton Elzey | P/OF | Freshman | Campbell | |
| Samantha Mejia | P | Junior | Fresno State | |
| Savannah Berkowitz | P | Sophomore | Fresno State | |
| Mallory Belknap | IF | Senior | Georgetown | |
| Keara Napoli | P | Sophomore | Georgia | Virginia Tech |
| Kiley Kross | MIF | Freshman | Georgia Southern | |
| Megan Lantz | IF | Senior | Harvard | |
| Morgan Parsons | 1B | Sophomore | Hawaii | |
| Azaria Wilson | UT | Sophomore | Hawaii | |
| Denise Teague | IF | Sophomore | Kennesaw State | |
| Camryn Currie | OF | Freshman | Kennesaw State | |
| Shelby Hughston | MIF | Sophomore | Lamar | |
| Kendall Talley | OF | Sophomore | Lamar | |
| Katie Manley | C | Junior | Loyola Marymount | |
| Hannah Eslick | IF | Sophomore | Maryland | |
| Madison Bogdanovich | IF | Sophomore | McNeese State | |
| Lauren Collie | C/3B | Freshman | Mercer | |
| Kendyl Lindaman | C | Junior | Minnesota | |
| Sydney McKinney | SS | Freshman | Missouri | Wichita State |
| Dakota Christie | 3B | Freshman | North Carolina State | |
| Liliana Bishop | C/1B | Sophomore | North Carolina State | |
| Brighton Gilbert | IF | Sophomore | Oklahoma State | |
| Kenzie Young | P | Junior | Ole Miss | |
| Shannon Rhodes | OF | Junior | Oregon | Texas |
| Alyssa Pinto | 1B/OF | Freshman | Oregon | |
| Miranda Elish | P | Junior | Oregon | Texas |
| Lauren Burke | OF/1B | Sophomore | Oregon | Texas |
| Jessie Wilson | IF | Sophomore | Oregon State | |
| Paityn Willoughby | UT | Sophomore | Oregon State | |
| Riley Wilkinson | P | Senior | Princeton | |
| Bianca Vozenilek | P | Sophomore | Rutgers | |
| Alexis Silinonte | OF | Sophomore | Rutgers | |
| Mary Iakopo | C | Sophomore | Oregon | |
| Sarah Hudek | OF | Junior | Texas A&M | |
| Kaitlyn Alderink | 2B | Senior | Texas A&M | |
| Maddie McGrandle | P | Sophomore | Texas A&M | |
| Mailey McClemore | P/OF | Freshman | UC Santa Barbara | |
| Logan Morris | 3B | Sophomore | USC Upstate | North Carolina State |
| Chandler Walter | IF | Sophomore | Utah | |
| Jordan Dail | P | Sophomore | Virginia Tech | Oregon |
| Madison Michalski | UT | Freshman | Wichita State | |