Rutgers vs Indiana | Big Ten Softball - Game 3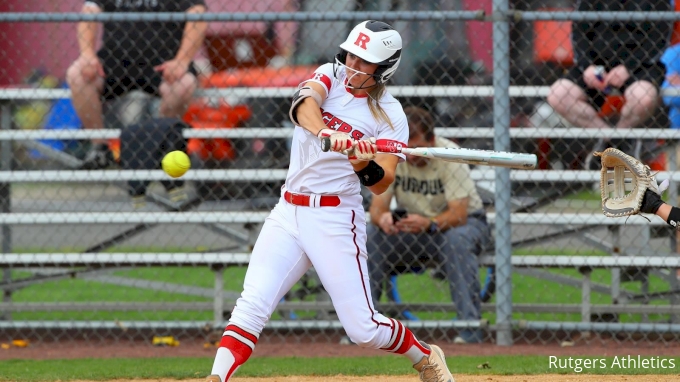 Unlock this video, live events, and more with a subscription!
Get Started
Already a subscriber? Log In
Rutgers softball (25-22, 9-11) topped Indiana (33-19, 8-12) on Sunday afternoon to salvage the final game of a three-game Big Ten series at Andy Mohr Field.
Meanwhile, the Scarlet Knights have officially clinched a berth into the 2019 Big Ten Championships, held at Indiana May 9-12 in Bloomington, for the first time since 2016 and for the third time since joining the conference in 2015. Sunday's win leapfrogged Indiana in the Big Ten standings into sixth place. With three games remaining at home to Michigan State, Rutgers can finish anywhere between sixth and 10th place.
QUICK PITCH
Senior shortstop Jess Hughes set the pace on the very first pitch of the game with her leadoff home run, the first of two RBIs for Hughes. Sophomore third baseman Myah Moy added two runs in the second innings in support of freshman starting pitcher Corah Price, who struck out seven in her complete-game victory.
STANDOUT STATS
Hughes finished 2-for-4 with the homer and two RBIs.
Moy's 1-for-3 day at the plate was highlighted by the two-run double in the second her first time up.
Price twirled a complete-game five-hitter with two runs and a walk allowed while striking out seven, which is a new career-high for the rookie in Big Ten play.
Wingert strung together multiple hits for the 12th time this season, going 2-for-4.
Freshman designated player Penelope Russ put down two perfect sacrifice hits, and went 1-for-1 in her only official at-bat in a play that scored a run.
THE RUNDOWN
Hughes jumped on the first pitch thrown by Emily Goodin, and the ball followed suit by jumping off the bat and cruising over the right field fence for the lightning quick 1-0 lead.
Rutgers was aided by some Indiana miscues in the field in the second, but received two timely hits to capitalize. Freshman second baseman Aleah Marra reached on a wild pitch after striking out, then sophomore right fielder Erin Collins got on board with a fielder's choice that allowed Marra to slide in safely because of a throwing error. Freshman Penelope Russ sacrificed them over, setting up sophomore third baseman Myah Moy's two-run double over the third base bag, and Hughes' run-scoring single as RU went ahead 4-0.
The Hoosiers chipped away in the home half of the second on a two-out RBI single to trail 4-1.
Rutgers quickly got the run back in the third as junior first baseman Nicole Bowman singled with one out, then came around to score on Russ' single to center field as the throw home was dropped by the catcher on the play at the plate.
As the Rutgers offense cooled off, Price did not. The rookie racked up four strikeouts while posting scoreless innings in third, fourth and fifth.
Maddie Westmoreland disrupted Price's groove with a solo homer in the sixth to cut the Rutgers lead to 5-2.
Price bookended the final frame with a pair of swinging strikeouts to mark a new career best in Big Ten games.
KNIGHT NOTES
Hughes hit her second leadoff home run of the season, with the first coming against FIU on Feb. 23.
Hughes and Wingert each reached base safely in all three games at Indiana, as Hughes extended a streak of five straight games.