2023 Puerto Vallarta College Challenge
Puerto Vallarta College Challenge: Oklahoma State, Oregon, Vols Headline
Puerto Vallarta College Challenge: Oklahoma State, Oregon, Vols Headline
Big games deserve a big stage, and the opening weekend's Puerto Vallarta College Challenge will satisfy both quotas - top talent in a beautiful setting.
Feb 2, 2023
by Briar Napier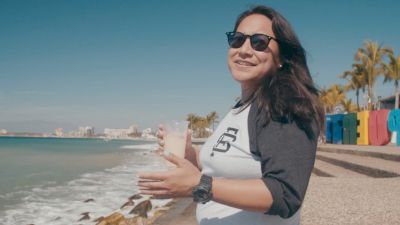 The long wait is almost over.
It has been more than six months since college softball was on the airwaves and some of the most talented female athletes in sports today were able to hone their crafts against another team in an official game.
In February, the stretch without softball finally ends again.
Hundreds of teams will get the ball rolling when competition officially opens Feb. 10, but some elite programs are looking to test themselves against top competition as soon as possible.
Big games are worthy of a big stage, and the opening weekend's Puerto Vallarta College Challenge will satisfy both quotas, offering top-tier talent and an eye-catching backdrop.
The #D1Softball Top 100 list is out, and the PV College Challenge will have 13 of those players this year, including @cowgirlsb's Kelly Maxwell, the No. 2 player in the country!

30 days until first pitch!#NCAASoftball https://t.co/A3Ua0nbEhw

— PV College Challenge (@PVCollegeSB) January 10, 2023
Keep an eye on some of the players and programs that will dot Puerto Vallarta in a couple of weeks – they may be some of the same ones fighting for a national title in June.
Here's a look at the names, teams and other matters to watch as the college softball season gets underway at the two-part Puerto Vallarta College Challenge, with all games in the event being streamed live on FloSoftball.
NOTE: All first pitch times are listed in Eastern Time and are subject to change.
Teams And Things To Watch
Top softball programs from across the United States will be bolting the harsh winter climates most of the country is experiencing right now in favor of the balmy beaches at the Puerto Vallarta College Challenge, trading snow and ice for sunshine and island vibes in the resort city on Mexico's eastern coastline.
However, for the teams involved, it will be more of a business trip than a vacation.
As one of the top major college kickoff tournaments since it launched as the first Division I softball event to be held outside the United States, the marathon event will last 10 days, with 15 teams playing 38 games across two sessions that will bring non-stop action to Nancy Almaraz Stadium.
Of the 15 teams participating in this year's event, almost half (seven) made the NCAA Tournament in 2022, while one, Oklahoma State (which plays in Session 1 from Feb. 9-13), made it all the way to the semifinals of the Women's College World Series.
Considering that fact, the Cowgirls likely have the most lofty expectations of any team in the field, as they look to be one of the Big 12 Conference's main threats toward stopping the potential national title three-peat from rival Oklahoma this year.
However, the Southeastern Conference representatives in Tennessee and Ole Miss – plus consistent Pac-12 Conference power Oregon – bring some more established pedigree to the table in Puerto Vallarta.
Don't sleep on strong mid-major programs also making appearances, such as Cal State Fullerton and Liberty, though, both will be playing in Session 2 from Feb. 15-19.
RECAP : The Titans won their 13th Big West Title on Saturday in a series win over Long Beach Statehttps://t.co/w3Xlh9d9WB#TusksUp pic.twitter.com/5JPalDFM2V

— Titans Softball (@Fullerton_SB) May 15, 2022
The Titans of Cal State Fullerton won the Big West regular-season crown for the fifth time since 2016 last season, while the Flames won 44 games to earn back-to-back Atlantic Sun Conference Tournament titles in their first two seasons in the league.
Players To Watch
Arguably, no name in the field is entering this season more well-known across the college softball landscape than Oklahoma State ace Kelly Maxwell, the reigning Big 12 Co-Pitcher of the Year. She shared the award with Oklahoma super freshman Jordy Bahl.
Maxwell was a first-team All-American last season and looks to be on pace to shatter many Cowgirl pitching records by the time her storied career in Stillwater is finished.
She's bound to make an appearance (or a few) in Puerto Vallarta as OSU's star, with her team starting its season there with four games over the course of three days in Session 1. They'll face Oregon, North Carolina, Maryland and Ole Miss.
The Texan looks to improve even more upon her standout 2022 season that saw her go 21-5 with a 1.22 ERA and an eye-popping 313 strikeouts.
But speaking of pitching stars, Tennessee got one in the transfer portal, and she's going to provide an immediate boost to the Lady Volunteers' rotation.
Senior Bowling Green transfer Payton Gottshall was named last year's Mid-American Conference Pitcher of the Year after a ridiculous 2022 season for the Falcons.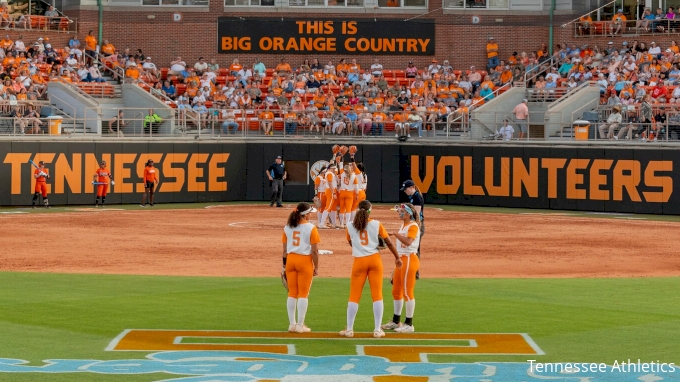 Gottshall threw two perfect games and finished with 374 strikeouts, the second-most in the country and the most among returning pitchers, though in Puerto Vallarta, she and her Lady Vols teammates may be facing a wave of players who love to cause opposing rotations fits.
The list of threats includes dynamic Cal State Fullerton junior outfielder Megan Delgadillo, who was the only player in America last season to both bat over .400 and steal 50 bases. She and the Titans will take on Tennessee on Feb. 18.
There's also the Sacramento State duo of Lewa Day and Lexi Webb, who combined for 32 home runs and 74 RBIs as a super-slugging tandem for the Hornets in 2022. They'll meet the Vols in the nightcap game Feb. 16.
Games To Watch
Session 1: Oklahoma State Vs. Oregon, Feb. 10 at 7 p.m.
Oklahoma State softball enters 2023 with possibly more hype than it's ever had in the sport, coming off a third consecutive WCWS appearance. Additionally, Kelly Maxwell, the undisputed star of the pitching staff, looks to end her career on a high note as one of the top arms to ever suit up for the program.
The Cowgirls' journey back to Oklahoma City, meanwhile, starts against the Ducks.
Oregon, which is looking to return to the WCWS itself following a five–year drought, certainly is trying to get experience against as many contenders as possible.
Coach Melyssa Lombardi's squad will play six of the eight 2022 WCWS teams, including semifinalist OSU on opening day.
Meet the Newcomers@SokolskyElise was an All-Big East first team selection for UConn in 2022 after going 20-6 with 180 strikeouts and a 2.55 ERA.#GoDucks | #Version5 pic.twitter.com/boxcffHNQD

— Oregon Softball (@OregonSB) January 26, 2023
In their hunt to join the group themselves, the Ducks have loaded up on talent, most notably by picking up last year's BIG EAST leader in pitching wins – UConn transfer Elise Sokolsky (20-6, 2.55 ERA, 180 strikeouts) – to try and bolster the pitching staff.
Sokolsky and Maxwell could be destined to duel in this early-season showing of elite college softball arm talent.
Session 2: Tennessee Vs. Liberty, Feb. 18 at 7 p.m.
The Lady Vols may have been nationally seeded in each of the past two NCAA Tournaments, but the Flames have loved nothing more than being a plucky spoiler in those same tournaments.
In fact, these two programs know each other very well in postseason play.
In 2021, it was Liberty that knocked then-No. 9 seed Tennessee out of its own regional by winning an elimination game, ending a three-tourney streak of regional wins for the Lady Vols.
Tennessee got one back on Liberty with a win over the Flames in the regular season last year, but the Lady Vols certainly will take a follow-up victory in Mexico to completely ensure all prior demons have been exorcised.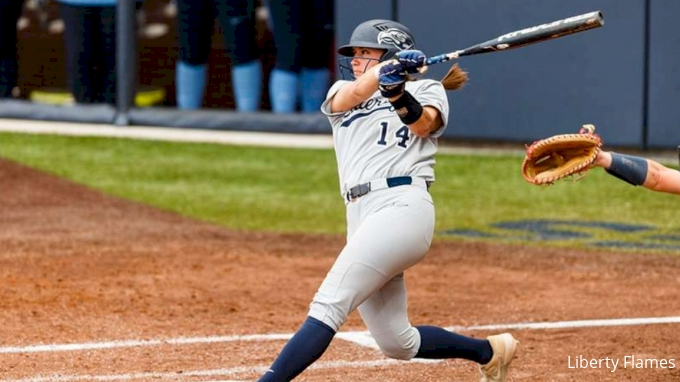 Gottshall and returning All-American Kiki Milloy (.362 average, 15 home runs, 53 RBIs) should be the most vital cogs to the Tennessee engine, and they'll do battle with a Liberty squad that has three players named to the Atlantic Sun Preseason All-Conference team, including reigning ASUN Player of the Year Caroline Hudson (17 homers, 53 RBIs) at catcher and pitcher Karlie Keeney (19-7 last season) on the mound.