2023 Mary Nutter Collegiate Classic
Florida Gators All-American Charla Echols Is Good As Gold
Florida Gators All-American Charla Echols Is Good As Gold
Charla Echols is a two-time All-American, a Gold Medal winner, and the heart of a Florida team with national championship potential in 2023.
Feb 21, 2023
by Kyle Kensing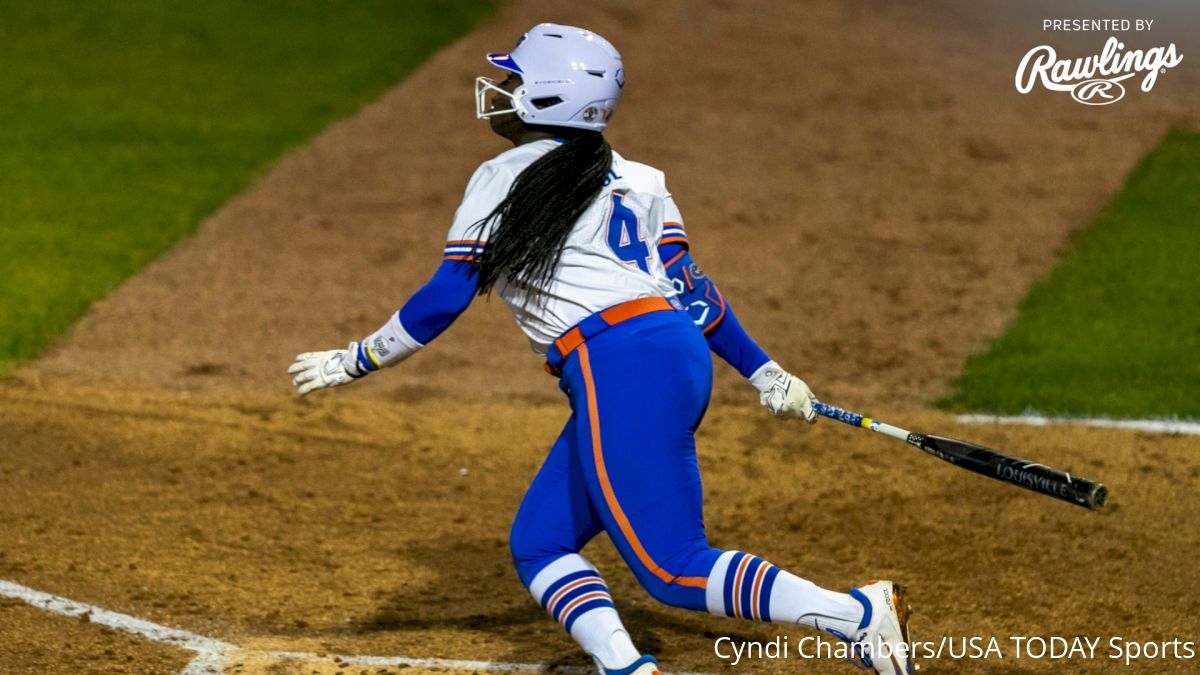 Charla Echols' accolades through three seasons of collegiate softball already define the Florida Gators third baseman as one of the game's standouts: An All-Freshman selection in the Big Ten Conference while at Michigan State, a unanimous 1st Team All-American in 2021 with UF and a repeat All-American honoree in 2022
The next frontier for Echols in her final season is a Women's College World Series championship.
🗣️ "𝙄𝙛 𝙨𝙝𝙚 𝙘𝙖𝙣 𝙙𝙤 𝙞𝙩, 𝙄 𝙘𝙖𝙣 𝙩𝙤𝙤."

Hear from U.S. Women's National Team Member 🇺🇸 @charlaechols as we continue our celebration of #BlackHistoryMonth
#USASoftball | @USASoftballWNT pic.twitter.com/IJ5ZfIgsR5

— USA Softball (@USASoftball) February 9, 2023
Coming off a remarkable junior season, Echols represented the United States at last summer's World Games — an opportunity she called "a dream come true."
Florida's first national title since the program repeated in 2014 and 2015 is another dream that could well become reality.
Echols and her Gators teammates came close in 2022. Florida advanced to Oklahoma City riding the wave of a dominant Blacksburg Super Regional. The Gators allowed a combined four runs in their five wins, then continued the trend with a 7-1 defeat of Oregon State to open the WCWS.
Her home run against the Beavers effectively put the game away.
Echols put together a six-game hitting streak during the postseason, including multiple-hit performances in the Super Regional-sealing win over host Virginia Tech and the defeat of Oregon State in OKC. Her postseason was good enough to boost Echols' batting average above .300 for the season at .307.
Building on that finish to 2022 figures to be central to Echols and Co. advancing to the title round of this year's WCWS.
"When we get up we want to drive balls and not just get on base, but look to do damage throughout our lineup," she said earlier this month, per FloridaGators.com. "Obviously, we hit well enough to go to the World Series. But I think this year we're going to fill our line."up [with hitters]."
The new campaign is off to a promising start. Echols has hits through eight of Florida's first 10 games, all Gators wins, and is batting .500 overall.
And, with all eight Florida starters through the opening two weekends sporting OPS of at least .909, Echols has had ample opportunity to turn her hits into runs with 16 RBI. She's well on pace to cruise past the 55 runs she drove in during her stellar 2021 season and her 59 RBI of a season ago — if she can get the pitches to hit.
Because of the reputation Echols has cultivated in her college career as a fearsome hitter, Gators coach Tim Walton said before the season that key to the redshirt senior's success is to be "focused on other people's successes when things don't go exactly the way she wants.
"She's going to have days where she's not going to be pitched to," Walton told WCJB in a preseason interview "But if she can focus on the players around, like Reagan Walsh, freshman shortstop, [and] our catcher, Sam Roe. If she can focus on them and help them along the way. She's going to have a really, really special year again."
Echols and Florida's championship credentials get an early-season gauge when the Gators participate in the Mary Nutter Classic. Florida is one of the tournament's headline participants, joining two-time reigning national champion Oklahoma in California's Coachella Valley.
In a career full of noteworthy accomplishments, the Mary Nutter Classic could be a stepping stone for Charla Echols to reach the ultimate accolade in 2023.