2023 Mary Nutter Collegiate Classic
Mary Nutter Players To Watch: UCLA, OU Softball Duos Among Standouts
Mary Nutter Players To Watch: UCLA, OU Softball Duos Among Standouts
A field featuring three 2022 WCWS teams and a host of 2023 Oklahoma City hopefuls bring college softball's premier talent to the Mary Nutter Classic.
Feb 16, 2023
by Kyle Kensing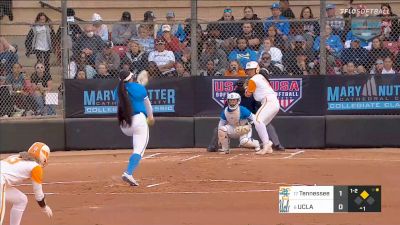 The nation's premier college softball event, the Mary Nutter Classic, welcomes a predictably loaded field to the Coachella Valley in the tournament's 2023 edition.
This year's Classic includes two-time reigning national champion Oklahoma, 2022 Women's College World Series qualifiers UCLA and Florida, and a host of potential Oklahoma City-bound teams in this season.
As is to be expected from such a stacked card, the individual talent converging on the Mohave Desert is some of the pinnacle of the sport. The complete rundown of potential breakout players at this year's Mary Nutter Classic would take days to unpack, but we have a sampling of names to follow at the event.
Yannira Acuna, Arizona State
Yannira Acuna returned to Arizona State for a graduate season after putting together across-the-board career bests in 2022. Acuna earned All-American recognition for her .430 batting average, 14 home runs, and 43 RBI, and is tabbed as one of the nation's top outfielders at the outset of 2023.
She's not just a star at the dish, though: Acuna is an outstanding defensive outfielder, too.


Tianna Bell, Cal
One of the nation's most highly coveted prospects in the 2022 class, Tianna Bell hit an incredible .522 in three seasons at Heritage High School in Brentwood, California. She made her collegiate debut on Feb. 10 and, in six games, already has collected five base hits and an incredible nine RBI — the latter a byproduct of three home runs, including two in one game against the University of San Diego.
Bell's impressive start as a Golden Bear provides one of the most intriguing subplots to this year's Mary Nutter Classic. Perhaps the beginning of a legendary career adds an early chapter in the desert.


Maya Brady, UCLA
A 1st Team All-American selection in her first full collegiate season set quite a standard for UCLA's Maya Brady. She's taking strides toward elevating the bar even higher, kicking off the 2023 season with NFCA National Player of the Week recognition after connecting on 13 hits in just six games.
Brady has five multiple-RBI games through Feb. 14, putting her squarely on pace to shatter the mark of 53 RBI she reached a season ago.
Erin Coffel, Kentucky
Erin Coffel is a linchpin for a "special" Kentucky team in 2023. An outstanding defensive shortstop, Coffel is one of the most multifaceted players in the country. She complements her savvy defensive play with power at the plate, last season belting 20 home runs.
Coffel is already on pace to surpass that mark — itself already an improvement over her impressive 16 dingers as a freshman — with two home runs through Kentucky's first three outings of 2023.
Julia Cottrill, Texas A&M
Newcomer to A&M Julia Cottrill has plenty of experience on college softball's biggest stages. She earned All-SEC Newcomer recognition in 2021 at Florida, and last season at Oklahoma State helped the Pokes to the Women's College World Series with an impressive postseason that included a three-hit performance in Oklahoma City.
Cottrill is off to a fast start as an Aggie, boasting a hit through each of her first six games and nine RBI. Cottrill's addition should make A&M a factor in the deep SEC race.
Megan Faraimo, UCLA
.@UCLASoftball's Megan Faraimo put on quite the show at Mary Nutter in 2022 racking up EIGHTEEN strikeouts in one game... 😱

...and we expect to see more this year 😈

Read all about the Top Pitchers in College Softball for 2023 ⬇️https://t.co/kKXlVNA9ia pic.twitter.com/UnBCcPThGg

— FloSoftball (@FloSoftball) January 4, 2023
The list of accomplishments to Megan Faraimo's name seems endless. Just last year alone, she won Pac-12 Pitcher of the Year, was named to the WCWS All-Tournament team, and won a Gold Medal competing with Team USA at the World Games in Birmingham.
Faraimo pitched 198 innings in 2022 and closed the collegiate season with a 1.98 ERA. She had 11 games striking out 10-plus batters, including against Northwestern in the WCWS. The sport may not have a more dominant presence in the circle this year than Faraimo.
Elizabeth Hightower, Florida
Florida's reloading after reaching the 2022 WCWS began in the offseason when pitcher Elizabeth Hightower opted to return for another season. Hightower finished last season with a 2.42 ERA as the Gators' leading starter, going 167 innings and striking out 133 for the campaign.
She's struck out 12 already just two games into the 2023 season and has yet to surrender an earned run through Feb. 14.


Haley Lee, Oklahoma
Oklahoma's pursuit of a historic third straight national championship got a big boost with the addition of Texas A&M transfer Haley Lee. Lee, a combination catcher and first-baseman, should keep the Sooners at the top of the NCAA in home runs, having knocked out 40 the previous two seasons with the Aggies.
Lee also hit better than .400 in both 2021 and 2022, and last season, drew 50 walks to bolster her already-impressive on-base percentage to .543. Lee connected for a pair of hits in her OU debut at the Mark Campbell Invitational, and totaled six knocks over the five-day event against high-level competition like Duke, Stanford and Washington.
Let's take a moment to talk about passing the bat!! Haley Lee's single paved the way for the Jordy Bahl double to put the Sooners on the board. Team effort is 🔑 https://t.co/WuAlW93Wtd pic.twitter.com/sDdQ7TnfM6

— FloSoftball (@FloSoftball) February 10, 2023


Mariah Lopez, Utah
Three starts into the 2023 season, Utah pitcher Mariah Lopez has thrown 21 strikeouts, given up only five combined hits, and has yet to allow a run. Not a bad start for the third-year Ute, who last season, made significant strides as the campaign unfolded.
Lopez finished her second year at Utah with a 3.08 ERA and struck out 80 batters over 91 innings.


Nicole May, Oklahoma
With a 30-3 record over her first two seasons at Oklahoma, including a dominant 15-1 mark in 2022 with seven complete games, an opponent batting average of .170 and ERA of 1.30, Nicole May just might be the top pitcher in the nation.
May kicked off OU's pursuit of championship No. 3 with 18 strikeouts in two appearances at the Mark Campbell Invitational. She's yet to allow a run going into the Sooners' second week of competition.
Ruby Meylan, Washington
A 10-strikeout performance in just her second collegiate game foreshadowed the potential in Washington's freshman phenom, Ruby Meylan.
Meylan moving down 10 against Liberty was part of her impressive showing at the Mark Campbell Invitational, where the first-year Huskie made four appearances for 14 total innings and did not allow an earned run — including against Oklahoma. She capped the event with a save and three strikeouts over two innings against 2022 NCAA Tournament team, Loyola Marymount.


Sam Roe, Florida
Start your Monday with this ridiculous catch from Florida catcher Sam Roe! (Via Sportscenter) pic.twitter.com/EVFGOGwwfp

— NCSA College Recruiting (@ncsa) May 16, 2022
Sam Roe settled in as the starting catcher in just her first season at Florida, and put together a strong debut with a .272 batting average and .990 field percentage. Roe's sophomore campaign started strong with six hits in her first 10 at-bats, producing six total RBI and a home run.