2023 Mary Nutter Collegiate Classic
OSU Rolling Into Big Series, Leads Top College Softball Takeaways
OSU Rolling Into Big Series, Leads Top College Softball Takeaways
With many college softball programs across the country either at, past or quickly approaching 20 games played, is it fair to begin making assumptions?
Mar 9, 2023
by Briar Napier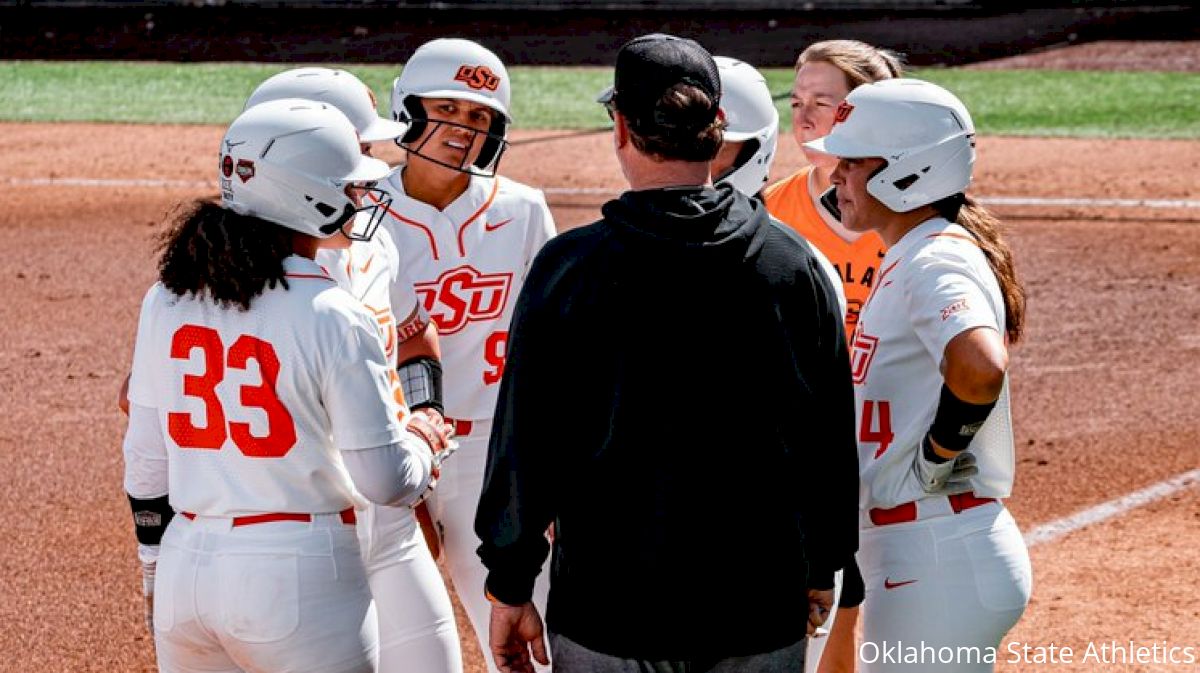 With many college softball programs across the country either at, past or quickly approaching 20 games played, is it fair to begin making assumptions?
For some, those assumptions are clear – they're going to be in the thick of the race to Oklahoma City.
As for this past week, however, it was all about the pitchers in a few of the major contests around the nation.
A host of no-hitters and other stellar outings dotted the landscape, as nonconference play continues for most of the country, though some leagues also got their conference slates underway recently, too.
Here's a look at five major takeaways from the week of college softball that was, with games featuring some of the biggest names and programs being streamed live on FloSoftball.
After Opening-Weekend Loss, Oklahoma State Is Surging
Oklahoma State fell victim to one of the more notable shock results of opening weekend, losing 11-6 to Maryland at the Puerto Vallarta College Challenge.
The defeat seemed to light a fire under the Cowgirls, however, as they've now won 16 straight games entering a critical three-game nonconference series with Florida State this weekend.
Since that loss to the Terrapins, OSU (18-1 overall) has defeated seven teams that were either ranked nationally or receiving votes – the most notable being a 10-9 win over a top 10-ranked Virginia Tech on Feb. 17 at the TaxAct Clearwater Invitational.
Oklahoma State has recorded eight shutouts, while posting a team .381 batting average this season. As of Monday night, that ranked third nationally.
Sweet, sweet music 🎵#AllOne | #GoPokes pic.twitter.com/vF0YcwcoLc

— OSU Cowgirl Softball (@cowgirlsb) March 5, 2023
Infielders Kiley Naomi and Micaela Wark areaveraging over an RBI per game. On the mound, All-American ace Kelly Maxwell (6-0, 1.67 ERA, 77 strikeouts in 42 innings) still is one of the nation's best, while Alabama transfer Lexi Kilfoyl (4-0, 1.67 ERA, 31 strikeouts in 29 1/3 innings) has hit the ground running since arriving in Stillwater.
Expect both standout pitchers to feature prominently in the circle for the Cowgirls when the Seminoles visit in a few days.
Alex Storako's Mound Presence Grows for No. 1 Oklahoma
Alex Storako had 69 wins in four seasons with Michigan before transferring to OU. She has had few problems adjusting to the Sooners' rotation, and the team's bid for a third consecutive national title has, for the most part, gone OK.
Storako's past two outings, however, especially emphasized how important she's bound to be as the season goes along and the Sooners aim for yet another deep postseason run.
After going five innings and shutting out UCLA in OU's statement-making 14-0, mercy-rule victory over the Bruins on Feb. 26 at the Mary Nutter Collegiate Classic, Storako's next start came Friday in the first meeting of a two-game visit from Kentucky, which led the Southeastern Conference in team batting average (.333) a year ago and has one of the most dangerous power hitters in the country in infielder Erin Coffel (43 home runs in 133 career games as of Monday night).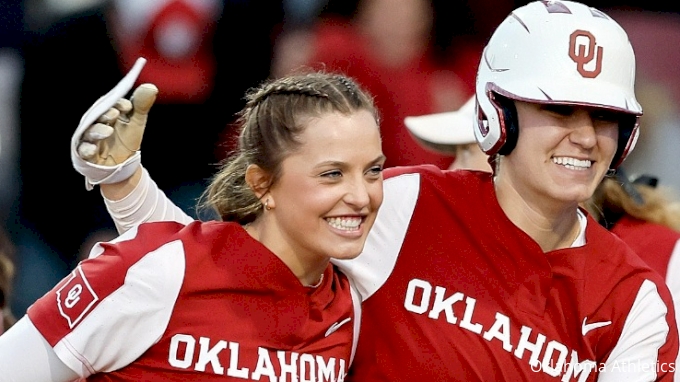 Storako responded to that pressure by tossing a five-inning no-hitter, as OU demolished the Wildcats 18-0 in the final game of two (the Sooners beat Illinois-Chicago earlier in the day) on opening day at Marita Hynes Field in Norman.
The win over Kentucky was OU's third run-ruling of a ranked opponent this year.
And, with Nicole May (5-0, 0.00 ERA, 55 strikeouts in 32 innings) dominating at a pitcher-of-the-year level on top of it all, Storako's emergence makes her team's rotation that much more dangerous.
NiJaree Canady Throws 18-K No-Hitter – As A Freshman
Speaking of dangerous pitchers, how about the freshman year Stanford hurler NiJaree Canady is having?
A two-time Gatorade Player of the Year in Kansas to close out her prep career, Canady, along with May, are the only qualifying pitchers in America to have not had a run scored on them at any point this year (Auburn's Maddie Penta also has a 0.00 ERA, but has given up an unearned run).
But while May, already one of the best pitchers in America entering this season, going off is impressive, though not necessarily surprising, Canady's immediate rise to being one of the country's top arms has been one of college softball's most astounding feats of the early season.
.@Sierrajoy32 & I had an amazing chat with @StanfordSball FR RHP @CanadyNijaree on @PG_Softball! The start to her college career has been historic: 44ip, ZERO runs, 79k, 9h, 9bb & two no-hitters. How does she do it?

Complete show drops Thurs 2p et on https://t.co/zr5KqdVPWh! pic.twitter.com/EFWTtpLhjh

— Daron Sutton (@lifeisgreatsut) March 7, 2023
Also, as the sub-headline above this blurb suggests, Canady did indeed throw an 18-strikeout no-hitter against Villanova on Friday – already her second of the season after also doing so against Liberty last month – then followed that with a two-hit, 10-strikeout shutout in five innings against Miami (Ohio) two days later.
With 79 strikeouts and the same number of walks as hits allowed (nine) across 44 innings, Canady still has her first Pac-12 Conference slate to get through, but if she's pitching anywhere near the level she's throwing at now when that arrives, watch out for the Cardinal.
Clemson, Virginia Tech Roll In First Weekend Of ACC Play
The Atlantic Coast Conference became the first Power 5 league to officially get conference play going this season, and Clemson – which has rocketed to a 20-1 start to the year – showed out in its opening league series by sweeping Syracuse at McWhorter Stadium.
The Tigers only allowed one run across their three games with the Orange, as two-way standout Valerie Cagle improved to 8-1 with an 0.63 ERA on the year with a seven-inning three-hitter in the opener Saturday.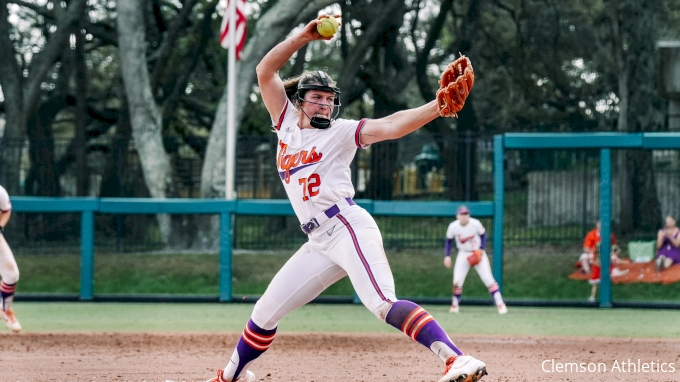 At the plate, Cagle (who is batting. 508 thus far this season) acquired a hit in all three games, and she had two RBIs in the series, even smacking a home run in the same game she won in the circle.
Meanwhile at Virginia Tech, things also were smooth sailing for the Hokies, as they picked up a sweep in Blacksburg over NC State, run-ruling the Wolfpack 10-1 in the series closer Sunday.
𝘽𝙖𝙘𝙠-𝙩𝙤-𝙗𝙖𝙘𝙠 😮‍💨

🗞️ → https://t.co/i6UCjy8lrH pic.twitter.com/lMGKbVQRNK

— Virginia Tech Softball (@HokiesSoftball) March 7, 2023
Sophomore pitcher Emma Lemley won all three games she appeared in over the weekend.
The other ACC series between Duke and Notre Dame was a bit more competitive.
The Blue Devils won the series, but the Fighting Irish notched a 5-4 win Friday in the opener, perhaps giving Duke a wake-up call – especially infielder Ana Gold, who had seven RBIs in the series' final two games, both Blue Devil victories.
Central Arkansas, Stetson Notch Top Upsets Of The Week
Beware of the Sugar Bears and mad Hatters, as Arkansas and Georgia, respectively, found out the hard way recently.
For Central Arkansas on Monday in its 2-1 upset in Fayetteville over the in-state power and rival Razorbacks, it got the job done by way of Jordan Johnson going toe to toe with All-American Chenise Delce and being the one coming out on top after a seven-inning, seven-strikeout performance in a pitcher's duel.
The Bears got out in front in the sixth inning through Jenna Wildeman scoring on a passed ball and Mary Kate Brown smacking an RBI double. An inning later, Johnson held a Hog runner in scoring position at bay by pitching a clinching strikeout to get UCA its highest-ranked win ever.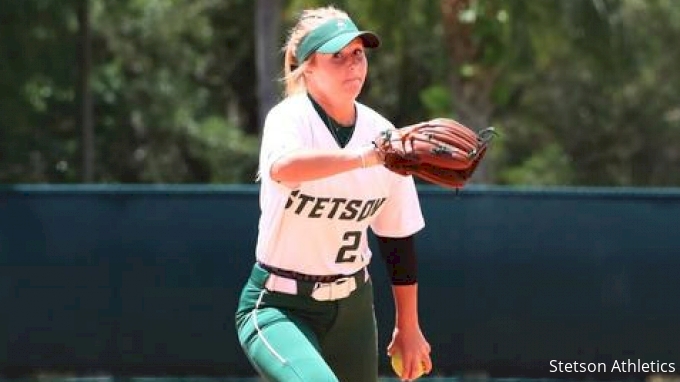 For Stetson on Friday – just a few days after beating another SEC opponent, South Carolina – pitching also played a major role in its upset, as Lauren Hobbs went the distance, giving up one run on four hits against the nationally ranked Bulldogs in a 2-1 victory.
The Hatters had never beaten a SEC program on the road before last week and then proceeded to pick up two in four days, with another opportunity to do so later in the month, as Stetson visits Florida in Gainesville on March 29.