Big 12
Oklahoma Softball Wins Three Consecutive WCWS Championships
Oklahoma Softball Wins Three Consecutive WCWS Championships
OU softball completed one of the greatest three-year runs in the history of softball, sweeping FSU in the final series of the Women's College World Series.
Jun 9, 2023
by Briar Napier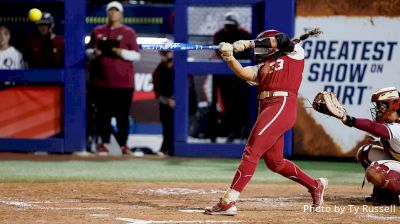 Bear witness to greatness.
And beware of Boomer Sooner.
Oklahoma completed one of the greatest three-year runs in the history of college softball Thursday night after it swept Florida State in the championship final of the Women's College World Series. The program closed the door on yet another season in which the rest of the country looked as if it was merely fighting for second place.
After nearly finishing the season without a single loss, the Sooners are now winners of three consecutive national championships and holders of five of the past seven national titles awarded. They are a dynasty in every sense of the word, and with the core they have and the infrastructure they've built, no program in the sport compares.
Near-impossible to score on and near-impossible to stop from scoring, OU softball was a marvel for the entire 2023 campaign. The trophy it captured in front of a home-state crowd of over 12,000 in Oklahoma City seemed inevitable for much of the season, and what's left behind is an exciting question for OU and its fans, but a frightening one for the team's opponents.
What's next?
Here's a look back at the season at was for the 2023 national champions and where this year's version of Oklahoma stacks up among the greats of the game.
Three Of Dreams
UCLA (from 1988-90) step aside—the second three-peat in college softball history has arrived. Oklahoma's three-season romp across the rest of the sport, in which it has combined for a stunning 176-8 overall record, has seen records obliterated, streaks turned into smithereens and many, many softballs launched out of ballparks.
A near-flawless 2023 season ended with a perfect postseason in which on 10 occasions in the NCAA Tournament, OU showed up, showed out and shoved aside whoever was in its way en route to completing arguably the greatest college softball season of all time (more on that debate below).
After defeating Tennessee once and Stanford twice at the Hall of Fame Stadium to meet Florida State in a 2021 WCWS final rematch that the Sooners won to start their charge to three straight. The Seminoles, try as they might, ended up just like the rest of them. OU punished FSU for not bringing ace and All-American pitcher Kathryn Sandercock out for Game 1 by pulling away for a 5-0 win, with RBI hits in both the fourth and fifth innings from catcher Kinzie Hansen, helping the Sooners find a spark after an over hour-long lightning delay forced first pitch behind schedule.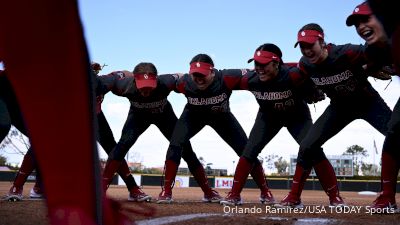 Unlock this video, live events, and more with a subscription!
Get Started
Already a subscriber? Log In
OU's star pitcher, Jordy Bahl, joined a long list of Sooners in the circle with a defining WCWS performance in Wednesday's opener: seven innings, two hits, no runs allowed, 10 strikeouts and a run scored as a pinch-runner to go along with it. Facing elimination, the 'Noles started Sandercock, and though the senior's final outing of the year (seven innings, eight hits, three runs allowed) would normally be enough for FSU to win most nights, it's all Oklahoma needed.
Home runs from Cydney Sanders and Grace Lyons lit up Oklahoma City, while critical plays from the likes of Jayda Coleman (who robbed a near-certain three-run FSU homer in the third inning with a web-gem catch at the center field wall) and others were nothing short of spectacular. And with starter Alex Storako finishing perfect (18-0) for the year while Bahl came in to make a three-inning save on top of it all, one final complete OU performance in line with its chart-leading, eye-popping statistics all year ended fittingly—with hardware in the team's hands and coach Patty Gasso going through a Gatorade bath.
A Smashing Streak
Reading through the section above, you won't find a mention of Oklahoma's NCAA-record (and still ongoing) 53-game winning streak. That's because it deserves it's own section of appreciation. Considering the sheer difficulty, especially at the elite levels of the sport, behind establishing a long winning streak in college softball as off nights do happen, the Sooners months-long stretch of wins on wins lives alongside other famous college sports winning streaks, from UConn women's basketball's 111 from 2016-18 to Oklahoma football's 47 from 1953-57.
The only team that separated the Sooners, who finished 61-1, from an unprecedented perfect 2023 season was Big 12 Conference rival Baylor, who stunningly beat OU 4-3 on Feb. 19 in a nonconference matchup at the Getterman Classic hosted by the Bears in Waco, Texas. From that point forward, Oklahoma softball never lost again, not against then-No. 1 UCLA (a 14-0 run-ruled Sooners win) a week later, not in the conference play rematches against Baylor (in which OU shutout the Bears in all three games) and not in the WCWS or any postseason game leading up to it.
Crimson reign‼️🎊#WCWS x @OU_Softball pic.twitter.com/03uU8TGEGY

— NCAA Softball (@NCAASoftball) June 9, 2023
Arizona's old record of 47 straight victories from 1996-97 was broken when the Sooners beat Clemson for the second time in the Norman Super Regional to get back to OKC—marking a fitting end to Marita Hynes Field, which will make way for the sleek look of the brand-new Love's Field as OU's home in 2024.
And as the 2023 college softball season ends, the streak hasn't, meaning that the Sooners, if they start strong at the beginning of next season, can smash through what was previously thought possible in college softball. Of course, it's not as if Oklahoma merely played a bunch of cupcakes to beef up the streak, either. Including the perfect postseason run, the program defeated teams either ranked in a national poll or nationally-seeded in the NCAA Tournament an astonishing 25 times, accounting for nearly half of the streak.
The Sooners also boomed their way to over 500 runs, becoming the only team in D-I history ever to reach that mark in three consecutive seasons. No other team has done what Oklahoma softball has done over the past three seasons, and now with the program's seventh national title, very few schools across the country can rival its total trophy haul, either.
The Best Ever?
Before answering the question of whether 2023 Oklahoma is the greatest college softball team of all-time, it's first worth considering another question: Is the 2023 Sooners squad even the best Oklahoma team of all-time?
Many were calling OU's 2022 team, which "only" had 59 wins, the greatest ever after it stood tall at the end of the WCWS a year ago, mainly due to its already mind-boggling offense—led by the sport's all-time career home run leader, Jocelyn Alo—with four players that batted over .400 combined with a lethal pitching staff that dipped its team ERA from 2.49 in 2021 to just 1.05 in 2022.
But if you're basing the metric of greatness purely on how often a team won, 2023 OU reigns supreme. Their season-end winning percentage of .984 is the highest in D-I history, surpassing the longstanding record previously held by a legendary 1992 UCLA squad that went 54-2 (.964).
Oklahoma also finished 2023 with the nation's No. 1 offense (.367 team average, 8.16 runs per game), No. 1 pitching staff (0.96 ERA) and No. 1 defense (.988 fielding percentage) as part of the Sooners' national leads in 10 different statistical categories, often by wide margins over the rest of the country as OU wasn't just winning the race to the top, but lapping the field on the way there.
In regards to the individual standouts that dotted the roster, don't worry, there were plenty of those, too. Only five qualified pitchers in D-I this season finished with an ERA under 1.00, and Oklahoma had two of them in Bahl (.91) and Nicole May (.92) plus a third in Storako (1.12) who wasn't far off from joining them.
No program in the country had more than Oklahoma's five National Fastpitch Coaches Association First Team All-Americans, either, while Grace Lyons (who wasn't even one of the five) earned the first Rawlings Gold Glove Award in program history at shortstop following the honor's introduction in college softball last year.
They and the rest of the roster combined for complete and utter dominance of nearly everyone that stood in the Sooners' path—between the 35 shutouts, 28 wins by run rule, only allowing more than five runs in a game once, and much, much more, 2023 OU had said pretty much all that needs to be said to stake its claim as the sport's best-ever team.
All that's left is for awestruck observers to see what they do next.