Big 12
All-American Pitcher Jordy Bahl Leaving OU Softball After 2 National Titles
All-American Pitcher Jordy Bahl Leaving OU Softball After 2 National Titles
Two-time All-American Jordy Bahl, who went 44-2 in two years at Oklahoma, announced via social media that she would be leaving the Sooners' program.
Jun 12, 2023
by Briar Napier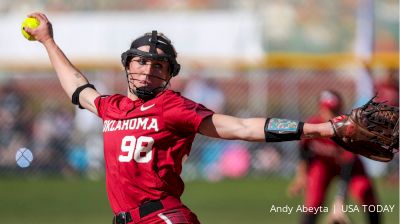 One of the main players behind one of the greatest dynasties in college softball history will play the sport elsewhere next season.
Two-time All-American Jordy Bahl, who went 44-2 with a 1.00 ERA and 397 strikeouts in a decorated two years at Oklahoma, announced via social media Monday that she would be leaving the Sooners' program just days after it won its third straight national championship last week.
In a lengthy statement posted on Twitter, Bahl stated that she was excited "to return home" and "finish the softball journey right where it began," though did not specifically name a destination. Bahl is from Papillion, Nebraska, located less than an hour's drive from Lincoln, the home of the University of Nebraska.
She was briefly committed to play for the Cornhuskers in high school before reopening her recruitment and signing for OU. Nebraska, coached by Hall of Famer Rhonda Revelle for over three decades, has made the Women's College World Series eight times, the last appearance of which came in 2013.
"Nothing will compare to what this year and this team have been," Bahl wrote in her post. "From staring defeat in the eyes and never giving in, the behind-the-scenes grind, handling the mounting pressure that only grows each year, only the girls on this team will ever be able to fully understand. That is why this is such a bittersweet thing to do."
❤️❤️❤️ pic.twitter.com/6OBFmG5VEE

— Jordyn Bahl (@jordybahl) June 12, 2023
Bahl's two seasons in Norman were legendary as she arrived and immediately thrived at the college level after being named the Gatorade National Softball Player of the Year in high school. The right-hander, paired with fellow pitching standouts Nicole May, Alex Storako and Kierston Deal this past season, was part of the country's No. 1 rotation and a critical part of OU's NCAA-record 53-game winning streak, which will extend into next season after the Sooners didn't lose a single postseason game.
OU three-peated national titles, being the first program to do so since UCLA from 1988-90, Thursday after sweeping the WCWS championship series against Florida State, with Bahl winning Game 1 and picking up the save in the title-deciding Game 2 win. It was the Sooners' seventh title overall (all under coach Patty Gasso), putting them one behind Arizona for joint second-most all-time with UCLA's 12 leading the way.
"Jordy shared with our staff on Friday that she has been feeling a strong need to be closer to home for quite some time and that she planned to enter the transfer portal," Gasso said Monday in a statement provided by the university. "It was a very candid and emotional conversation in which we both communicated our love and appreciation for each other. We are grateful for her two years with our program and for everything she accomplished."
Oklahoma will return May and Deal from its pitching staff, along with many of its impact players on other parts of the diamond, as it attempts to go for an unprecedented four-peat, a feat which has never been accomplished in the NCAA era (since 1982) of college softball.