The Program: Auburn
NCAA to crack down on funny props in softball dugouts
NCAA to crack down on funny props in softball dugouts
By Marc RaimondiThe masks, hats and hula skirts have to go.The NCAA will be cracking down on props and uniform alterations in softball dugouts during the Wo
May 19, 2016
by FloSoftball Staff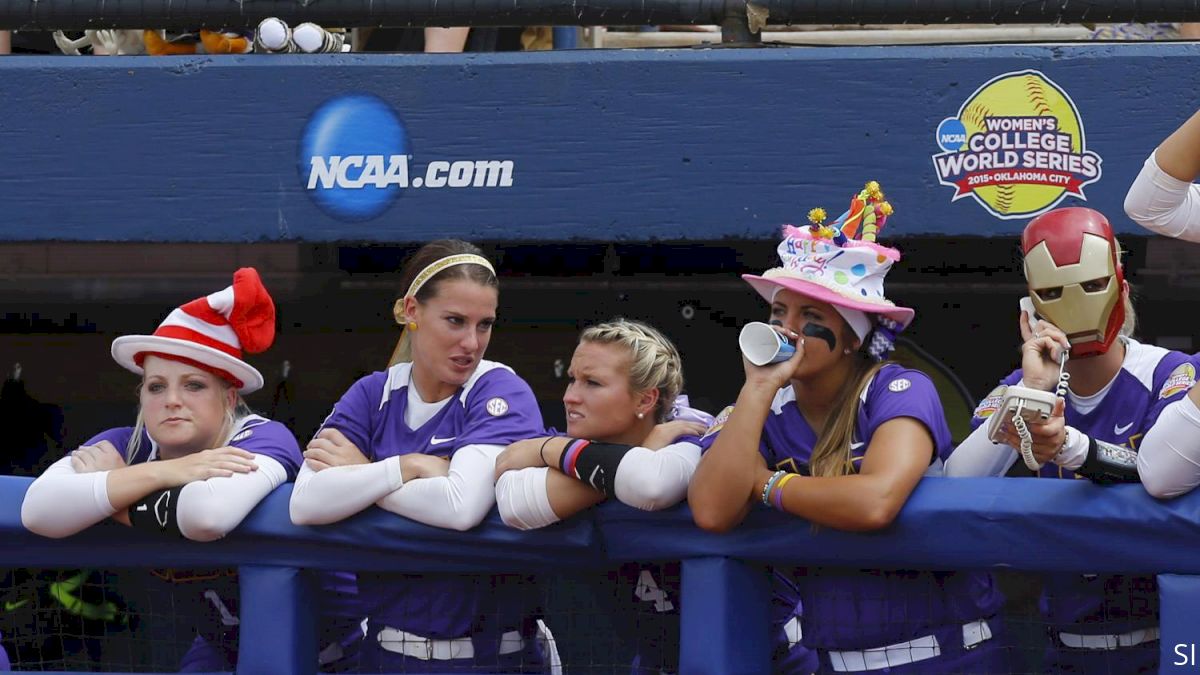 By Marc Raimondi

The masks, hats and hula skirts have to go.
The NCAA will be cracking down on props and uniform alterations in softball dugouts during the Women's College World Series and beyond, NCAA officials confirmed Wednesday with FloSoftball.com. The
Times Daily of Alabama
was the first to report the development.
North Alabama's softball team was informed Tuesday after its win over West Texas in the Division II Women's College World Series first round that the funny props the team has become known for would no longer be allowed in the dugout. The squad is notable for its hijinx, bringing a cornucopia of random items into the dugout, including sombreros, inflatable fish and reindeer antlers.
Terri Holmes, the chair of the NCAA Division II softball committee, told FloSoftball.com that a rule against such props and behavior actually already exists.
Rule 3.1.2 in the NCAA softball rulebook states: "Coaches are responsible for ensuring that their players are legally equipped and properly attired to reflect a positive image of the game. Uniforms, accessories and equipment (including batting gloves that must be worn, carried in the hands or put out of sight in pockets) must be worn properly and as designed."
[polldaddy poll="9422597"]
North Alabama players were able to bring any kind of props into the dugout that they wanted all year until making it to the Women's College World Series in Denver this week. Holmes said the enforcement of the rule throughout the year is something that needs to be addressed by her committee.
"The point of emphasis that we're talking about is our coaches are responsible for ensuring that their players are legally equipped and properly attired to reflect a positive image of the game," Holmes said.
North Alabama isn't the only team that brings props into the dugout, either. LSU was notable for its quirky masks during the Division I Women's College World Series last year. Wacky routines in the dugout or on the bench have become something of a trend in college sports as a whole.
[tweet url="https://twitter.com/SECNetwork/status/602616944248942593" hide_media="0" hide_thread="1"]
[tweet url="https://twitter.com/NCAAsoftball/status/602613375005167616?ref_src=twsrc%5Etfw" hide_media="0" hide_thread="1"]
Holmes said her Division I softball counterparts are likely to begin enforcing Rule 3.12 harder as well starting immediately.
"We've talked to the people at Division I and I believe [Thursday] you're going to see the same point of emphasis," Holmes said.
North Alabama coach Ashley Cozart was surprised when she was told Tuesday that her team's dugout behavior had to be curtailed.
"We understand there are rules," Cozart told the Times Daily. "It's one of those things I've said many times that it just keeps us loose and excited. It's fun. These athletes come out here and they stress and put in all this hard work, and all the pressure that is on them. It's an outlet to relax and be ourselves. That's what it was all about."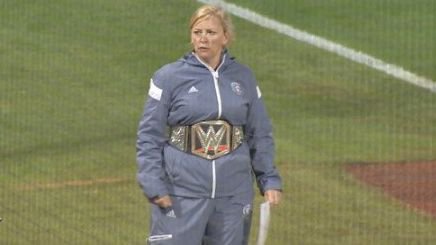 Pictured: Head Coach, Vann Stuedeman wears the Rally Belt during a 14 inning game.
Cozart said it was disappointing because her team's personality is a "big reason" why it has made it this far. But the plan from here on out is to obey the rules and she believes her squad won't be affected by it.
"I understand you have to abide by the rule and that there is a policy for a reason," Cozart said. "That's what we'll do. We'll do whatever they tell us to do. It's perfectly fine. We'll find other ways to keep us loose and get us going. They will be fine."

Critics will say that players on teams like North Alabama and LSU are just having fun, building camaraderie and showing off their individuality. In response to that, Holmes said that the most vital thing at this level of softball is "dignity" and "integrity."
"The thing that we're really pointing to is code of conduct and the code of conduct really emphasizes the dignity and integrity of the game," Holmes said. "And we feel like that's the utmost important thing. That's why we did what we did last night after the game. We really feel like that's a priority in Division II softball."
What does that mean for #turnupforturtle?
[tweet url="https://twitter.com/WoodBatBrat/status/731603427092992000" hide_media="0" hide_thread="1"]
The Program: Auburn premieres May 25


Related:
26 Things You Didn't Know About Auburn Softball
23 Things You Didn't Know About Florida
LSU Tiger Park Tour
​