2021 Judi Garman Classic
Linda Garza Was Made For Fresno State
Linda Garza Was Made For Fresno State
Fresno State head coach Linda Garza took a long and winding road to make her way home to Fresno.
Mar 10, 2018
by Chez Sievers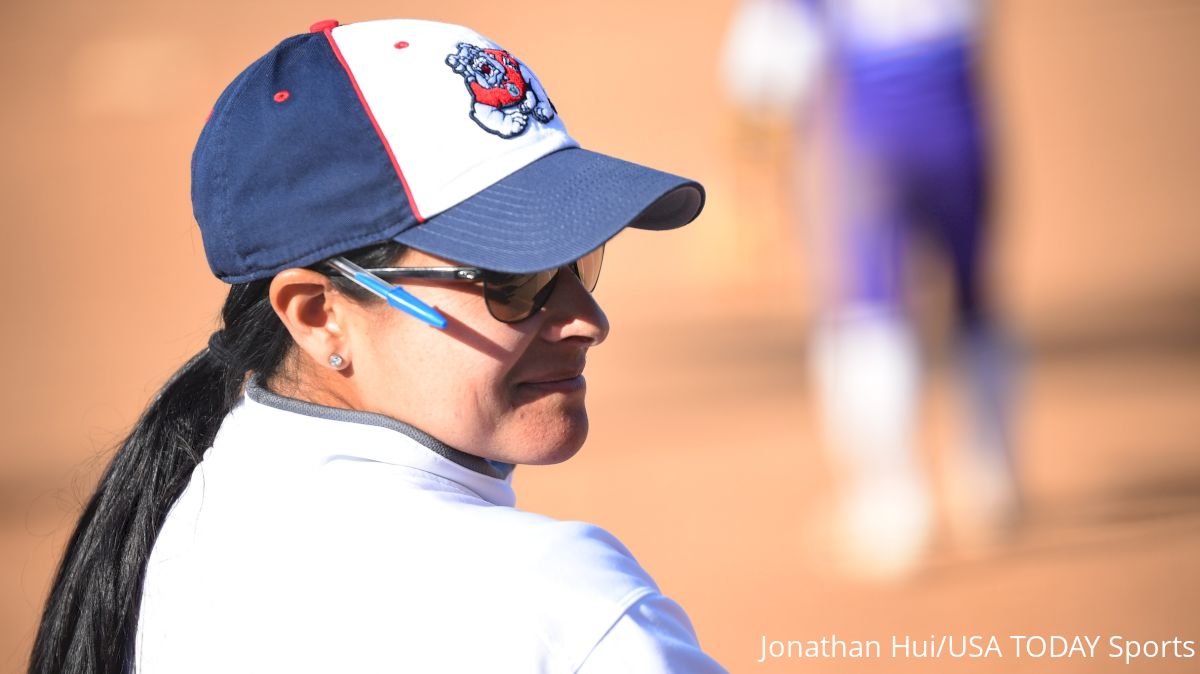 By Tommy Deas
---
The first time Fresno State called, the hometown girl said no.
Linda Garza was a plucky little infielder with enough college potential that a program in the midst of a run that would see it make seven trips to the Women's College World Series in the 1990s was interested.
But Garza was a realist. She looked in the mirror and saw a 5-foot tall, right-handed second baseman with average speed. She looked at the Bulldogs' roster and saw players who were more gifted — taller and stronger and faster.
"There was no one like me on the Bulldog team," she recalls.
Furthermore, she saw an All-American and future Team USA member, Nina Lindenberg, playing her position.
"In the scheme of things I knew I was going to have to play a role early on in my career," Garza says, "and I wanted to play right away."
So she told Margie Wright, the legendary Fresno State coach, no thanks. She packed her bat and glove and headed from her home in Fresno, California, to play for a UNLV program that at the time was also a national profile. She became a four-year starter — including a string of 155 straight starts — and earned All-Mountain West Conference honors. She was also a four-time academic all-conference honoree.
Two decades after Fresno State first called upon her as a recruit, the Bulldogs called again, this time to offer her the head coaching job in the summer of 2016. And Garza said yes.
The hometown girl had grown up to be an accomplished coach. Trisha Ford, who had followed Wright after the Hall of Fame coach's retirement, was headed to Arizona State after four seasons with the Bulldogs.
Garza wasn't about to turn the school down again: Fresno State softball was in her DNA. She had attended games as a youngster with her father. She had listened to the Bulldogs' World Series exploits on the radio in the kitchen with her mother.
"I truly grew up infatuated with softball played at that high level because Fresno State kind of enabled me to see it at a young age," she says.
A Winding Road
To get the chance to coach the team she had grown up admiring, Garza first had to make the circuit as an assistant: Arkansas, Tulsa, Purdue, Cal Poly.
Carrie Deaver Boaz, a former Fresno State player — now a Division II head coach at the University of West Alabama — gave Garza her start in 2002 at Arkansas. She saw the same things that Wright and others had seen when Garza was a recruit.
"I had known her at least from a distance since she was probably a 10-year-old kid playing in Fresno," Boaz says. "She's by far the shortest I've ever hired as a coach. My son might have been about 8 years old and I remember him telling her he was going to be taller than her when he was 9.
"But she's a big dynamite package. She always knew where she was going."
The destination, all along, was Fresno.
Figuring It Out
Garza did a short turn as head coach at Wright State and in the summer of 2012 landed at UC Riverside. It looked like a dead-end job. The program had never had a winning season in its 11 years.
"Everyone thought it was a career pitfall," she admits. "If you can't figure it out there, you sure as heck aren't getting out."
So she figured it out. By 2015, UC Riverside won 39 games. Over four seasons, her teams averaged nearly 30 victories.
How did she do it?
Garza sold the school's academics to recruits and kept an eye out for kids with chips on their shoulders who had been overlooked by more high-profile programs. She aggressively recruited junior college talent. She stressed fundamentals and hustle.
"We needed to do the little things well and we needed to be disciplined," she says.
Garza recalls surveying the field at the end of that 39-win season and noting that she had a chemistry major at second base, a third baseman headed to law school, a future nurse at first base, a physical therapy student in the outfield.
"You look around that field and you think we may not be playing for a national title, but these kids were playing for something bigger in life," she says, "and that's pretty cool to see."
Trying Times
Garza had interviewed for the Fresno State job when the school hired Ford. She figured that was her last shot. Then Ford left and the call came in the summer of 2016.
It was at a difficult point in the coach's life. Her 41-year-old brother, Darren, had been killed in a hit-and-run accident that March.
Her parents were at one of her games at UC Riverside when they got the news. Her father made his way down from the stands to deliver the news.
"You don't want to believe it," she says.
She left immediately for Fresno with her mother and father.
"We're a tight-knit family," she says. "We're super-close. We come home, we take care of it, we do what we need to do."
So when the call from Fresno State came in the summer after that season, the opportunity was greater than softball.
"It kind of feels like wow, we've had this rough spot as a family, what are the chances I can get back home and I can be with the people that I need to be with at this tough time? I feel like things happen for a reason," Garza says.
A few months after she was hired, Garza's mother was diagnosed with terminal cancer.
"So now you just get your dream job and you're home and you're with your family and you've got to kind of take on the responsibility of taking care of my mom," she says.
Between recruiting visits and practices and team meetings, she accompanied her mother to chemotherapy sessions. She savored the time they had left together.
Fresno Family
Garza's mother passed away last October. Her parents had lived in a house a mile from the Fresno State stadium. Home games became regular reunions.
Her father, remaining brother, nieces and nephews, and aunts and uncles tailgate with players' parents. They sit together in box seats behind the first-base dugout. When Garza is in the dugout or coaching at third base, she can look across and see them.
"My dad puts a big flag up," she says. "My aunts and uncles are there. When my mom was sick last season and the weather was cold, I was grateful that my administration allowed us to park her car just outside the right-field fence.
"This is the culture that I want for Fresno State. Who I am is a tribute to my family. I have family members that this is the only school we know, and we bleed red and blue."
Home Again
Fresno is home for Garza again. She wants her players to share her appreciation for the program and the place.
"She's all about Fresno State," says senior shortstop Katie Castellon, a native of Stockton. "You hear her talk about anything, it's Fresno this and Fresno that. She's really Bulldog-born, Bulldog-bred."
That makes sense to Boaz, who gave Garza that first coaching opportunity. The 39-year-old, diminutive former second baseman is a fit for her hometown team.
"The mascot at Fresno State is perfect," Boaz says. "She's a bulldog. She's going to keep knocking on doors until she gets it done. There's not going to be any stopping her."
Garza embraces the program's high expectations. She knows the softball landscape has changed, with the Southeastern Conference and other leagues powering up and plucking the kind of recruits who once would have chosen Fresno State.
The Bulldogs went 35-23 in her first season and made their 33rd NCAA tournament appearance. She wants to build on that. She wants an already-successful program to again produce the kind of experiences she had following it as a youngster.
"Three hundred schools in the country, there's a place that can win at a high level and it happens to be in my hometown and this is what I do for a living," she says. "I'm blessed that this opportunity came."