2022 Hot 100 Rankings Countdown: Players 20 To 11
2022 Hot 100 Rankings Countdown: Players 20 To 11
FloSoftball ranks the top 100 softball players in the 2022 class from California Breeze to Texas Blaze.
Jun 1, 2018
by Chez Sievers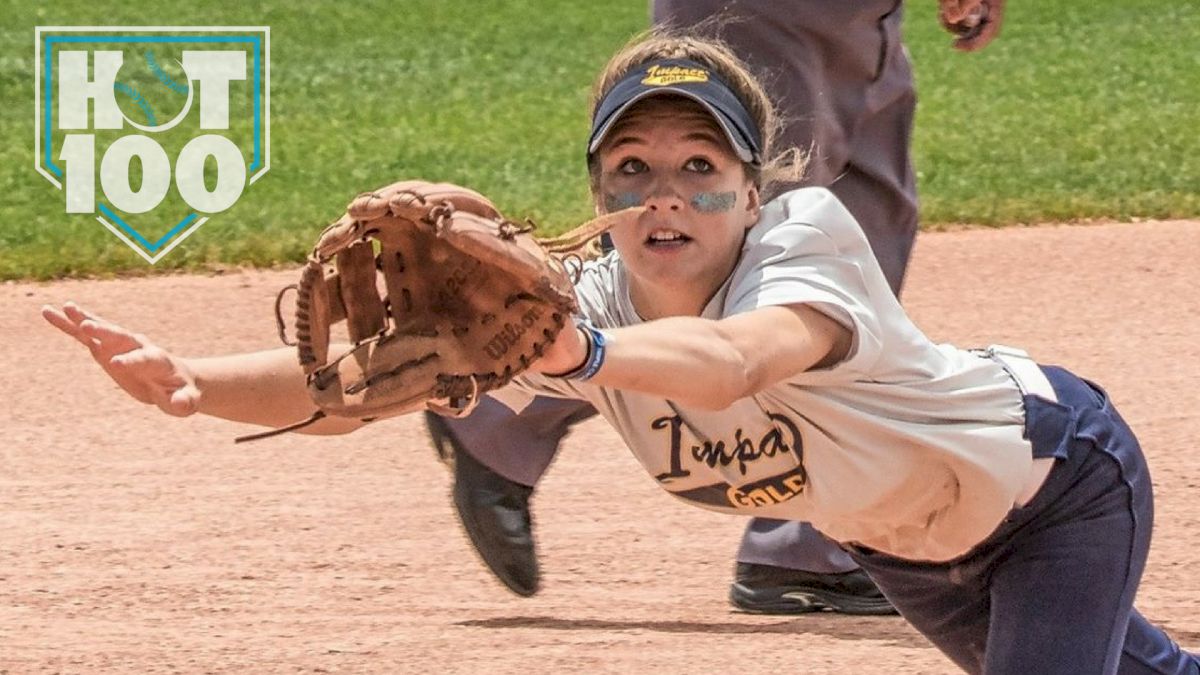 The voters for the 2022 Hot 100 made FloSoftball history with nearly 140,000 nominations cast to help decide which players were included in the rankings. The talent is overflowing in this class, which is studded with more catchers in the Hot 100 than ever before. Two things that make this class of athletes special are the versatility and strength of hitters and defenders.
We've partnered with AthPro360 which measures thousands of athletes at every level and is now gathering data on the top club organizations around the country. AthPro360's objective performance data will weigh heavily in the Hot 100 rankings.
One new addition to our class rankings that we're excited to release are the position-specific rankings. We've traditionally ranked the top 100 athletes in their respective class. Following the release of the Hot 100, we are going to rank the top 25 players by position: outfield, middle infield, corners, catchers, and pitchers.
These rankings are always subject to change in next year's updated list, and this summer and fall will reveal both the contenders and pretenders.
Here is our release schedule:
Monday, May 21 — 2022 Hot 100 Players Nos. 100-91
Tuesday, May 22 — 2022 Hot 100 Players Nos. 90-81
Wednesday, May 23 — 2022 Hot 100 Players Nos. 80-71
Thursday, May 24 — 2022 Hot 100 Players Nos. 70-61
Friday, May 25 — 2022 Hot 100 Players Nos. 60-51
---
Monday, May 28 — 2022 Hot 100 Players Nos. 50-41
Tuesday, May 29 — 2022 Hot 100 Players Nos. 40-31
Wednesday, May 30 — 2022 Hot 100 Players Nos. 30-21
Thursday, May 31 — 2022 Hot 100 Players Nos. 20-11
Friday, June 1 — 2022 Hot 100 Players Nos. 10-1
---
Monday, June 4 — Top 25 Outfielders & Next In: 101-200
Tuesday, June 5 — Top 25 Middle Infielders & Next In: 201-300
Wednesday, June 6 — Top 25 Corners & Next In: 301-400
Thursday, June 7 — Top 25 Catchers & Next In: 401-500
Friday, June 8 — Top 25 Pitchers
---
Monday, June 11 — 2022 Hot 100 Breakdown
---
20 | Megan Grant, MIF | West Bay Warriors (UCLA)
Over a year ago, you wouldn't find Megan Grant at the softball field. That's because she was on a baseball diamond. Transitioning over to softball came easy for Grant, who helped the West Bay Warriors to a seventh-place finish at 2017 PGF Nationals while batting .524. Grant combines power, average, and speed from the left side of the plate. On defense, she's smooth at shortstop similar to Jade Gortarez at ASU. UCLA took notice of the five-tool athlete, and she committed to the Bruins in January 2018.
19 | Olivia Gigante, P | OC Batbusters - Campbell `
Gigante is the No. 1 pitcher for Mark Campbell's 03 Batbusters team. She has tremendous command over her pitches, throwing in the mid-60s. A power pitcher blending power and control, she induces many groundball outs. Gigante has won games against 18U and 16U teams, and according to one scout, she "is very sophisticated for her age." Gigante's location of pitches is good now, and once she gets it perfected "she will be unbeatable," said a top West Coast coach. One of the top pitchers in this class, she not only dominates in the circle but she is also one of the most frightening hitters to face. Gigante is a power hitter who leads the team in home runs. Major programs such as Oklahoma, Arizona, and Oregon are among the many who are watching to see how her development continues. Expect Gigante—playing for Mark Campbell's powerhouse 14U team—to have her choice of top schools everywhere across the nation by the time PGF Nationals wraps up this summer.
18 | D'Auna Johnson, P | California Breeze - Fernald (Oregon)
Built like DJ Sanders, D'auna Johnson is another strong pitcher/hitter in the 2022 class who's been invited to the OnDeck NorCal Jamboree and was a USA Softball All-American. Her versatility and power is scary good and Oregon is eager to see Johnson grow.
17 | Shaylen McDowell, UTL | Lady Magic - Munoz (Oregon State)
As the table setter for Lady Magic, Shaylen McDowell has all of the tools to ignite the offense and maneuver seamlessly between different positions on defense. With McDowell's speed, it's not out of the ordinary for her to lead off with a double or a triple. On defense, coach Ernie Munoz can put McDowell almost anywhere but she plays outfield the majority of the time. McDowell was the second Pac-12 commit in the 2022 class after Jordan Woolery.
16 | Destiny Rodriguez, C/IF | Texas Blaze Futures (Oregon)
Rodriguez is one of most fun players to watch in this class because she lives for the big moments. Small in stature, she became a leader for Blaze Futures the moment she joined the team. She is incredibly versatile on defense, as she can perform at a very high level behind the plate as well as third base, shortstop, and second base. She effectively shuts down the short game from behind the plate and on the left side of the field. Since joining Futures, only 44 runners have attempted to steal in 163 innings and she threw out 16. To help her pitchers even further, she picked off an additional 15 runners. She is an intelligent pitch caller, great receiver, and blocker and fills her pitchers with confidence. Offensively, Rodriguez is a scrapper. She pushes pitchers to deep counts. She leads her team with 16 two-out RBIs and eight-game winning hits. Rodriguez is confident, yet humble, has an unmatched work ethic and has gained the respect of all of her teammates. Her love and passion for the game and her swag are contagious and a great fit for Oregon.
15 | Avery Hodge, IF | Impact Gold HTX (Oklahoma)
Before becoming the first 2022 OU commit, Hodge attended multiple Sooners camps and jelled incredibly well with the other commits. It felt like the perfect fit. She's an electric player who thrives in competitive environments and excels at everything she does whether it's softball, volleyball, basketball, or track. Hodge began receiving attention by Big 12 and SEC college coaches in the sixth grade. Between outfield and infield, Hodge's natural ability to make excellent reads combined with her speed has been a recipe for ridiculous plays.
14 | Millie Roberts, 1B | Beverly Bandits - Harkness (Auburn)
Roberts' bat speed is unbelievable and it shows when she steps into the batter's box. One of the most feared hitters in 2022, Roberts is a threat to go yard at any time. What's her favorite pitch? Roberts will say, "All of them." On defense, she is agile and quick on the corners, moving aggressively on bunts and absorbing the shots. Her size and strength will continue to help her dominate on offense. The Beverly Bandits play a very competitive schedule which has allowed Roberts to see and adjust to very competitive pitching. She is a force to be reckoned with both offensively and defensively. She is sneaky fast and runs the bases well with authority. Defensively, she has a blend of strong footwork and glovework at first and calls a great game behind the dish.
13 | Elon Butler, MIF | Suncats (Cal)
Butler is a rare athlete who blends speed and power for one of the country's top teams. Her quickness and arm strength allow her to make plays that most girls can't at this level. Offensively, she has tremendous bat speed and has hit several home runs over 250 feet. Her upside is limitless, as she will only get stronger and smarter.
12 | Sydney Berzon, P | Fury Platinum 21'-22' (LSU)
Sydney Berzon was unknown when she decided to go to LSU's camp. She was randomly added to the group that faced a number of future Tigers. One by one, Berzon mowed them down, throwing in the mid-60s with up-spin and off-speed. Her recruiters were stunned and told the LSU coaching staff that they had to have Berzon on their future team. The hurler from Buffalo, New York, can also swing the bat and we project that she will put up great power numbers for Fury Platinum.
11 | Kelsie Kelso, SS | Texas Bombers Gold (Texas A&M)
Kelso is another reason why Texas is becoming another powerhouse in the softball community. Constantly raising the bar on offense and defense, Kelso demonstrates that a shortstop can hit for serious power and be one of the middle infielders in the Lone Star State. Her arm strength is above average and she can drive the ball to all fields.