Create a free account to unlock this article!
Get Started
Already a subscriber? Log In
Ellie Cooper, former Florida State second baseman represents New Zealand as they compete at the WBSC World Softball Championship in Chiba, Japan. The reality of representing a country comes with hardships and so many rewards. Cooper shares her experience.
Over the years, I have been asked many times how I ended up on the New Zealand National team. I owe this one to my Father. My dad was born and raised in New Zealand and thankfully my parents decided to have me in his hometown of Wellington, New Zealand. I started playing for the New Zealand National program at the 2011 Junior World Series in Cape Town, South Africa.
I am now headed to my sixth World Series representing one of the most beautiful countries in the world and I couldn't be more grateful. I have been fortunate enough to have been playing softball for as long as I can remember. I played four years of collegiate softball at my dream school (Florida State), made two appearances playing in the WCWS, and one coaching in the WCWS and there is nothing quite like playing this amazing game with your country written across your chest.
Representing your country while playing a sport comes with a different type of pressure in the best way possible. Pressure is a privilege, especially when that pressure comes from putting an entire country on your back with 16 other people on the same mission as you. When you play on a New Zealand national team you are representing the Silver Fern and a tiny country of just under five million people.
In New Zealand, our culture is built upon creating a tight family as you live your life, respect for our ancestors and heritage, and taking great pride in where we come from. Another big part of representing New Zealand is reflecting our Maori culture through the performance of the Haka.
The Haka was traditionally used as a war dance or challenge on the battlefield, as well as when groups come together. Today, in the National programs such as ours, the Haka is performed prior to international matches as we prepare to take on the battle against our opponents.
Our White Sox Haka represents pride, strength, and a sacred representation of our ancestors and our people. Through the Haka we learn about the Maori language and our cultural heritage. We Haka as a unified sisterhood of Aotearoa (New Zealand) with a great respect for the opponent we are about to face on our battlefield. It is important to us because it unifies our team, gives us strength, and shows our opponents that we are here for a purpose.
As a member of the New Zealand White Sox, that is exactly what we do every time we put that jersey on our back. We understand that we are representing something so much bigger than ourselves and our team. We are representing an entire country of people who are counting on us to put New Zealand on the map. When I put my jersey on I do not own that jersey, I am just a body who is fortunate enough to do what I love, while representing my country, my family, my teammates, and those who have come before me. It is my job to protect the legacy and culture of our Nation and add to it when the opportunity presents itself.
The culture of softball is much different in New Zealand as compared to that in the United States. Coming from such a small country, women's softball is not as developed like some countries. We lack the resources to train, fund and create a competitive atmosphere year round like many countries around the world. While the honor of representing New Zealand is one my teammates and I live for, it does not come without its challenges.
Representing New Zealand comes at a cost, literally. Our program is partially funded by Softball New Zealand and High Performance Sport New Zealand, where the rest of the balance is funded by our athletes. Meaning, every summer my teammates and I come up with thousands of dollars to compete for our country. Many of my teammates also work full-time jobs and have families, or are full-time students, yet we are asked and expected to train as professional athletes.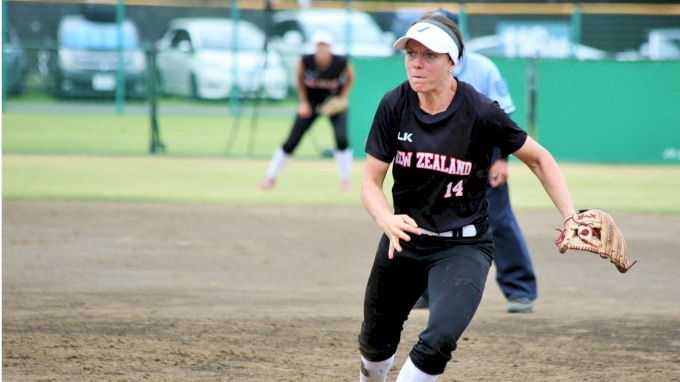 This may seem like a disadvantage when you think about the teams that we are competing against who are often paid as professional athletes, but we believe that this is what makes our circle so tight. The love that we have for each other, our country, our people, and everything that it stands for, runs deeper than the challenges and realities we face as we prepare for the World Championship. Living on opposite sides of New Zealand, the globe, along with the lack of funding options that allow us to meet no more than once a year, the sisterhood created through representing New Zealand and the love we have for our tight-knit culture, keeps us grounded in our roots and our mission.
Since the start of my White Sox career in 2011, I have traveled to five different countries collecting experiences that have made me who I am today. I have made friendships with some of my best friends, all while playing the game that has been the foundation of the purpose throughout my life. Although my teammates and I may have been able to put a down payment on a house with the money that we have spent representing our country, there is no amount of money that I could ever fork up to give back to this game and the opportunities that representing my country has granted me with.
I hope that softball continues to grow around the world, allowing more girls like me who fell in love with this amazing game at such a young age to travel the world, see different cultures, meet amazing people, create deep relationships, and develop into strong women who can give back to their community. I also hope that people with the power to grow the game continue to invest their time knowing that this sport will give you back so much more than anyone could ever give it.
I am forever in debt to this game and my country for all that it has given me. Representing my country has been the greatest honor that I will carry with me for the rest of my life. To everyone who has been by my side supporting me through my crazy dreams—my family, my coaches, my teammates, my friends, I owe you my life because none of this would be possible without you.
Follow Ellie Cooper on Twitter @suuupercooper and Instagram @ellll143