2021 Hot 100 Rankings Players 70-61
2021 Hot 100 Rankings Players 70-61
FloSoftball releases 2021 Hot 100 rankings players 70 to 61 from EC Bullets, Tulsa Elite, Lady Lightning and more.
Sep 11, 2018
by Chez Sievers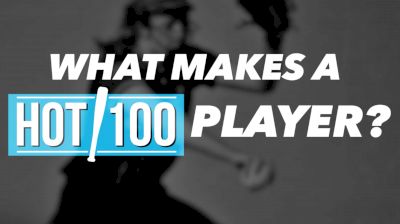 Unlock this article, live events, and more with a subscription!
Get Started
Already a subscriber? Log In
This year's 2021 Hot 100 experienced quite a shakeup from last year with new players beating out some of last year's prospects. Hundreds of you submitted player info that made the selection process incredibly difficult.
On this list, you will find speedsters, sluggers, slingers, and some of the most versatile athletes in the country.
How do we select the Hot 100?
Weeks of research, phone calls, emails, stat analyses, and data analyses are endured to come up with this list of the top prospects. We look closely at the individual's performance in the last year and also team performance. AthPro360 assists FloSoftball in gathering data-driven measurements to provide more objectivity in the selection process.
Over the next three weeks, we will unveil 10 honorees per day ending with Top 10 per position:
Week 1
Mon. Sept. 3: 2021 Hot 100 Players 100-91
Tue. Sept. 4: 2021 Hot 100 Players 90-81
Wed. Sept. 5: 2021 Hot 100 Players 80-71
Week 2
Mon. Sept. 10: 2021 Hot 100 Players 70-51
Tue. Sept. 11: 2021 Hot 100 Players 50-31
Wed. Sept. 12: 2021 Hot 100 Players 30-21
Thu. Sept. 13: 2021 Hot 100 Players 20-11
Fri. Sept. 14: 2021 Hot 100 Players 10-1
Week 3
Tue. Sept 18: Next In 101-200
Tue. Sept. 18: 2021 Top 10 Pitchers
Wed. Sept. 19: 2021 Top 10 Catchers
Thu. Sept. 20: 2021 Top 10 Infielders
Fri. Sept. 21: 2021 Top 10 Outfielders
---
---
T70 | Marissa "Rabbit" Gonzalez, C/IF | Corona Angels - Slye
A stud behind the plate, Gonzalez aka "Rabbit" stepped up when the Angels starting catcher went down due to an injury. Given the opportunity, she was pivotal to the Angels success winning PGF 14U Premier Nationals and Boulder IDT. Her smooth yet quick catch and release enable her to snipe corner runners and backdoor runners trying to stretch their lead. There's tons of upside to Gonzalez's game who worked her way up through the Angels organization and has the ability to play middle or corner. During her freshman season at Kingsburg High School, Rabbit held a .409 batting average with 34 RBI in 28 games played. She recorded 6 doubles, 4 triples, and 4 home runs out of her 36 hits. Expect Gonzalez's stock to rise in the next year as she prepares her official trips next fall.
T70 | Tatum Sparks, C/OF | Tulsa Elite (Oklahoma State)
You would be hardpressed to find another softball players as athletic as Tatum Sparks. Every coach we spoke with talked about how dynamic and versatile Sparks is on the field. It's no surprise that this tri-sport athlete can play every position on the field except for pitcher. In 2017, Sparks made second team Oklahoma Big All-City team as one of the top sluggers on her Shawnee High School team. Sparks is a key component of what could be Oklahoma State's best recruiting class under Kenny Gajewski.
69 | Kinsey Norton, P | EC Bullets - Biele/Heath
EC Bullets Biele/Heath's 6-foot-2 right-handed pitcher Kinsey Norton is emerging as one of the top pitchers out of Georgia in the 2021 class. Before helping the Bullets to a 7th place finish at PGF, a 2nd place finish at Triple Crown, and 5th place finish at IDT Boulder, Norton guided her Etowah High School team to the state championship where she also earned All-State Honors. She is attracting interest from SEC, ACC, Big Ten, and Pac-12 schools.
68 | Dominique "Nikki" Barboza, 3B | Explosion - Flores/Olmos
Barboza is a power hitter that's a natural talent at third base. Whether she's diving or crashing on a bunt, it's tough to get a ball passed Barboza. There's no doubt Barboza is one of the top defenders on Explosion along with one of the strongest hitters. She's been driving the ball over the fence since 12U and will continue to put up power numbers for years to come.
T67 | Grace Nieto, MIF | Beverly Bandits - C/C (Northwestern)
Grace Nieto's middle name could be "Ninja" given her speed and quickness and at times it literally seems like she's all over the field. She enjoys toying with the defense from the left side dropping sneaky bunts or blasting the ball over the fence. Voted Hometown Life Prep Athlete of the Week, Nieto hits for high average and RBIs. Following in the footsteps of older sister Kayce Nieto, Grace is looking to write her own history on her way to Northwestern.
T67 | Ally Sockey, MIF | Tulsa Elite (Arkansas)
Sockey is known as an incredible defender from Greenwood, Arkansas playing for Jeff Falali's Tulsa Elite program. Equipped with great hands, Sockey reads the ball off the bat so well she takes away sure base hits. Sockey entertained multiple offers in the fall of 2017 but decided Arkansas would be the best fit for her. At Greenwood High School, she had a remarkable season on offense batting .588 with 28 RBIs in 24 games played. Listing a slugging percentage of 1.029, Sockey hit 10 doubles, 4 triples, and 4 home runs.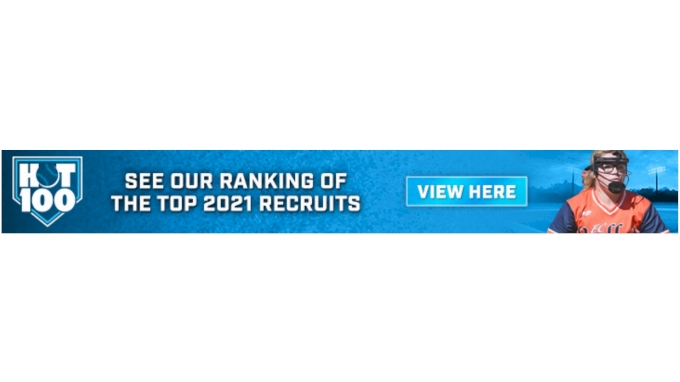 66 | Lauren Wiles, P | Lady Lightning Futures (North Carolina State)
John Corn's Lady Lightning Futures squad had a strong summer finishing 5th at Triple Crown Nationals and 2nd at the Triple Crown Sparkler behind Mizuno Storm - Mathis thanks in part to Lauren Wiles in the circle. One of the top strikeout pitchers out of the east, Wiles throws consistently in the mid-60s with solid command and movement appealing to Power Five schools from the Pac-12 to SEC. Last season, she collected 150 strikeouts in her last 100 innings pitched.
T65 | Cierra Simon, IF/OF | Texas Glory - Naudin
New to Texas Glory, Cierra Simon is a sleeper with great tools on defense and explosive power on offense. From Grapeland, Texas Simon has been compared to former Baylor infielder Ari Hawkins because of her athleticism to play multiple positions, steal bases, and crush the ball to all fields. Batting .423 for Grapeland High School, Simon tallied 33 RBI with 15 doubles, 4 triples, 4 home runs, and 29 stolen bases. This kid can ball.
T65 | Toni McInnis, MIF/OF | Texas Glory - Naudin (Kansas)
With her 5-foot-10 frame, McInnis is a Texas favorite for most coaches. Long and lanky, McInnis can play middle or outfield depending on the needs of the team. A solid lefty hitter, she batted .405, with 19 RBI, 7 doubles, 4 triples, and 1 home run. McInnis' offensive efforts propelled Texas Glory Naudin to a 1st place finish at Top Gun and a 2nd place finish at the Tulsa Elite Invitational.
T65 | Alaina Smith, MIF | EC Bullets - Byars (Clemson)
Smith's aggressive play can ignite the offense and/or cohere the defense. Her style is reminiscent of Stanford All-American shortstop Ashley Hansen. One of the top defenders at shortstop, Smith can also play center field in a pinch. On offense, she swings and slaps for power but has the ability to kiss a bunt down the lines for a base hit. Her speed and instincts on the bases are additional weapons for Smith who has been clocked at 2.7 seconds from home to first. Smith's efforts on offense and defense were crucial when it came to Etowah High School making the 7A State Championship game batting over .400 for the season.
64 | Riley McNemar, C/MIF | DeMarini Aces (Auburn)
McNemar is a beast with the bat. The kid crushes the ball a very long way and is one of the scarier hitters in the Hot 100. The first team 4A-II All Stater helped Galena High School to the state championship but fell short. McNemar has registered exit speeds over 70 mph and is developing into a solid defender.
63 | Raelin Chaffin, P | Texas Glory (LSU)
Chaffin joins Kevin Shelton's Texas Glory squad this fall with fellow LSU-commit Hayden Brown and a very deep pitching staff that is sure to be a top contender at the 18U division. Before verbally committing to LSU, Chaffin visited Baylor, Texas A&M, Houston, and Texas Tech. The right-hander throws in the mid-60s with strength on the horizontal plane. Chaffin will tally up her fair share of strikeouts working for her team deep into tournaments.
T62 | Natalie Heath, 3B/OF | EC Bullets Biele/Heath
At 5-foot-9, Heath is a premier third baseman with a cannon for an arm and can absolutely stroke the ball. A natural power hitter this 5'9 will no question be a 15+ home run threat. She's a gold glove 3rd baseman and as a freshman, at Northgate HS 6AAAAAAA she batted .473 earning All-Region Honors. Heath is attracting attention from SEC, ACC, and Big Ten schools.
T62 | Madison Dobbins, 3B | Georgia Impact - Gusaeff (Georgia Tech)
Dobbins is one of the top defensive third baseman in the country who hits .400 and almost reaching double digits in home runs this summer. She collected over 50 RBI and 17 steals over the summer. She possesses a rare combination of speed and power. Dobbins' strength is her versatility. She can play any position but pitch and does everything well. One scout said, "She's one of the top defensive infielders in the country and can hit for power and average at the plate." The Georgia standout is also one of the smartest players you will see in any age group and knows how to make the game come to her, slow down, and seem easy. On offense, she's always hit for a high average, but this spring has found her power stroke.
61 | Lauren Flanders, 2B/OF | Firecrackers - Sewell (BYU)
Flanders is an absolute sparkplug at the top of the order. She consistently finds a way to get on base, wreak havoc on the bases by stealing 52 of 59 bases. Her stolen bases are not only on straight steals, she has a knack for delay steals. After finishing third at PGF 16U Nationals, Flanders concluded the summer batting .443 with an on-base percentage over .500. Her play on defense is no different as she makes all the difficult plays look easy between second base and outfield. One of the most exciting players to watch, Flanders took home Player of the Year, All-State, and All-Region her freshman year at Starr's Mill High School.