2021 Hot 100 Rankings Players 60-51
2021 Hot 100 Rankings Players 60-51
FloSoftball releases the 2021 Hot 100 Rankings Players 60-51 from Georgia Impact, So Cal Choppers, Tampa Mustangs and more.
Sep 11, 2018
by Chez Sievers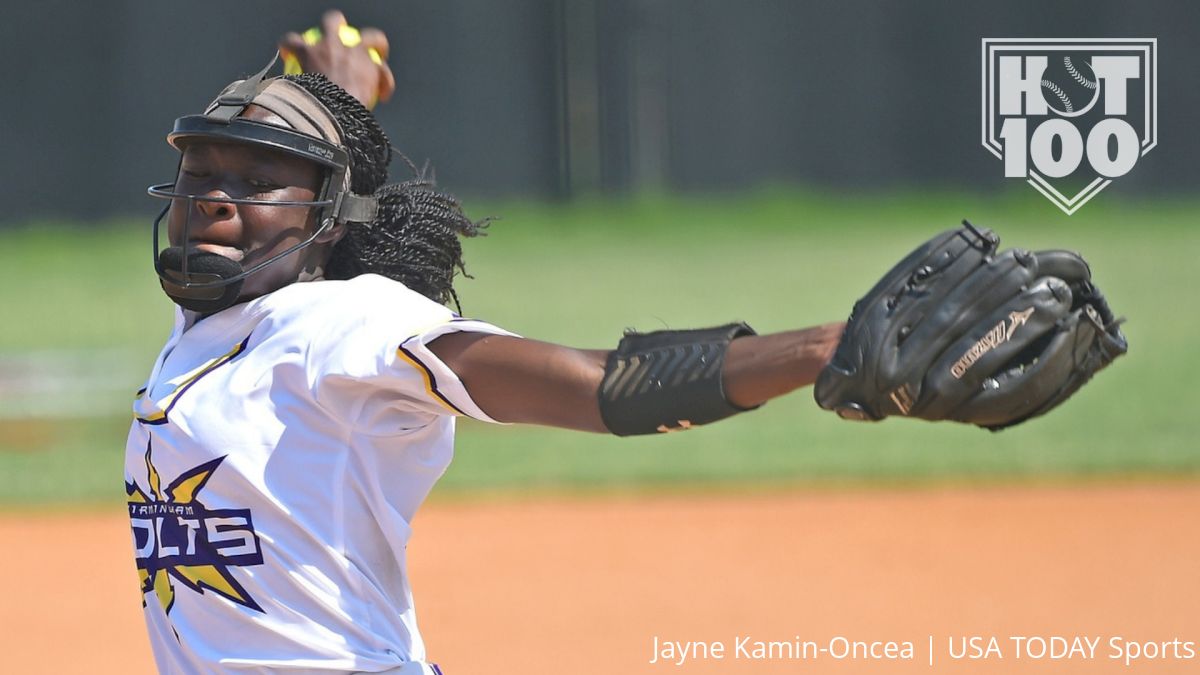 Unlock this article, live events, and more with a subscription!
Get Started
Already a subscriber? Log In
This year's 2021 Hot 100 experienced quite a shakeup from last year with new players beating out some of last year's prospects. Hundreds of you submitted player info that made the selection process incredibly difficult.
On this list, you will find speedsters, sluggers, slingers, and some of the most versatile athletes in the country.
How do we select the Hot 100?
Weeks of research, phone calls, emails, stat analyses, and data analyses are endured to come up with this list of the top prospects. We look closely at the individual's performance in the last year and also team performance. AthPro360 assists FloSoftball in gathering data-driven measurements to provide more objectivity in the selection process.
Over the next three weeks, we will unveil 10 honorees per day ending with Top 10 per position:
Week 1
Mon. Sept. 3: 2021 Hot 100 Players 100-91
Tue. Sept. 4: 2021 Hot 100 Players 90-81
Wed. Sept. 5: 2021 Hot 100 Players 80-71
Week 2
Mon. Sept. 10: 2021 Hot 100 Players 70-51
Tue. Sept. 11: 2021 Hot 100 Players 50-31
Wed. Sept. 12: 2021 Hot 100 Players 30-21
Thu. Sept. 13: 2021 Hot 100 Players 20-11
Fri. Sept. 14: 2021 Hot 100 Players 10-1
Week 3
Tue. Sept 18: Next In 101-200
Tue. Sept. 18: 2021 Top 10 Pitchers
Wed. Sept. 19: 2021 Top 10 Catchers
Thu. Sept. 20: 2021 Top 10 Infielders
Fri. Sept. 21: 2021 Top 10 Outfielders
---
T60 | Rylee Pinedo, 2B | So Cal Choppers - Fausett
The So Cal Choppers Fausett's had a stellar summer winning Triple Crown Nationals, 7th at PGF 14U Premier Nationals, and 3rd at Boulder IDT. Second baseman Rylee Pinedo is flying under the radar and is about to embark on another incredible year. She's a beast that won't quit and is relentless on the field. Her pedigree of softball IQ was passed down from her mom/coach Nichole Victoria Pinedo. Nichole graduated from Camarillo High School and was named All-CIF. Her talent took her to UCLA where she won a national title with the Bruins. Now, she is grooming one of the top second basemen in the country. Rylee is the 2-hole hitter for the Choppers and hits over .400 in every tournament. Her grit and her poise under pressure are attracting attention from schools in the Pac.
T60 | Kaylee Lyon, MIF | Gametime Stars 2021 Gold (Texas Tech)
Lyon's big-time swing comes with big-time numbers. Over the summer, she cranked out 11 home runs with 75 RBi. Lyon's RBI production was the highest on the team with an OPS of 1.208 and a .730 slugging percentage. Her success at the plate contributed to Gametime Stars 2021 Gold team's top 20 finishes at Triple Crown Sparkler and USA Elite Select WFC, and a 3rd place finish at USA JO Cup. Over half of her hits were extra-base hits. "She is a complete player who hits for power and average," her coach said. "She has good speed and a high softball IQ."
T59 | Mary Newton, P/OF | Beverly Bandits DeMarini - Moran (Pitt)
Newton comes with a ton of championship experience pitching in three PGF Premier Nationals and finished in the top 20 at PGF 16U Premier Nationals. Named 1st team all-conference and 2nd team all-district, Newton also was the MVP of the Cincinnati Reds Showcase game tossing a complete game against Williamsburg. Not just a pitcher, Newton can swing the bat hitting .508 with 28 RBI and a .542 on-base percentage. She stands 5-foot-8, very strong, and is a multi-sport athlete at the Ursuline Academy (also plays volleyball for the Ohio 1A state champion), a power pitcher with some pop at the plate.
T59 | Jordan Hatch, P/IF | Georgia Impact Gusaeff (Duke)
The southpaw committed to Duke is coming off a tremendous season at West Stanley. She was named 2A All-State, 2018 All-District, RRC Pitcher of the Year, and All-Conference. She devastates hitters with her movement but really fools them with her changeup taking 10 mph off. Not overpowering, Hatch is more crafty and precise in her delivery. Racking up strikeouts in the double digits is nothing new to Duke-bound Hatch.
T59 | Kennedy Barron, P/IF | Birmingham Thunderbolts 03 (Duke)
5-foot-10 right-hander Kennedy Barron was one of the most highly sought after pitchers in the 2021 class. Her strength lies in throwing the curve and drop. She was named Alabama Class 3A All-State, All-Region, All-Area, and All-County for Pisgah High School. Barron helped the Bolts to a top 20 finish at PGF 16U Premier Nationals. Before committing to Duke she had strong interest from SEC, Pac-12 and ACC schools.
58 | Cali Decker, C | Georgia Impact National Lewis (Florida)
Georgia Firecrackers - Sewell surprised many teams in the 16U division with a third-place finish at PGF 16U Premier Nationals. On the brink of elimination, Cali Decker drove in a crucial run for the Firecrackers to cut Firecrackers TJ's lead. Her big bat in the lineup and a big arm in their outfield we're huge during nationals. Decker's swing will certainly help boost her power numbers in both doubles and home runs as she joins 2018 PGF 18U National Championship team Georgia Impact National Lewis.
T57 | Kaylen Madrey, MIF/OF | Birmingham Thunderbolts 02 (LSU)
KK Madrey is without question one of the fastest players in the 2021 class collecting more stolen bases than games played. She's a touch-and-go slapper with a little bit of pop batting .571 and a .667 on-base percentage. What she doesn't have in power numbers, she makes up with in stolen bases stealing 19 bases in 16 games. With her speed, she creates major chaos for the defense that must throw Madrey out in under 2.66 seconds. Running track certainly contributed to her speed and athleticism. She runs the outdoor 200m, 400m, competes in the high jump, long jump, 4x100 relay, 4x200 relay, and 4x400 relay.
T57 | Ella McVey, MIF/OF | Iowa Premier (Michigan)
Another speedster in the Hot 100 is Iowa Premier infielder/outfielder Ella McVey who is praised as the top slapper in Iowa running a 2.7 from home to first. Her ability to sneaky bunt, soft slap, power slap and hit away make her absolutely dynamic on offense. She's a table setter on offense and vacuum on defense. McVey can track down groundballs deep in the hole and make difficult plays look easy.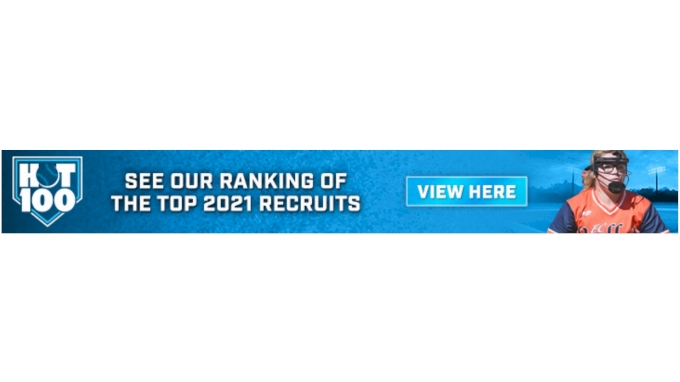 T56 | Lauren Derkowski, P/1B | Birmingham Thunderbolts 03
Named ASWA 1st Team All-State and All-Metro AISA Softball Player of the Year, Taylor McKinney had quite the high school season for Macon-East breaking the school record for home runs (16) while holding an ERA of 1.33. There's no doubt that she's a big-time hitter that will find her way into the lineup. McKinney helped the Thunderbolts team to a top 25 finish at PGF 14U Premier Nationals. She's a tremendous hitter and competitor in the circle and at the plate.
T56 | Emily Leavitt, P | Athletics - Mercado/Greg
Leavitt has been an essential piece to the Athletics Mercado organization finishing 5th in 2016, top 25 in 2017. Named 1st team All-League, she had a phenomenal freshman season at Chino High recording 157 strikeouts in 98.2 innings pitched. She's a power pitcher who changes speed and changes vertical and horizontal planes with her rise and screw. Pitching deep into top tournaments has attracted the interest of many Power Five schools.
T55 | Riley Hull, C/UT | Birmingham Thunderbolts 03 (Mississippi State)
Hull possesses a strong arm behind the plate and was named Kentucky's Class 3A All-State Honorable Mention and All-Region Tournament Team. She was also named to the All-District team batting .520 with 20 doubles and holding a .735 on-base percentage. On defense, she has the versatility to play infield. Regardless of her position, Hull finds a way in the lineup driving the ball to the gaps. Before committing to Mississippi State, she was looking at other SEC programs along with Big Ten schools.
T55 | Rebekah Durazo, C/1B | So Cal Choppers - Fausett
Rebekah Durazo is a special player. Her clutch moments have been described as, "Doubles and home runs clutch." Her success on offense was huge when it came to the So Cal Choppers winning Triple Crown Nationals and placing third at IDT Boulder. The 5-foot-8 catcher/first baseman has registered exit speeds of 107 mph and a 22 inch vertical. Athletic and gritty, Durazo is not a stranger to hard work and competition. Expect Durazo to put up big numbers this upcoming season.
T54 | Morgan Kendrick, P/UT | Tampa Mustangs - Maguire (Florida State)
Kendrick is fresh off a PGF 16U Platinum Championship with the Tampa Mustangs. The Florida State-commit threw 102 innings for Fleming High School striking out 168 of the batters she faced. She mixes her fastball, curve, rise and effectively uses the change to keep hitters off balance. Not just a pitcher, Kendrick can also swing the bat for doubles and home runs. She joins a very strong Seminole class with teammates Brooke Blankenship, Kristina Hartley, Amaya Ross, and Katie Brooks.
T54 | Kylie Macy, P/UT | Impact Gold National - Lang
Macy kept a .520 batting average on the season and a 28-8 pitching record to help Impact Gold National Lang finish 3rd at Legacy, 1st at Diamond Battle and 9th at TCS Nationals. She had big pitching wins over 4 top 20 ranked national teams. She batted over .700 at Scenic City, .600 TCS and .500 at PGF. For Grayson High School, Macy went undefeated during the regular season at 14-0 with 170 strikeouts to help lead them to the Elite 8 in the State Finals. She is currently 19-2. Macy's spin rates have been clocked in the 30s. She throws two speeds up, two speeds down and does a good job with throwing her rise ball at all levels including a low rise. The best part of Kylie is her upside. As she continues to grow her top speed and spin continues to jump and we expect her fastest pitch that is around 61 to continue to rise up in speed and spin.
T53 | Emmy Guthrie, P/OF | Tulsa Elite (Oklahoma)
Guthrie is one of the most underrated spinners in the 2021 class. She won't blow the ball by hitters but she will deceive them spinning the ball on a horizontal plane and then going upstairs with her rise ball for the swing and miss. Guthrie led her Lone Grove High School team to a runner-up finish at state recording 266 strikeouts in 163 innings of work. As a freshman, she held a 1.10 ERA and was named District Pitcher of the Year and LCC Pitcher of the Year. The Oklahoma-commit can also swing the bat holding a .340 batting average.
T53 | Savannah Hooks, P | Corona Angels - Slye (UCLA)
Last season, lefty pitcher Savannah Hooks dominated at PGF 14U Premier Nationals. She moved up to the 16U division finishing in the top 25. Club teams from all over the country struggled against the swing and miss southpaw. Hooks was one of the most highly sought after pitchers in her class. Look for Hooks to have a stronger season with Corona Angels 16U - Slye. She will share the mound PGF 14U Premier Champs Kylee Magee, Korbe Otis, and Kendall Mangel.
T52 | Isabela Emerling, C/IF | Universal Fastpitch - Garcia (Cal)
Universal Fastpitch catcher Emerling is a lethal bat in the lineup and poised behind the plate. The 1st team All-League captain batted .467 with 23 RBI in 23 games. She recorded 4 doubles and 3 home runs with a 1.256 OPS. Emerling is projected to be a power hitter for years to come. Expect her home run and RBI numbers to increase every year. Emerling is solid in stature and one of the most athletic catchers in the class. Her Universal team moves up to 18U this year with a number of other Pac 12 commits.
T52 | Annie-Kate Dalton, C/UT | Georgia Impact - Gusaeff (North Carolina)
North Carolina-commit Annie-Kate Dalton is a big bat for Jason Gusaeff 's Georgia Impact squad. The Murphy, North Carolina native racked up 55 RBI and 13 home runs during her freshman campaign at Murphy high school. She was named All-State and is another power hitter that hits for high average. On defense, she spends most of her innings catching but has the ability to play anywhere on the field. During the softball off-season, you can find Dalton on the football field as one of her high school's placekickers.
51 | Maggie Herdejergen, C | Texas Bombers (Oklahoma State)
One of the premier hitters out of the 2021 class is Oklahoma State-commit Maggie Herdejurgen. She's not the fastest player in her class, nor does she have to be when she crushes the ball over the fence. Over the summer, she launched 12 home runs to all fields with authority. High School was no different for the Crosby slugger who had 44 RBI in 31 games played with 9 doubles, 4 triples, and 13 home runs. Hedejurgen also hits for high average batting .468 with a .523 on-base percentage, 1.177 slugging percentage, and 1.700 ops. Behind the plate, she has a canon and a .991 fielding percentage.