2021 Hot 100 Rankings Players 50-41
2021 Hot 100 Rankings Players 50-41
FloSoftball 2021 Hot 100 Rankings Players 50-41 from Lady Magic, So Cal Choppers, Diamond Sports Hotshots, and more.
Sep 13, 2018
by Chez Sievers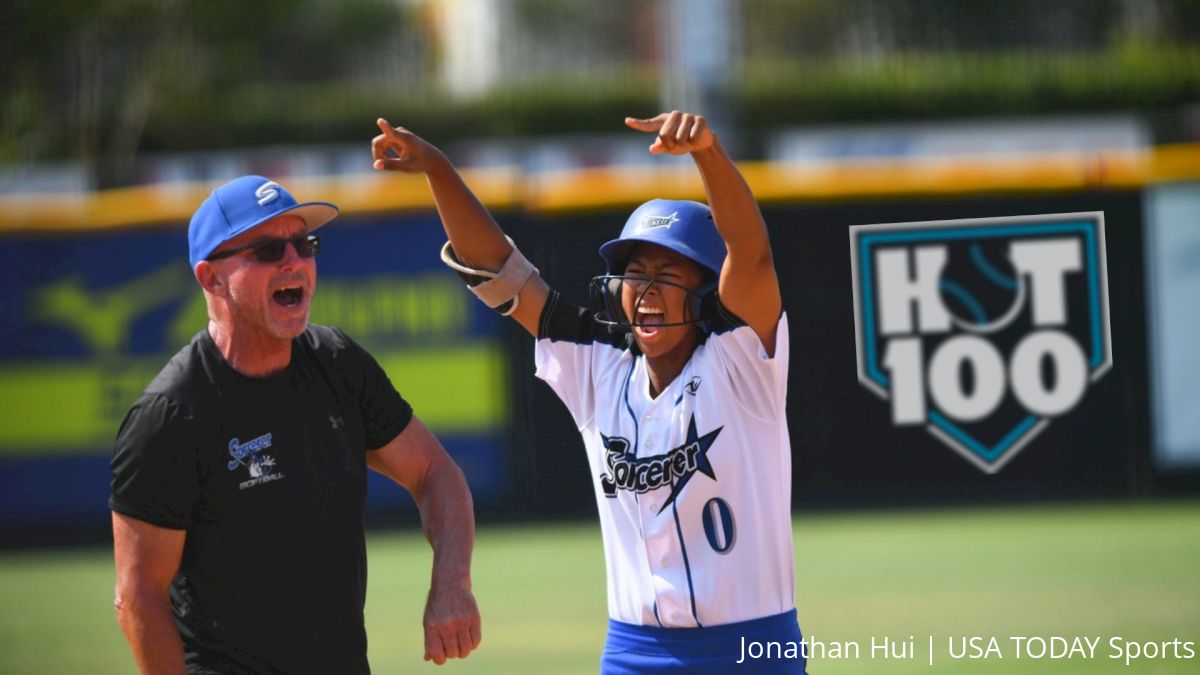 Unlock this article, live events, and more with a subscription!
Get Started
Already a subscriber? Log In
This year's 2021 Hot 100 experienced quite a shakeup from last year with new players beating out some of last year's prospects. Hundreds of you submitted player info that made the selection process incredibly difficult.
On this list, you will find speedsters, sluggers, slingers, and some of the most versatile athletes in the country.
How do we select the Hot 100?
Weeks of research, phone calls, emails, stat analyses, and data analyses are endured to come up with this list of the top prospects. We look closely at the individual's performance in the last year and also team performance. AthPro360 assists FloSoftball in gathering data-driven measurements to provide more objectivity in the selection process.
Over the next three weeks, we will unveil 10 honorees per day ending with Top 10 per position:
Week 1
Mon. Sept. 3: 2021 Hot 100 Players 100-91
Tue. Sept. 4: 2021 Hot 100 Players 90-81
Wed. Sept. 5: 2021 Hot 100 Players 80-71
Week 2
Mon. Sept. 10: 2021 Hot 100 Players 70-51
Tue. Sept. 11: 2021 Hot 100 Players 50-31
Wed. Sept. 12: 2021 Hot 100 Players 30-21
Thu. Sept. 13: 2021 Hot 100 Players 20-11
Fri. Sept. 14: 2021 Hot 100 Players 10-1
Week 3
Tue. Sept 18: Next In 101-200
Tue. Sept. 18: 2021 Top 10 Pitchers
Wed. Sept. 19: 2021 Top 10 Catchers
Thu. Sept. 20: 2021 Top 10 Infielders
Fri. Sept. 21: 2021 Top 10 Outfielders
---
T50 | Sophia Morales, OF/MIF | So Cal Choppers - Fausett
Morales was the leadoff hitter for So Cal Choppers - Fausett that won eight consecutive games at Triple Crown Nationals to win the 14U title. Tall and lanky, Morales is a gap to gap hitter/power slapper that can go to her short game. At Newbury Park High School, Morales collected 7 triples on the year and 11 steals. Making only one error on the season, she a very strong arm and is one of the top outfielders who can also play middle. If this Choppers team stays together through 18U, there's no doubt that this group will be national championship contenders.
T50 | Saleyna Daniel, OF | Texas Blaze United (Mississippi State)
Daniel is the premier outfielder out of the Texas Blaze United program. She's got the power stroke but also hits for high average (.500) and RBI's (38). Not only does she bring power, Daniel brings speed to her game stealing 28 bases last season. With athleticism off the charts, Daniel makes unbelievable diving catches and sensational over the fence grabs on the regular. She's been named Defensive MVP in 2017 and 2018 because she has zero errors to her name. Daniel's is the total package.
49 | Maddie Moore, 3B/SS | Lady Magic
Look for Lady Magic infielder Maddie Moore to have a break out year. She's a player that most college scouts keep coming back to because the kid can smash the ball and field her position. Moore hit .524 for Del Oro High School with 21 RBI in 21 games racking up 10 doubles and 5 home runs. Moore was a starter on AASA 18U Merrida team but now joins 16U Lady Magic's squad. Power Five programs have been on her trail this summer and will be keeping tabs on the now sophomore. She plays third and shortstop and can cover the holes and crash on the bunts with quickness.
T48 | McKenna Gibson, 3B | Athletics Mercado/Greg (Tennessee)
Tennesee-commit Gibson is a big power righty that is 5-foot-10. She dropped 11 bombs over the summer for So Cal Choppers - Ziese while batting .426. Gibson is part of a power and speed recruiting class that includes Grace Keene, Taylor Minnick, and Lair Beautae. She's a lockdown third baseman with a .980 fielding percentage. Gibson is projected to put up big power numbers for years to come.
T48 | Vanessa Hollingsworth, IF | Texas Glory Adkins Gold (Missouri)
Forney High School winning the State title may have been one of Hollingsworth best softball memories to date. Emily Galiano was killed last year after a team dinner. Forney dedicated their championship season to Emily. As one of the most feared hitters in the great state of Texas, she was named Freshman of the Year and All-District. She was a monster bat in the lineup and a juggernaut at third base helping Glory Adkins to a 2nd place finish at Triple Crown Nationals.
47 | Acelynn Sellers, P/MIF | PA Strikers (Drexel)
Sellers played a critical role for PA Strikers placing 5th at TC/USA Nationals and 4th at 2018 PGF Nationals 14U Premier Bracket. Her performance from the circle and at the plate earned her a spot on the coveted PGF All-Tournament Team. She pitched over 35 innings in 8 games played at PGF, hit three home runs and had a clutch walk-off bunt to help her team make the final four of the winner's bracket at PGF. Before PGF, Ace batted a .571 in the Atlanta Legacy Summer Showcase and an impressive .417 at TC/USA Nationals. She is a strong player who works hard to go the distance any time she is called upon to do so. Since joining the team, the PA Strikers National Team have been ranked top 25 and top 10 in the country.
46 | Lauren Sciborski, C/3B | Michigan Finesse (Northwestern)
Ohio-native Lauren Sciborski is an elite athlete that drew early significant interest from the top Big 10 and SEC schools with her abilities and performance under pressure committing to Northwestern in her freshman year. Sciborski has recorded a 1.62 pop time topping out at 69 mph overhand. She's also registered 74 mph ball exit speed. Sciborski not only has exceptional tools but she has translated them to her performances on the field with her best performances on the biggest stage leading the team in home runs and doubles at the Colorado Fireworks where she helped her 16U Finesse-Dreher team to a top 10 finish and hitting .421 at PGF Premier. Sciborski's speed and instincts make her one of the best catchers in her class but also one of the top third basemen.
T45 | Jasmine Sofowora, SS/OF | Firecrackers TJ
Sofowara is a force at the plate and has been described as a "flat-out hitter." Strong and stout in the box, she already has the approach and demeanor of a DI hitter power hitter. Firecrackers TJ finished 25th at PGF 16U Nationals and Triple Crown Fireworks. As an infield/outfield prospect Sofowora has a ton of upside. She quick hands and barrels up the ball very well to send it over the fence.
T45 | Easton Lotus, SS/UT | Beverly Bandits - Conroy (Pitt)
Although both of her parents went to Illinois-Chicago, Easton Lotus verbally committed to Pitt when she had several offers from Big Ten schools. Lotus started off playing baseball and her skills transferred over well into softball. On the field, she has a strong arm and tremendous range. Consistently batting over .400, Lotus is a spark plug with an on-base percentage .505, 8 doubles, 3 triples, and 2 home runs. She joins Bandits - Conroy this season with a mix of strong 2020 and 2021 recruits.
T44 | Erna Carlin, P | Diamond Sports Hotshots (Texas Tech)
Carlin had an outstanding freshman campaign as she led Waller High School to the playoffs recording 236 strikeouts. The 2018 20-5A District Newcomer of the Year was not only stellar in high school, she battled all summer on Diamond Sports Hotshots Falterman. Striking out 95 batters in 75 innings, Carlin held an ERA of 1.39. She also pitched the championship game of the USA Elite World Fastpitch Championship throwing a complete game giving up just four hits against the OC Batbusters K. Stith. Carlin also helped the Hotshots to a top 10 finish at the 14U PGF Premier Nationals striking out 36 batters in 36 innings of work recording a 0.38 ERA. Winning is not just a phenomenon for Carlin in 2018, she's been doing it since 12U as the ace for Impact Gold, the PGF 12U Premier National Championship team. One of the best hurlers in the Southwest, Carlin's levers, stats, wins, and her mental game puts her in the upper echelon of pitchers in Texas and nationally. She has consistently thrown in the 59-61 mph range with deceptive movement and continued her hot streak in the fall as she struck out 82 in 51 innings. One rival club coach said, "Erna won PGF and is still smoking." She's also a consistent home run threat at the plate with her plus power and has received interest from Big 12, SEC, and Pac-12 programs.
T44 | Stevie Hansen, P | Athletics Mercado/Greg
Named to the All-PGF Tournament team, Hansen was masterful this year going toe-to-toe against the nation's toughest hitters finishing 5th at PGF 14U Premier Nationals. She tossed 121 innings with 198 strikeouts holding a 1.25 ERA. Her performance this summer led to a 3rd place finish at Boulder IDT. Hansen is no stranger to competing deep into tournaments winning the Division I CIF title with Norco High School. She played alongside Hot 100 prospects Kinzie Hansen (Oklahoma), Paige Smith (Ole Miss), and Sarah Willis (Washington). Moving up to 16U, we expect big innings from Hansen in 2019.
T43 | Olivia Silvestre, OF | Sorcerer Old Skool
Silvestre batted a .485 with an OBP of .550 at the leadoff spot on the Sorcerer 14U Schroll. Sorcerer stunned Diamond Sports Hotshots - Nelson in the semifinal game at PGF 14U Premier Nationals beating them twice to move on to the title game. She's a lefty slapper who has the power to go deep. Always a threat on bases, Silvestre led the team in stolen bases (23). A versatile outfielder with crazy range, strong accurate arm and a fielding percentage of 1.000 for the summer season. In the PGF National Championship game, she went 2 for 3 with a walk, a triple and a run scored.
42 | Charlotte Forniss, 1B/P | So Cal Choppers - Fausett
Forniss is clutch and when you need a big hit she is going to come through. What separates Forniss from other hitters is her knack for hitting good pitching. At first base, her length and height make her a wall over at first base and she is a great teammate. She hasn't committed yet but has had a lot of interest from PAC-12 schools and ACC schools. After a bit of a down year, expect Forniss to make a big splash on So Cal Choppers - Fausett.
41 | Katie Brooks, P/MIF | DeMarini Aces (Florida State)
Brooks is built with a long frame and pitches in the 62-63 mph range with an overhand velocity at 63 mph. One coach said, "She is always one of the best and most explosive athletes on the field no matter where she is." Brooks is equally skilled on the mound or at shortstop and usually bats in the three-spot for the Aces, where she hits over .400. She's a gap to gap hitter with over half of her hits for extra bases. On the mound, she throws a heavy down ball and will get the ball more often now that she's healthy.