2021 Hot 100 Rankings Softball Players 20-11
2021 Hot 100 Rankings Softball Players 20-11
FloSoftball 2021 Hot 100 Rankings ranks softball players 20 To 11 from Georgia Impact, Athletics Mercado and more.
Sep 17, 2018
by Chez Sievers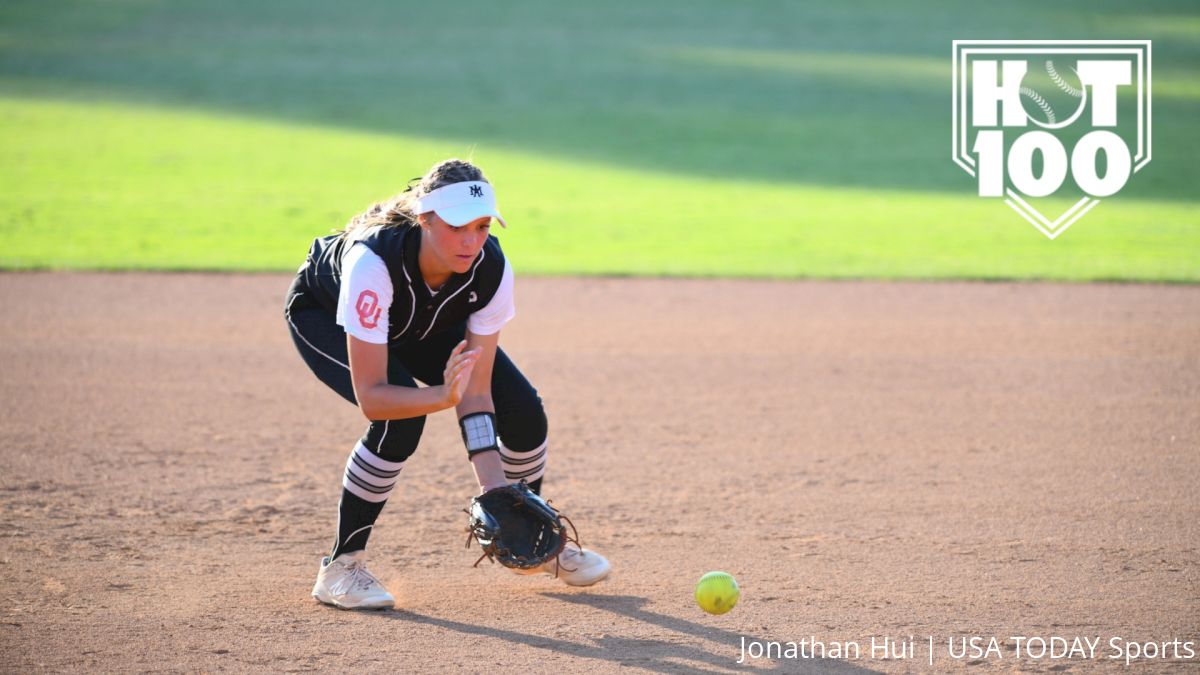 Unlock this article, live events, and more with a subscription!
Get Started
Already a subscriber? Log In
This year's 2021 Hot 100 experienced quite a shakeup from last year with new players beating out some of last year's prospects. Hundreds of you submitted player info that made the selection process incredibly difficult.
On this list, you will find speedsters, sluggers, slingers, and some of the most versatile athletes in the country.
How do we select the Hot 100?
Weeks of research, phone calls, emails, stat analyses, and data analyses are endured to come up with this list of the top prospects. We look closely at the individual's performance in the last year and also team performance. AthPro360 assists FloSoftball in gathering data-driven measurements to provide more objectivity in the selection process.
Tue. Sept 18: Next In 101-200
Tue. Sept. 18: 2021 Top 10 Pitchers
Wed. Sept. 19: 2021 Top 10 Catchers
Thu. Sept. 20: 2021 Top 10 Infielders
Fri. Sept. 21: 2021 Top 10 Outfielders
---
T20 | Kam Caldwell, OF/SS | EC Bullets - Biele/Heath
Caldwell is a 5-tool talent that led Bullets - Caldwell in extra-base hits in the 16U division. Coach Biele called her a rare talent, "I am extremely fortunate to have a player with her versatility. The girl can play anywhere on the field outside of pitcher and would probably earn a gold glove at that position and at the plate she can just flat out rake." As a freshman last season, she batted .571with 25 RBIs and 34 runs as Prince Avenue Christian finished second in Region 8-A and advanced to the Class A Private state tournament in Columbus. She's was named Region 8-A's Co-Player of the Year Earning All-State Honors and is being heavily pursued by SEC, ACC, Big Ten, Big 12 and PAC 12 schools.
T20 | Dallis Goodnight, OF/IF | Georgia Impact Premier - Lewis
Best softball name goes too...Dallis Goodnight. She's is an up and coming speedster that you will want to watch this season. New to 2018 Georgia Impact National Championship team, she going to steal bases and create chaos for the opposition. She's a slapper that has not been caught stealing in the last two years. This fall she's batting .611 with 19 steals in 14 games. As a freshman at Mill Creek High School, she hit .495 with 38 stolen bases. Goodnight is also a track star running the 100m in 13.44 seconds and 200m in 28.93 seconds. Coach Patrick Lewis is very excited about adding Goodnight to the lineup and a great addition to the outfield or infield.
T19 | Ella Nadeau, MIF | Cal Cruisers - Sievers (Stanford)
Mel Sievers Cal Cruisers middle infielder Ella Nadeau burst onto the scene in the fall of 2017. Originally a star player out of the Team Seattle organization, Nadeau made the jump from 14U to 18U last season helping the Cruisers to a 3rd Place finish at PGF 18U Premier Nationals. "She's a special player that's only going to get stronger," Sievers said. At 5-foot-8, Nadeau hit .561 with 20 stolen bases during her freshman year. Her experience going deep into PGF and playing alongside Oregon infielders Jasmine Sievers, Rachel Cid, and Alyssa Pinto will only refine her skills, speed of play, and ability to play under pressure. Expect Nadeau to be a catalyst for the Cruisers offense. She verbally committed to Stanford in fall 2017.
T19 | Savannah Pola, MIF | Corona Angels - Tyson (UCLA)
Corona Angels - Tyson starting second baseman Savannah Pola was the only 2021 player on the Marty Tyson's 3rd place PGF 18U Premier Nationals finishing team. During the summer, she batted over .400 consistently in every 18U tournament. During her freshman campaign at Godinez High, Pola hit .701 with 21 RBI, 10 doubles, 5 triples, 3 home runs, and 26 stolen bases. Cal-Hi Sports named Pola and sister Keana (Nebraska) to the All-State Team. Pola was also named Orange Coast League MVP as a freshman.
18 | Sarah Stone, C/UT | Beverly Bandits - Helbling (Kentucky)
Stone is a prolific hitter that raked her freshman year at Bedford North Lawrence recording 40 RBI in 24 games with a .603 batting average. In 78 at-bats, Stone never struck out once. She also blasted 10 home runs with 6 doubles. Her balanced mix of size, power, and speed reminds us of Kentucky third baseman Abbey Cheek. Solid behind the plate with a 1.8 pop time, Stone can also play the corners.
17 | McKenzie Redoutey, OF | Georgia Impact - Gusaeff (LSU)
Lefty hitter Redoutey is not the biggest in size but she can crush the ball. The Franklin High School standout hit .562 with 31 RBI, 11 doubles, and 8 home runs. Redoutey was named All-WNC and All-Conference. Her swing is extremely violent and efficient. Going on the SEC tour in fall 2017, Redoutey decided LSU was the right fit for her future.
16 | Megan Bloodworth, IF | Atlanta Vipers - Holbrook (Alabama)
Bloodworth had a stellar summer for the Vipers hitting .421 with 18 home runs. Her performance on offense was crucial when it came to Vipers - Holbrook winning IDT Boulder, 5th at Triple Crown Nationals, and 5th at USA JO Cup. She plays 3rd and 2nd base for our team and is an integral part of the offense batting in the three hole. Bloodworth is a leader with a won't-quit work ethic. Over the summer, she turned six double plays between second and third base. Bloodworth was recruited by multiple schools in the SEC before verbally committing to Alabama.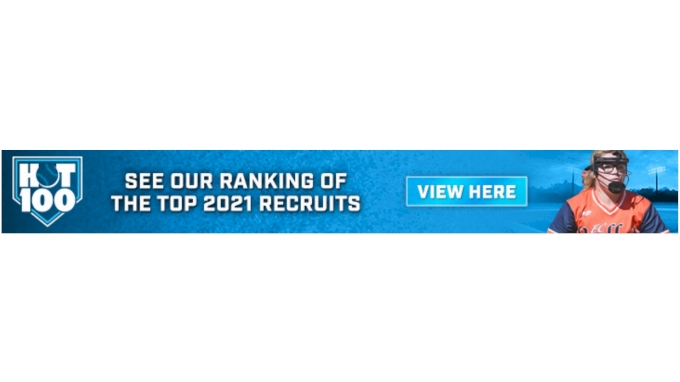 15 | Mac Morgan, P | DeMarini Aces (Arizona State)
Morgan emerged as one of the premier pitchers in the 2021 class placing in the top five of WFC, PGF, and the Tulsa Elite Invite. Throwing in the 68-69 mph range, she frustrates hitter mixing speeds. Morgan throws a heavy ball with good tail-down to her pitches. Poised and tenacious, the Aces are always in the hunt with Morgan in the circle. Her command of the zone and consistency pitching at the 16U level is why she's one of the elite pitchers in her class.
14 | Taylor Minnick, OF/C | Beverly Bandits - Conroy (Tennessee)
Tennessee-commit Minnick can smash the ball and run. At Edgewood High School, Minnick crushed 15 doubles, 4 triples, 6 home runs with 32 RBI in the leadoff spot. Her performance on offense earned her 1st Team All-Area recognition and Freshman of the Year Honors. The Mustangs went on to win the Sectional title. Minnick's smooth and powerful swing caught the attention of many SEC schools but she eventually verballed at to the Vols in July 2017.
13 | Alexx Waitman, SS | Athletics Mercado (Oklahoma)
Shortstop Alex Waitman had a terrific freshman campaign at Crossings Christian High School batting .720 with 19 doubles, 7 home runs, 8 triples, and 30 stolen bases. The starting shortstop for Athletics Mercado 16U was instrumental in leading them back to a PGF Premier title game. Waitman batted third for Mercado and she's projected to be a Nicole Pendley-type hitter. Before committing to Oklahoma, Waitman was being recruited by some of the top Power Five schools as an eighth grader. She moves up to the Athletics Mercado/Tidd 18U squad.
12 | Turiya Coleman, C/UT | Impact Gold National - Jackson (Oklahoma)
A natural righty turned slapper, and lefty power hitter, Turiya is one of the most dynamic three-hole hitters in the country. Within one year of switching from righty to lefty, Coleman was rocking the ball out of the park. This summer Coleman batted .547 with 42 RBI, 7 home runs and 21 stolen bases. Her athleticism is off the charts blending speed, power, and the ability to adjust at a freakish rate. The opposing defense has a difficult time defending Coleman because she can drag bunt, slap, or go yard depending on their positioning. Behind the plate, she's been clocked at 76 mph overhand speed with a 1.55 pop time. She was named 1st Team All-District.
11 | Cydney Sanders, 3B/OF | Corona Angels - Tyson (Arizona State)
Sanders is considered one of the most dangerous hitters in the 2021 class. #1 FAB 50 team, San Marcos High School went on a remarkable run winning the San Diego Section Open Division over Cathedral Catholic thanks in part to Sanders who whopped 14 dingers and brought in 36 RBI. The ASU-commit earned 1st Team All-San Diego Section recognition adding a .516 batting average with 12 doubles to her bill. On defense, she is a dynamic playmaker with elite coaching from Robert Young, Dena Slye, Steve Tidd, and Marty Tyson. She committed to ASU in April 217.