Next In 2021 Hot 100 Players 101-200
Next In 2021 Hot 100 Players 101-200
FloSoftball Next In Hot 100 players are ranked 101 to 200 and they come from Mojo, Ohio Outlaws and more.
Sep 24, 2018
by Chez Sievers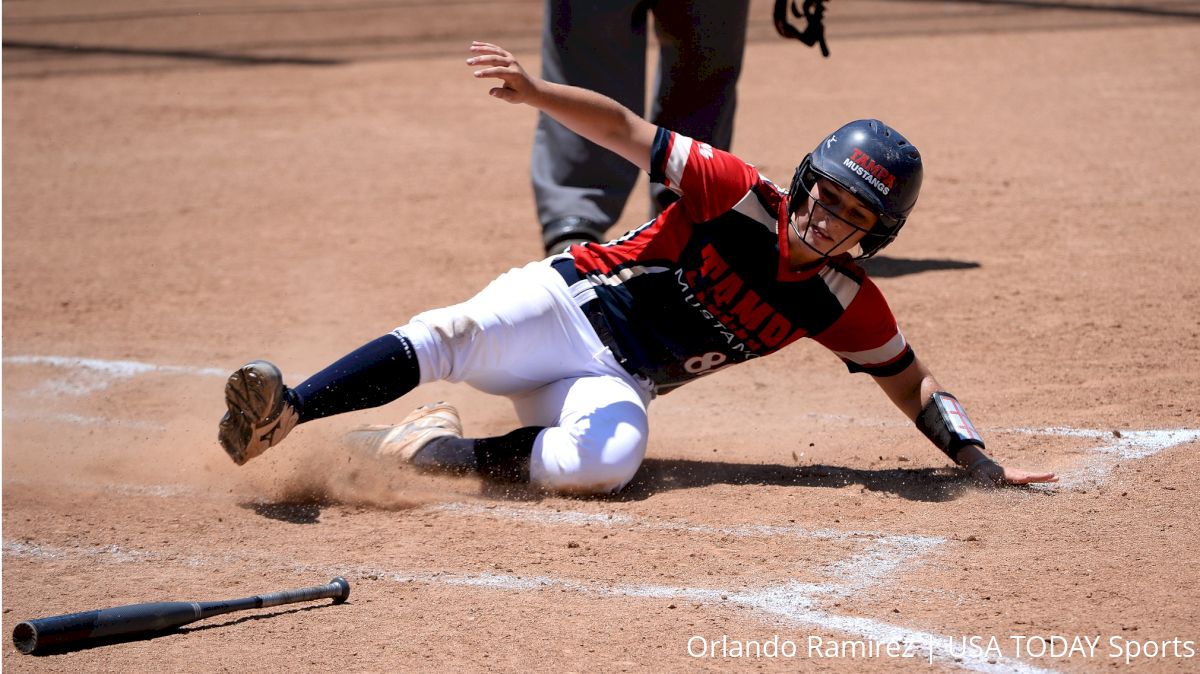 Unlock this article, live events, and more with a subscription!
Get Started
Already a subscriber? Log In
Expect these next 100 players to vie for a spot in the next 2021 Hot 100 rankings that will be in June. Some of these players battled in 14U, 16U, and 18U in the last year. Any of these players could have easily made the Hot 100 and will be strong contenders on dominant teams on the West coast and East coast.
Here are the players that didn't quite make the Hot 100 but you might see them in the next Hot 100:
| | | | | | |
| --- | --- | --- | --- | --- | --- |
| Rank | First | Last | Pos | Club Team | University |
| 101 | Brianna | Ellis | 1B/3B | Impact Gold National - Vaughn | Texas A&M |
| T102 | Sarah | Haendiges | P | Athletics - Mercado/Tidd | Cal State Fullerton |
| T102 | Lauralee | Scott | P/UT | EC Bullets - Scott/Andrews | |
| 103 | Abby | Ota | OF/IF | Jersey Intensity National | |
| T104 | Rylie | Moody | SS | Georgia Impact Premier O'Neal | Auburn |
| T104 | Morgan | Mesaros | MIF | PA Chaos | James Madison |
| 105 | Gabby | Tobey | P | Lady Magic | Cal |
| 106 | Kyndall | Bailey | OF | Firecrackers - Sewell | |
| 107 | Hannah | Coor | OF | OC Batbusters - K.Stith | |
| 108 | Tyrina | Jones | UT | Southeast Intensity | |
| 109 | Madison | Droz | P | Tampa Mustangs - Maguire | Central Florida |
| 110 | Samantha | Landry | P/1B | Diamond Sports Hotshots - HTX | Louisiana-Lafayette |
| 111 | Anna | Holloway | SS/UT | Beverly Bandits - Harkness | Notre Dame |
| 112 | Julia | Mrochko | SS | EC Bullets Coleman 16U | South Florida |
| 113 | Claire Ann | Czajkowski | C/3B | Tennessee Mojo 2021 | |
| 114 | Priscilla | Estrada | SS/2B | Explosion - Flores/Olmos | |
| 115 | Kayla | Falterman | OF | Diamond Sports Hotshots - HTX | Louisiana Lafayette |
| 116 | Gabby | Stagner | 3B/1B | Jersey Intensity Premier KOD | |
| 117 | Jordin | King | P | Corona Angels | Cal |
| 118 | Katie | Bright | C/3B | Tampa Mustangs - Maguire | Florida State |
| 119 | Jane | Kronenberger | IF | Beverly Bandits - Helbling | Notre Dame |
| T120 | Riley | Dull | P | Ashburn Shooting Stars | |
| T120 | Lacie | Ham | P | OC Batbusters - K.Stith | |
| 121 | Lydia | Spalding | P/OF | Ohio Outlaws - Schmieser | Penn State |
| 122 | Shannon | Becker | P | EC Bullets Biele/Heath | |
| 123 | Tori | Hedgecock | C/3B | Atlanta Vipers | Arkansas |
| 124 | Maggie | McBrayer | P | Firecrackers - Sewell | Georgia Tech |
| 125 | Brianna | Brooks | SS/OF | Mizuno Storm - Mathis/Holtorf | |
| 126 | Emily | Kennedy | P | Scrap Yard | Texas A&M |
| T127 | Jordyn | Partain | P/1B | EC Bullets - Byars | |
| T127 | Keri | Munn | P | Atlanta Vipers - Trowell | Auburn |
| 128 | Sadie | Saul | OF | Tennessee Mojo | Arkansas |
| T129 | Abbie | Lee | OF | Sorcerer - Schroll | |
| T129 | Kaylah | Nelsen | OF | OC Batbusters - K.Stith | |
| 130 | Emma | Humplik | C | Texas Bombers | Texas A&M |
| 131 | Isabelle | Fishman | SS/P | USA Athletics - Moeai-Salamanca | |
| 132 | Sophia | Nugent | C | Lakewood Hustlers Miramontes | |
| 133 | Rebecca | Muh | P | Texas Glory - Berkhiser | |
| 134 | Emya | Munford | OF | Mojo - Lewis | Ohio |
| 135 | Sydney | Stewart | 3B/OF | ECBullets - Byars | Georgia Southern |
| 136 | Alyssa | Aguilar | P | Mizuno Storm - Mathis/Holtorf | |
| 137 | Logan | Champion | C/OF | Georgia Impact - Newland | Georgia |
| 138 | Kaitlyn | Dutton | P | TX Dirt Divas | Texas State |
| 139 | Lillie | Filger | OF | Demarini Aces | |
| 140 | Katelynn | Crowe | OF | Team North Carolina Crowe | |
| 141 | Mckenzie | Newcomb | P/1B | Tennessee Fury | |
| 142 | Kamryn | Davis | OF | Firecrackers - Brashear | Maryland |
| 143 | Acacia | Anders | SS | Universal Fastpitch Wells | |
| 144 | Kelsie | Walker | OF | Impact Gold - Lang | |
| 145 | MaKynlee | Overton | P | Team Mizuno Impulse | |
| T145 | Paige | Bedsworth | P | Missouri So Cal Athletics - Heinlein | |
| T145 | Maddie | Latta | P | EC Bullets - Biele/Heath | |
| 146 | Claire | Woods | P/OF | Tennessee Mojo | |
| 147 | McKenna | Rebarcak | C/1B | Iowa Premier | |
| 148 | Jenna | Lord | SS/C | Atlanta Vipers - Trowell | |
| 149 | Sherri | Mason | SS | Tulsa Elite | |
| 150 | Elena | Escobar | P | Tennessee Mojo | |
| 151 | Katie | Taylor | OF | EC Bullets Biele/Heath | |
| 152 | Taylor | Hankins | P | Stars National - Belfield | James Madison |
| 153 | Sydney | Carter | P/1B | Georgia Impact - Newland | Mississippi State |
| 154 | Micaela | Wark | OF/IF | Texas Glory - Naudin | Houston |
| 155 | Loganne | Stepp | P | Mizuno Storm - Mathis/Holtorf | |
| 156 | Crissy | Bird | 3B | TX Dirt Divas | Lamar |
| 157 | Kennedy | Rucker | OF | Demarini Aces | |
| 158 | Crislyne | Mareno | P/1B | Texas Bombers | McNeese |
| 159 | Hayley | Mihut | MIF | Athletics Mercado | Ole Miss |
| 160 | Grace | Hiller | OF | Birmingham Thunderbolts 03 | Clemson |
| 161 | Lauren | Curry | 1B/P | Finesse - Dreher | Northwestern |
| 162 | Bailey | Sample | MIF | Universal Fastpitch Wells | Cal State Fullerton |
| 163 | Caroline | Evans | P/1B | California Breeze | Utah |
| 164 | Mckenzie | Walker | OF | Georgia Impact - Newland | North Carolina |
| 165 | Riley | Dull | P | Ashburn Shooting Stars 2020 | |
| 166 | Samantha | Graeter | UT | Diamond Sports Hotshots - Dumezich | Louisianna Lafayette |
| 167 | Alexandria | Blackmon | OF | KC Dirt Devils 2021 | |
| 168 | Emma | Curry | 3B | Gametime Stars 2021 Gold | |
| 169 | Mackensie | Marell | OF/MIF/C | EC Bullets - Byars | Virginia Tech |
| 170 | Alexis | Chavez | SS | Athletics Mercado/Greg | |
| 171 | Karson | Jennings | C | Gametime Stars | Texas Tech |
| 172 | Lydia | Coleman | OF | Tennessee Mojo 2021 | |
| 173 | Kyle | Ferguson | P/1B | EC Bullets Biele/Heath | |
| 174 | Del | Loya | IF | Texas Bombers | |
| 175 | Aerin | Talley | C/SS/OF | Tulsa Elite | |
| 176 | Haley | Hoskin | SS | Firecrackers Lutterloh/King | |
| 177 | Abby | Shoulders | MIF/C | Fury Platinum | |
| 178 | Shelbie | Valencia | 3B/SS | Firecrackers RB - Brashear | |
| T179 | Karlee | Fuller | OF | Georgia Impact - Gusaeff | Mercer |
| T179 | Kramer | Eschete | OF | Texas Bombers Gold | Louisiana-Lafayette |
| 180 | Audrey | Schneidmiller | C | Texas Glory - Naudin | |
| 181 | Lexi | Campbell | MIF | Ohio Outlaws Premier - Schmeiser | |
| 182 | Mckenzie | Vaughan | P/UT | Tennessee Mojo 2021 | |
| 183 | Abygail | Vieira | C | OC Tigers Lastrapes | |
| 184 | Presley | Glende | P | Texas Bombers | |
| 185 | Morgan | Semm | SS | Nebraska Gold - Nuismer | Colorado State |
| 186 | Madi | Conklin | C/UT | Tulsa Elite | |
| T187 | Paris | Schwalbe | P/OF | OC Tigers Lastrapes | |
| T187 | Jana | Lee | P | Glory Adkins 2021 Locke | |
| 188 | Madeleine | Schmeiser | 3B | Ohio Outlaws - Schmeiser | North Carolina State |
| 189 | Grace | O'Brien | SS/P | Midwest Speed | Wisconsin |
| 190 | Carlie | Myrtle | OF | Carolina Cardinals - Chandler | North Carolina |
| 191 | Hailey | Cowing | OF | USA Athletics - Cowing | Oregon State |
| 192 | Sydney | Carter | SS | Ohio Hawks Gold | |
| 193 | Carrie | Jacoby | C | Northern Calvert Fury | |
| 194 | Taylor | Lane | 2B | Socal Choppers Ensey | |
| 195 | Courtney | Eyler | SS | Vienna Stars National - Belfield | Penn State |
| 196 | Reagan | Hurst | OF/P | Tennessee Mojo | |
| T197 | Maddie | Latta | P | EC Bullets - Biele/Heath | |
| T197 | Alyssa | Lavdis | P | Ohio Hawks Gold - Joseforsky | |
| 198 | Megan | Lee | P | Impact Gold National - Jackson | Houston |
| 199 | Gwynnie | Hornibrook | C | Mojo - Lewis | |
| 200 | Gretchen | Wolpert | C/1B | EC Bullets Coleman 16U | |