2019 NPF Schedule
Grit, Grind, & Proving Herself Is The Jade Rhodes Way
Grit, Grind, & Proving Herself Is The Jade Rhodes Way
Cleveland Comets first baseman and Rawlings Gold Glove winner Jade Rhodes is playing the game her way.
Jun 24, 2019
by Scott Schultz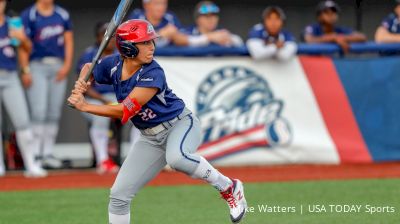 Growing up playing baseball, a young Jade Rhodes told her mom she wanted to continue to play the game as her father played but was told she probably needed to go and take up softball.
"Being able to play baseball when I was really young was a blessing but being told I wasn't going to be good enough or tough enough as I got older was a slap in the face," said Rhodes.
Baseball's loss was softball's gain.
"At that point I knew I wanted to prove people wrong and show them that I will be the best even when you turned me down," Rhodes added. "I refused to let myself be anything less than great."
Rhodes did just that.
After earning the 2012 Sarasota Herald Tribune Softball Player of the Year her senior season at Sarasota High School, and a four-year stint as a starter at Auburn, the now Cleveland Comets first baseman was awarded the Rawlings Gold Glove award for her performance during the 2018 National Pro Fastpitch Season.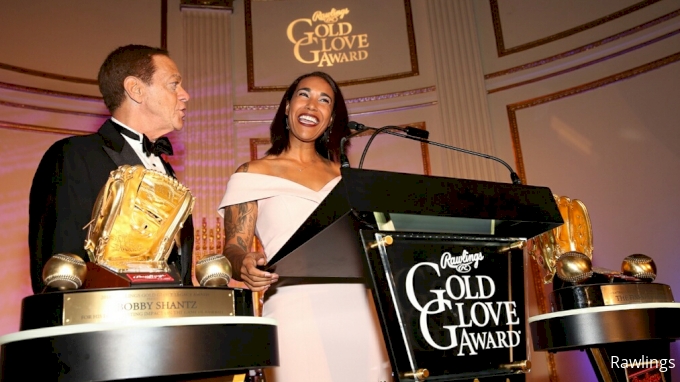 Her first season with the Comets, Rhodes earned a .992 fielding percentage with only three errors in 49 games while manning first base.
But Rhodes credits more than drills and ground ball reps for her success in the field.
"Preparing defensively for a game is more mental for me," said Rhodes. "There is more to the game than just the physical aspect of it, I know I have the physical ability now I just focus on the mental piece of where the runners are, when the ball is hit where am I going or if the ball is hit to a certain area on the field what base will the runner advance to."
That's not to say she doesn't combine some physical preparation into the mix.
"Before the game, though, I take knee fungo so I am always prepared for reading the hops from the ground up," said Rhodes.
Finding The Fit
Rhodes finished her collegiate career with the Tigers with a .276 batting average, 46 home runs and 179 runs batted in. But her defensive prowess was shining through even at that point, boasting a .991 career fielding percentage, committing just 12 errors in 1,361 chances.
Her senior season, she was tabbed as an NFCA Third Team All-American and was a Second Team All-Southeastern Conference selection.
Rhodes opted to play for the Tigers while being recruited by both Mississippi and Louisville.
"I chose Auburn because I am very family orientated and they made me feel like I was part of a family right away," said Rhodes. "Being only eight hours away from home was far enough to get away but short enough to go home if I needed too!"
"[The others] just weren't the [best] fit for me," said Rhodes.
Through every level, Rhodes has taken the same approach to the game.
"The league has never changed my physical aspect of playing or my mental aspect of the game," said Rhodes. "I will always play with grit, grind, and for my team. I will always be thinking even if I have to think a little harder since I only know some of the hitters or pitchers in the league."
"The NPF will never change how I play the game or how I think in a game," added Rhodes.
How she plays the game, with passion, grit and determination, is also driven by some inspiration from her family.
"My passion came for softball when my mom took me to try out to play baseball and they told me I should probably go play softball," said Rhodes. "Shout out to my mom Kerry and my brother Trey for always supporting me and pushing me to be something great. I play for my grandma who has a mental illness and can't come to my games anymore and I play for my cousin who was my everything who just recently passed."
"I love you grandma Karen and I will forever miss you Bry!", adds Rhodes.
After spending her first two NPF seasons with the Pennsylvania Rebellion and the Scrap Yard Dawgs, Rhodes has settled in after her first season with the Comets and is now in the final year of her current contract.
"After I am done with this season, I plan on moving to Cleveland and working with D-Bat - a hitting facility giving lessons, also helping out the Comets and with camps and clinics for the year," said Rhodes.
Down the road, after softball, she plans to put her education to use and work to make a difference.
"I graduated [with a degree] in criminal justice so after my softball career is done I would love to work with juveniles or with a non-profit organization to give back to the kids who can't afford to play what they love!", said Rhodes.