2019 TC/USA Nationals
Rising Star: Why Auburn-Commit Madison Penta Sings For Strikeouts
Rising Star: Why Auburn-Commit Madison Penta Sings For Strikeouts
PA Chaos pitcher Madison Penta is singing her way to strikeouts and she's not done yet.
Jul 11, 2019
by Stephen Kerr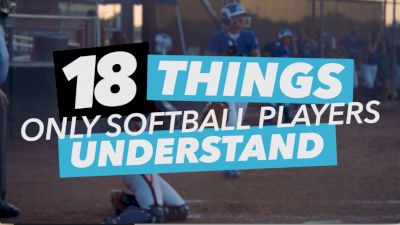 Pitchers have different ways of staying focused in the circle. Some talk to themselves; others go to a happy place or meditate. Madison Penta likes to sing.
The 6-foot-one right-handed power pitcher for Bohemia Manor (Maryland) High and PA Chaos Gold hums to herself between pitches. Her musical tastes run the gamut, from Drake to the Alan Jackson-Jimmy Buffett duet "It's 5 o'clock Somewhere".
"I don't know how that works, but it does," explained Penta, a former member of her school's all-state chorus. "Things don't get too stressful (when I sing)."
It's just one of the ways Penta keeps the game fun. At last week's Triple Crown Fourth of July tournament in Boulder, Colorado, Penta engaged her youngest sister in a water gun fight to stay loose between games. That quirkiness is what makes her unique, says Chaos Gold coach Joe Spina.
"For me, it's refreshing," he said. "Maddie's like a big kid out there. She has fun with her teammates, she's goofy, she laughs, she sings. But when she's pitching, she's a beast out there."
All In The Family
Penta played many sports growing up, including basketball, soccer, gymnastics, and cross-country. Her mom, Susan, was a pitcher at St. Joseph's University before transferring to the University of Delaware.
"She introduced me to softball when I was pretty young," Maddie said of her mom. "I took to pitching. Playing those other sports, the girls were a lot better than me. (But) playing softball, I was one of those better girls, especially when it came to pitching."
Susan is more than a softball mom; she also serves as Maddie's pitching instructor. Striking that balance between parent and coach may be difficult for some, but Susan eventually learned to separate the two roles once games and practices were over.
"It took me a little bit of time that when we step off the field, she's my daughter again, not the person who just threw and I was mad at or just won the game," Susan explained.
Sidelined
Maddie's biggest challenge to date came last summer when she suffered a hairline fracture of her forearm. While pitching for Chaos Gold during a tournament in Atlanta, she felt a persistent ache in her forearm. Maddie realized it wasn't the usual soreness from pitching frequently, but she wasn't particularly alarmed at first. It was during the final tournament of the season in St. Louis that she knew something was seriously wrong and needed attention.
"The last game of the season, I went out there in the first inning," Maddie recalled. "It was very rough, and I didn't go back out the rest of the game."
Maddie's parents took her to Dr. Craig Morgan, who repaired the shoulder of former major league pitcher Curt Schilling during his time with the Boston Red Sox. Maddie's father, Mark, had previously worked as a physician's assistant for Morgan, so the decision of who could provide the best treatment for Maddie's injury was a no-brainer.
According to Dr. Morgan, a muscle in Maddie's forearm had become too strong, causing a loss of flexibility in her shoulder. He prescribed six weeks of rest and a band stretching program used by several professional pitchers and quarterbacks, including Tom Brady. She was also fitted with a brace that she wore during the six-week period.
Perspective
Maddie began a throwing regimen after the brace was removed, and was able to resume pitching in time for tryouts in late August. The experience taught her the importance of taking care of her body.
"If I take care of it, it'll take care of me," Maddie said.
The injury certainly hasn't slowed Maddie down. Last month, she was named Maryland Gatorade Player of the Year. In her junior season with Bohemia Manor, she went a perfect 21-0 with a 0.11 ERA and 299 strikeouts, leading the school to its third consecutive state title. She allowed just 16 hits in 123 innings while posting her own .586 batting average with a whopping 1.143 slugging percentage, nine homers, and 34 RBI. In the state championship against Sparrows Point, she threw a no-hitter and struck out 19 in an 8-0 rout.
Try hitting this:@BoManorSports freshman pitcher Maddie Penta threw a CG 3-hitter on Friday with 18 strikeouts to win state championship pic.twitter.com/kyqH0yHUah

— Jordan Schatz (@Jordan_Whig) May 27, 2017
In 70 innings with Chaos Gold this summer, Maddie is 14-0 with 151 strikeouts. Opponents are hitting just .104 against her, and she has allowed five runs, four of them earned.
Maddie has been consistently clocked at 66-70 mph. She possesses an excellent command of a full arsenal of pitches, including a fastball, screwball, curve, rise and a changeup. Batters are often left guessing with two strikes.
"She can get you with any pitch," Spina said. "She's mastered them all. It all depends on the day and what the other team is doing. If we see a kid chasing rise balls, she'll stay with that. If they're having trouble hitting the inside pitch, she'll go with a screwball."
Finding The Fit
Maddie visited a total of 16 schools before committing to Auburn in the fall of her sophomore year. As a former player who navigated the recruiting process and transferred schools, Susan wanted her daughter to take her time. Like many parents, she is happy with the recent changes in recruiting rules that allow athletes to have that breathing room.
"Maddie was 13 years old," Susan said of the period when recruiters began noticing her. "She didn't even know what she was having the next day for lunch, much less knowing where she wanted to go to school."
When she stepped on the Auburn campus for the first time, Maddie knew instantly it was the place for her. The Tigers had recently hired an all-new coaching staff headed by Mickey Dean, who guided James Madison University to a 237-56 record in five seasons. In 2018, the Tigers won their first 15 games, tying for the best start in program history.
Maddie first became acquainted with Dean when he was at JMU, and was overjoyed when he took the job at Auburn.
"I wanted to go to a bigger school (than James Madison)," Maddie explained. "When I went to Auburn, they had everything I wanted. (Mickey) is a great coach, and I'm so excited."
Maddie has other things she would like to accomplish during her senior year, including a fourth consecutive state championship for Bohemia Manor. The thought of entering into a Division I program a year from now doesn't intimidate her.
"I'll be fine," she said. "It'll probably be a little scary when I get there, but I think that my mindset, both in the classroom and on the softball field, will help me make that transition easily once I get to that stage."
Rest assured, such confidence will be music to the ears of Auburn coaches, players and fans waiting to welcome her.
---
Do you know a player that should be featured as a Rising Star? Email us the player info and unique story at flosoftball@flosports.tv.