2019 TC/USA Nationals
What To Watch For At 18U TC/USA Nationals
What To Watch For At 18U TC/USA Nationals
From July 15-18, elite teams from across the country will compete at TC/USA Nationals.
Jul 15, 2019
by Chez Sievers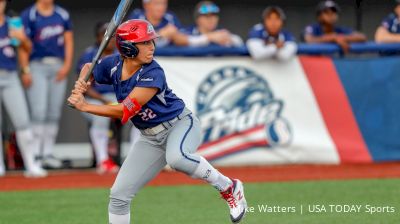 Elite teams from across the country are competing at TC/USA Nationals in the great state of Georgia from July 15-18.
We will see some familiar faces from the Colorado 4th of July Tournament/Fireworks & Sparkler like Texas Glory, Texas Bombers, Scrap Yard Internationals, Tampa Mustangs -TJ, Louisville Lady Sluggers - Huecker and so many more.
[polldaddy]=10359526
What To Watch For At TC/USA Nationals 18U
Georgia Impact Premier - P. Lewis
Patrick Lewis' Georgia Impact Premier squad had an epic summer last year and this summer they could be just as dangerous. Top starters Kelley Lynch, Julia Cottrill, Bailey Dowling will be missing in action as they made the final roster for the USA Junior National team. This team still has plenty of ammunition to take them to the championship. Gaining Alex Salter (Alabama, 2020) and Lindsey Hendrix (Syracuse, 2020) in the circle adds two elite pitchers alongside Vanessa Oatley (Penn State) and Abby Gravlin (UNCC). Salter brings the power and Hendrix brings the lefty finesse. Look for Ali Newland (LSU) to set the tone on offense and leads from the outfield or behind the plate. Scotland David (Oklahoma State) is another lefty lineup with good pop and speed. Riley Blampied (Alabama, 2020), Zoe Laneaux (Mississippi State, 2020), Kendra Falby (Florida, 2021), Cali Decker (Florida, 2020) are two monster bats to watch for in the lineup. On defense, Washington-commit Raigan Barrett is a fun one to watch because of her smooth glove and foot action.
EC Bullets - Schnute
Returning champs EC Bullets - Schnute are back to defend their title but will be without aces Lexi Kilfoyl and Callie Turner who are competiting with the USA Junior National team. Chandler Dennis (Michigan, 2019), Sara Beth Allen (2020, Georgia Tech), and Jordan Almasy (UCF, 2020) will take the reins. When Allen isn't pitching, you can find her in the outfield or slugging it out on offense. Infielders Cayla Bishop (2020, Georgia), Taylor Nicholson (2020, Mizzou), and Mallorie Black (2020, Georgia Tech), Paige Cook (Mississippi State) will be key contributors on offense with home run power across the board. From top to bottom, this group is talented and deep in every position with pitching, power, speed, and experience.
Tampa Mustangs-TJ
Fresh off of runner-up finish in the 18U Power Pool at the Colorado Sparkler & Fireworks tournament, the Mustangs are ready to roll. Loaded with talent, experience, and familiarity, the core of this Tampa Mustangs-TJ team has played together since they were 8 to 10 years old. The Mustangs have three top 5 finishes in Colorado and have been ranked in the top 10 every year since they started playing nationally at 12 years old. TMTJ lists 6 Hot 100 players, 15 Division I commits of which 10 are Power 5 commits. They have an impressive overall record against 18U national competition of 31-5 dating back to 14U. The Mustangs have diverse pitching staff of four pitchers who are very different from each other and all have big game national level experience. Florida-commit Avery Goelz is a favorite to watch and a top five Hot 100 recruit. Goelz is not only a tremendous offensive threat, but she is also one of the best defensive first basemen in the country. Named the Florida 8A Offensive Player of the Year for the third year in a row, Goelz has the talent to become a future All-American. Claire Davidson, No. 28 recruit in the 2020 Hot 100 leads the pitching staff and hits behind Goelz in the lineup. Davidson has big-time power at the plate and just led the state of Florida in home runs (13) in the tough class 8A Division. Davidson, who recently opened her recruiting after previously committing to Auburn, is a left-handed pitcher who throws in the low to mid-60s with a bait and hook changeup and riseball. She just finished the high school season with a 10-0 record and won the Florida 8A State Pitcher of the Year. Clemson-commit McKenzie Clark, centerfielder/catcher, is an exciting and explosive athlete who is No. 68 Hot 100 2020 recruit. Rising star, Kali Reis is a 2020 shortstop who just committed to Florida and was ranked No. 80 in the 2020 Hot 100. Middle infielder Jade Moy is steady as they come ranked No. 100 in the 2020 Hot 100. She is committed to Purdue.
Texas Bombers
Texas Bombers Gold 18U certainly has a different look to its roster as it graduated five starters from last years team. The youth that has taken the place of those veteran starters comes battle tested at the highest level. Jessica Mullins (Texas State, 2020) and Ashley Vallejo (McNeese, 2020) come hot off of finishing 3rd at 16U PGF Premier Nationals. They are joined by seniors Ashley Daughtery (Texas A&M, 2019) and Taylor Edwards (LSU, 2019) to complete the Bombers pitching staff. The position players are young as well as they add 6 new infielders alongside senior Chloe Cobb (Texas Tech) joining Cobb are Danieca Coffey (LSU, 2020), Pecan Villa (Texas Tech, 2020) , Crystal Davila (2020 Houston) and Baylea Brandon (LSU, 2021). In the outfield is where the Bombers bring back a ton of experience. Brionna Warren (Texas A&M, 2020) anchors the group in centerfield, joining her as returners are Payton Jackson (Texas Tech), Tori Whillock (Texas Tech) and Sydney Fritsch (Texas A&M). The Bombers catching staff is as good as it gets, returning catcher Cait Calland (LSU) is joined by JJ Smith (Texas, 2020). Offensively this group brings a solid blend of speed and power and has the unique ability to play an entire left-handed lineup if it chooses to. Defensively is where this team will hang its hat as this group could be the best defensive team the Bombers have ever run out on a field.
Scrap Yard Internationals
This team is having a great summer our program always likes to peak at the right time and the way we travel brings the chemistry of the athletes to their peak during summer. This summer will be particularly challenging as they have 4 straight weeks on the road. Coming off of Colorado Power Pool #1 seed in single Elimination and losing to the eventual winner, they are now in Canada dominating that field. Emily Kennedy (Texas A&M, 2021) 6-foot-3 lefty pitcher committed to Texas A&M. This kid continues to grow as an athlete and a young woman. She's a force to be reckoned with and you should keep an eye on her for the future.
Firecrackers AZ
Firecrackers AZ is led by three seniors: Audrey LeClair (Michigan), Kennedy Wyllie (Michigan State), and Hope Banales (New Mexico). Also returning are 2020 infielders: Sophia and Aris Carroll (Arizona) - both forces to be reckoned with at the plate. Their pitching staff is well-rounded with 2020 Jacie Hambrick (Grand Canyon) and a pitcher that's recently been on everybody's radar: Raci Miranda. She's a 6-foot pitcher throwing between 62-64 mph. Firecrackers AZ have also added some new players this summer including Kayt Leyvas, (Grand Canyon) a dynamic player who bats from the left side.
Louisville Lady Sluggers - Huecker
This Lady Sluggers team has the key components to excel at all facets of the game. The pitching staff will be anchored by 2019 Wisconsin commit Abby Herbst Flosoftball 52nd ranked player—as well as 2020 Florida State commit Jeya Prasad Flosoftball 67th ranked player and Nijaree Canady ranked 17th in the 2022 Class uncommitted. Canady will be one of the best pitchers in that class to watch in the tournament. Their defense is led by 2019 Kentucky commit shortstop Emmy Blane who's ranked 8th in the 2019 class as well as utility player Purdue Commit Cora Bassett 63rd in the Hot 100 rankings in the 2019 Class. Leadoff Morgan Zuege utility player will be a top player to watch in the 2020 class. Madison "Pickle" Winkler FloSoftball Hot 100 player in 2022 Class has the potential to have a break out summer.
Texas Glory - Shelton
Last season Texas Glory had an outstanding run during the summer ranked No. 3. The squad returns a veteran core that includes six starters and two pitchers bolster a lineup that has added additional strength on defense and at the plate. Already off to a solid start, Texas Glory won the 2019 Triple Crown TX State Championship that included most of the top teams in Texas. Hot 100 infielder Trinity Cannon (2020, Texas A&M) possesses base stealing speed, tremendous power, and is "Just a monster," said Kevin Shelton, Glory head coach. One of the scariest hitters to watch will be LSU commit Hayden Brown. Oklahoma signee Rylie Boone is dynamic and powerful at the plate and you'll find her roaming the outfield. She is an important catalyst for the team. The pitching quartet of Jaycee Cook (2019, UAB), Mattie Boyd (2019, Oklahoma State), Savanna Desrochers (2020, Kansas) and Raelin Chaffin (2021, LSU) are formidable and can keep them in every game. New edition Karli Petty (2019, Oklahoma State) plays all over the infield and adds power and versatility from the left side of the plate.
TN Fury Platinum 19/20
Fury has a balanced combination of power and speed with talented players committed to some of the top programs including Alabama, Florida State, and Tennessee. This club is led by Alabama signee Jenna Johnson who's known to hit for a high average, power, and is certainly one of the best defensive center fielders in the country. Johnson is a fearless competitor with great speed and a very high softball IQ. Future FSU Seminole Kalei Harding possesses incredible athletic ability and is physically imposing on the field. She plays both catcher and shortstop at a very high level. Expect her to play a key part during the tournament. Another shortstop/catcher to watch for is Tennessee commit Josie Willingham. A dynamic athlete with a rifle for an arm, Willingham will be fun to watch. In the circle, expect Rutgers signee Jaden Vickers to play a pivotal role. The southpaw throws in the mid-60s with a cutter and riseball that leaves hitters guessing.
More teams to watch for:
Aces Express - McCorkle
Atlanta Premier Gold
Glory Adkins Gold
PA Chaos Gold
RI Thunder Gold - Lotti
Texas CF Intruders
Firecrackers Sewell Premier
Lady Lightning Gold DPS