2019 16U PGF Premier Nationals
16U PGF Premier: Premier, Bombers, Bandits, Athletics Lock In Quarterfinals
16U PGF Premier: Premier, Bombers, Bandits, Athletics Lock In Quarterfinals
Iowa Premier, Texas Bombers, Bandits Conroy, Athletics Mercado/Greg move into the 16U PGF Premier quarterfinals.
Jul 26, 2019
by Manny Alvarez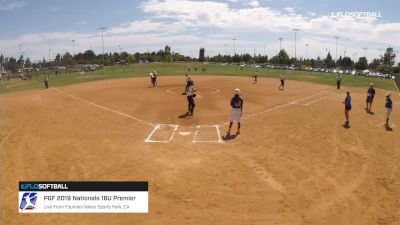 Unlock this video, live events, and more with a subscription!
Get Started
Already a subscriber? Log In
Margaret Tobias has been on fire in the So Cal heat all week at the PGF 16U Premier Nationals.
Tobias, who led off the game with a triple and scored on a sacrifice fly, went 3 for 3 with a triple and a double to lead Iowa Premier Gold to a 6-2 victory over Tennessee Mojo-Lewis in the fourth round of the winner's bracket on Thursday afternoon at Fountain Valley Sports Complex.
The victory sent Iowa Premier to the semifinals on Friday at 10:45 a.m. when it takes on Texas Bombers-Jones, a 4-1 winner over Oklahoma Athletics-Madden.
Tobias has now hit in 11 consecutive at-bats.
"We just took things from the other team," said Tobias, who also stole two bases. "If you take things from the other team, that is how you win. We always have to win pitches. We really just stayed focused the entire game even after they started to come back a little bit. We just have to keep scoring runs and focusing at the plate."
Iowa Premier added on in the third inning with a single from Emma Christensen, who moved to third base on an infield single from Avery Carnahan. With Tobias up at the plate, Carnahan attempted to steal second and got tagged out, but while getting tagged out, Christensen scored from third base to make it 2-0.
Tobias ended up doubling and scoring after a pick-off throw from the catcher went past the second baseman into center field to make it 3-0.
Jordy Bahl was in control for the first four innings of the game, striking out eight batters, but the Mojo finally figured her out in the fifth inning thanks to a lead-off solo home run from Ohio-commit Emya Munford.
Jessie Blaine drew a walk and eventually scored to cut Iowa Premier's lead to one.
Bahl regrouped and go with her defense as she retired the final seven batters of the game.
"When she hit that home run, I knew I missed my spot," Bahl said. "I knew I threw it down the middle. I wasn't going to let that happen again and I wasn't going to stress out. My defense behind me has been solid all week. As long as I focus on hitting my spots and not get frustrated over that one pitch, then we are good."
Iowa Premier added on in the fifth inning after Tobias third hit of the game. She stole second and third and got home on an overthrow to third base. Iowa added two more runs thanks to a single from Chloe Woldruff and an infield error that put Bahl at first. Mya Dodge drove in both runners with a double.
"Our defense made too many errors," Mojo coach Brittany Lewis said. "We had three unearned runs. That was the difference. When you play good teams, you can't make mistakes like that on defense. We had some miscues on where we are supposed to be on a bunt and they stole bags. They were super aggressive. I think we came out pressing a little too much, but credit to their pitcher. She has a great arm. We made some good adjustments, but our defense let us down in this game."
Aayanah Hughes and Middle Tennessee State-commit Danielle Taitt each went 1 for 3. Taitt threw six innings while giving up nine hits and three earned runs for Mojo, which takes on Indiana Magic-Rudd, a 2-1 winner over Birmingham Thunderbolts, on Friday at 8 a.m.
Dodge went 2 for 3 with the two-run double and Bahl struck out eight on three hits for the complete-game victory for Iowa Premier, which is just two wins away from the PGF National Championship game.
"We just have to take the next one," Iowa Premier coach Greg Dickel said. "There's two we have to get, but we just want the next one against the Texas Bombers."
In other PGF 16U Premier games:
Texas Bombers-Jones 4, Oklahoma Athletics-Madden 1
Aaliyah Ortiz went 2 for 3 with a solo home run and an RBI double to lead the Texas Bombers to the semifinals.
Kramer Eschete went 1 for 2 with an RBI double and Sophia Simpson struck out six on 4.2 innings of work to get the win for the Bombers, who play on Friday at 10:15 a.m. against Iowa Premier.
Shannon Pursell went 1 for 3 with an RBI double and North Texas-commit Janie Worthington struck out eight in six innings of work for Oklahoma Athletics, which takes on the Texas Dirt Divas, a 3-2 winner over Firecrackers-Brashear, on Friday at 8 a.m.
Beverly Bandits-Conroy 11, Corona Angels-Slye 0
A 7-run first inning, including back-to-back home runs from Anna Holloway and Lillian Vallimont, was more than enough for pitcher Regan Krause to lead the Beverly Bandits to the semifinals.
Halloway went 2 for 3 with three RBIs, including the two-run home run, while Vallimont went 2 for 3, including the solo home run and Krause struck out five, while giving up two hits in four innings of work for the Bandits, who take on Athletics Mercado-Greg on Friday at 10:15 a.m.
"We set the tone of the game," Krause said. "We came out and scored seven runs in the first inning, which was huge. Letting me pitch with a lead is nice. Anna's three-run bomb was crazy and Lillian to follow it up was awesome."
Cal State Fullerton-commit Kaitlyn Humphreys went 1 for 2 for the Angels, who take on So Cal Athletics-Briggs, a 3-2 winner over EC Bullets CA, on Friday at 8 a.m.
Athletics Mercado-Greg 2, Tampa Mustangs-Maguire 0
Stevie Hansen threw 6 2/3 innings and struck out 13 batters to send the Athletics to the semifinals.
Hansen had her no-hitter broken with two outs in the seventh inning off the bat of Central Florida-commit Destiny Dehoyos.
Kelly Breen drove in a run and Makenna Gibson went 2 for 2 for Athletics-Mercado, which takes on Beverly Bandits-Conroy on Friday at 10:15 a.m.
"I just went with the flow," Hansen said. "I just didn't want to think about it because I didn't want to get in my head."
Kaitlyn Felton threw six innings for the Mustangs, who take on So Cal Choppers-Fausett on Friday at 8 a.m.
Indiana Magic-Rudd 2, Birmingham Thunderbolts 1
Duke-commit Sarah Goddard pulled off the walk-off suicide squeeze to third base that sent Indiana-commit Brooke Benson home to keep the Magic alive.
Benson went 1 for 4 with a solo home run in the fifth inning and Tennessee-commit Amber Linton threw nine innings and struck out six for the Magic, who take on Tennesse Mojo-Lewis on Friday at 8 a.m.
Taylor Middlebrook went 2 for 2 with a run scored and Jaala Torrence threw four innings of relief while striking out four for the Thunderbolts.
So Cal Choppers-Fausett 5, EC Bullets-Biele 1
Allie Enright and Rebekeh Durazo hit back-to-back home runs to keep the Choppers title hopes alive.
Kiki Escobar went 2 for 3 with an RBI and Wisconsin-commit Ava Justman threw a complete game to get the win for the Choppers, who face Tampa Mustangs-Maguire on Friday at 8 a.m.
Avery Fantucci went 2 for 3 with an RBI and Lexie Delbrey struck out nine in five innings of work for the Bullets.
16U PREMIER PGF NATIONALS SCOREBOARD
WINNER'S BRACKET A
FIFTH ROUND
Iowa Premier Gold 6, Tennessee Mojo-Lewis 2
Texas Bombers-Jones 4, Oklahoma Athletics-Madden 1
WINNER'S BRACKET B
FIFTH ROUND
Beverly Bandits-Conroy 11, Corona Angels-Slye 0 (5 innings)
Athletics Mercado-Greg 2, Tampa Mustangs-Maguire 0
LOSER'S BRACKET A
FOURTH ROUND
NW Bullets-Muir 1, Ohana Tigers-Quarles 0
Texas Dirt Divas 5, Georgia Impact-Gusaeff 4
Birmingham Thunderbolts 15, ACES Ashley 3
Diamond Sports Hotshots-Falterman 9, Carolina Cardinals National 0
FIFTH ROUND
Firecrackers-Brashear 10, NW Bullets-Muir 4
Texas Dirt Divas 5, Aces Express Futures 1
Birmingham Thunderbolts 12, Beverly Bandits DeMarini-Helbling 6
Indiana Magic-Rudd 3, Diamond Sports Hotshots-Falterman 2
SIXTH ROUND
Texas Dirt Divas 3, Firecrackers-Brashear 2
Indiana Magic-Rudd 2, Birmingham Thunderbolts 1
LOSER'S BRACKET B
THIRD ROUND
Impact Gold-Rodriguez 9, Locomotion 0
AZ Storm-Mathis 6, Firecrackers-Hagberg 1
Easton Preps-Hansen 3, Fury-Sargent 2
EC Bullets-Biele 4, Texas Glory-Naudin 2
So Cal Athletics-Briggs 5, So Cal Athletics-Jendro 2
Lady Magic 4, Colorado Angels Gold 0
Premier Fastpitch-Paulson 7, Illinois Chill Gold 6
EC Bullets-Byars 2, Santa Fe Inferno-Humphrey 1
FOURTH ROUND
AZ Storm-Mathis 7, Impact Gold-Rodriguez 1
EC Bullets-Biele 2, Easton Preps-Hansen 1
So Cal Athletics-Briggs 8, Lady Magic 4
EC Bullets-Byars 5, Premier Fastpitch-Paulson 4
FIFTH ROUND
So Cal Choppers-Fausett 1, AZ Storm-Mathis 0
EC Bullets-Biele 6, OC Batbusters-Lara 0
So Cal Athletics-Briggs 6, Corona Angels-Rogers 0
EC Bullets CA 6, EC Bullets-Byars 0
SIXTH ROUND
So Cal Choppers-Fausett 5, EC Bullets-Biele 1
So Cal Athletics-Briggs 3, EC Bullets CA 2