2019 16U PGF Premier Nationals
Rising Star: 2020, Stanford-Commit Pitcher Regan Krause
Rising Star: 2020, Stanford-Commit Pitcher Regan Krause
How Regan Krause bought into an idea that made her a PGF Premier National Champion.
Aug 13, 2019
by Stephen Kerr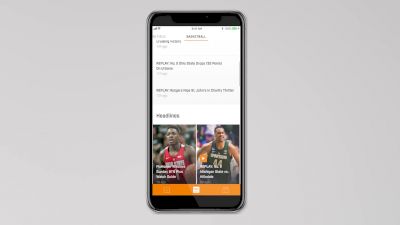 When righthander Regan Krause finished her first season of 16U with Beverly Bandits-Conroy in 2018, she eagerly awaited the release of the 18U roster for the following year, fully expecting to see her name on it.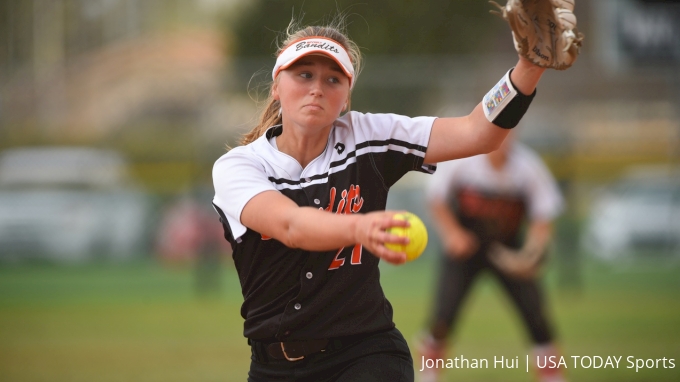 Much to her surprise, she was once again listed as a pitcher for the 16U squad, while many of her other teammates were moving up.
Maybe it was a mistake, she thought.
Buying In
It wasn't. Shortly after getting the news, the 5-foot-10 Krause, who's entering her senior year at Pontiac (Illinois) High, received a call from Bill Conroy, who was moving from the 18U team to 16U for the 2019 season.
"He said this team had a chance to go really far and score a lot of runs," Krause recalled. "He said, "I want you to be our pitcher."
It was certainly a tough sell for Conroy, who called Krause "the workhorse of the team." But, as he told her in that phone conversation, he believed playing another year at 16U would take her and the team all the way to the PGF Premier National title.
"She bought into it, begrudgingly," Conroy admitted with a chuckle. "The group of kids I'd have would be a gritty type, but weren't as physically mature, (and) she didn't have that rapport with them. It took a little while for Regan to buy into things."
Indeed it did. But as the fall progressed, Krause began to see the wisdom of Conroy's decision. As she looks back, she's thankful he convinced her to stay put.
"I made a lot of strong friendships with the girls on this team," Krause said. "With those connections, I was like, "yeah, I want to do this"."
Conroy's instincts proved to be correct. Krause went 17-0 with 120 strikeouts in 85 innings for the Bandits this season. His prediction of winning PGF Nationals came true, as the Bandits edged Texas Bombers-Jones 5-4 in the finals.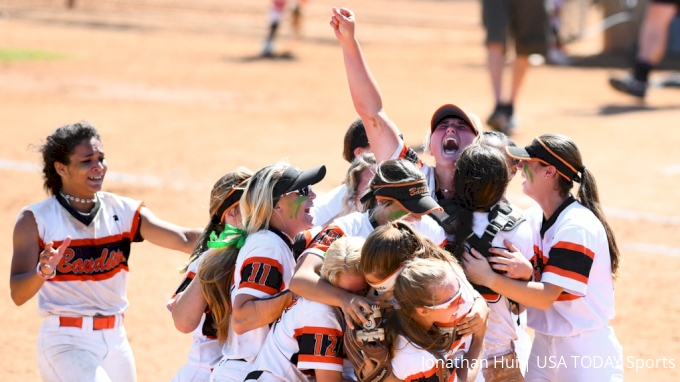 "It still doesn't feel real," Krause said of being a champion. "This team, they have worked so hard. (The practices) are not easy, so going through all those, knowing that they finally paid off, it's a good feeling."
Krause didn't allow an earned run all season until the PGF Premier National Championship game. In the semifinals against Indiana Magic-Rudd, she pitched a one-hitter with six strikeouts for a 2-0 victory. The lone hit didn't come until the sixth inning.
The championship game against the Bombers proved more challenging. Krause gave up her first earned run all year on an RBI single by McNeese State-commit Aaliyah Ortiz in the third inning. With the Bandits leading 4-1 in the sixth, the Bombers stormed back to tie the score, but Krause worked out of a bases-loaded jam to prevent them from taking the lead.
The Bandits scored a run in the top of the seventh to give Krause a 5-4 lead. In the bottom of the inning, the Bombers loaded the bases again with two outs, but Krause forced a groundout to end the threat and start the celebration for the Bandits. Krause gave up four runs and 11 hits, but struck out 11, while the Bombers stranded 11 runners.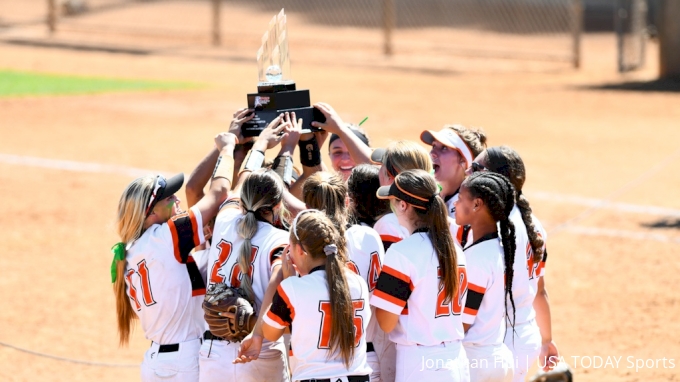 Tenacity
Earning a championship the hard way gave Krause a deeper appreciation of what it takes to reach the top.
"It makes me so grateful for my teammates because they were always there to pick me up," she explained. "They made all the clutch plays. They were amazing."
Conroy admitted he considered relieving Krause, but decided to go with his gut and give her the chance to work her way out of trouble.
"I felt it was Regan's mess, and it was hers to clean up," Conroy said. "Sometimes, you guess right, sometimes you guess wrong. This time, I was happy I guessed right."
For her part, Krause knew Conroy and her teammates had her back the entire time.
"I didn't really think about (being taken out)," Krause said. "I was just in the moment, enjoying it with my team. I knew if I made the pitches that I needed to, they were going to be there to pick me up and get the outs."
Becoming A Bandit
A native of Pontiac, Krause began pitching at age eight. She tried out for several local 12U teams but wasn't selected. Her grandfather, Doug Johns, who taught her the mechanics of pitching, had some connections with the BNGSA Matrix. Krause made the team after a tryout. She remembers the day two years ago when she was first contacted about playing for the Bandits.
"One day, I was sitting in my math class, and I got an email from this guy named Bill Conroy," Krause recalled. "I had no idea who he was. My dad called him, and a few weeks later, I decided to play for them."
At the time, Conroy was coaching the 18U squad, so Krause joined the 16U team coached by Jen Tyrrell. Krause credits Tyrrell with teaching her the mental side of the game.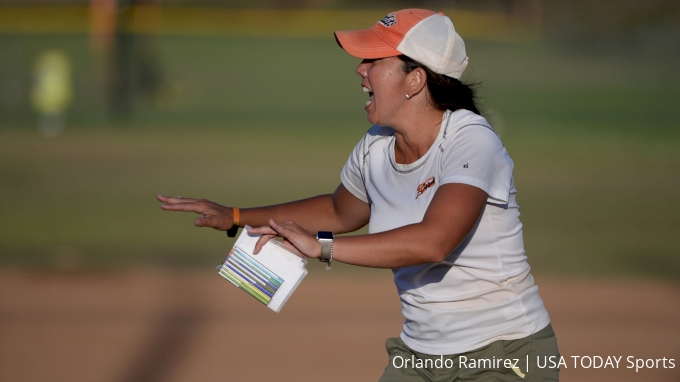 "She expected a lot out of me," Krause said. "She put me in the tough games, the big games. Her confidence in me really helped me grow mentally."
Developing that toughness paid big dividends, particularly in the PGF 16U Premier National Championship game. As a junior for Pontiac High this past season, Krause led the Indians to the top eight at Super-Sectionals. She remembers one regular-season game against Central Catholic that was called after six innings because of heavy rain. Krause struck out 15, walked three and gave up one hit in a 4-0 victory.
"The field was basically mush," she said. "The batter's boxes were awful. There were puddles starting to form, and we were just out there playing."
Krause can throw hard (her fastball has been clocked as high as 67 mph). But her bread-and-butter pitch, according to Conroy, is the drop ball.
"She's got all the pitches in the arsenal that keep batters honest," Conroy explained. "(The drop ball) really falls off the table. We have an excellent defense behind her."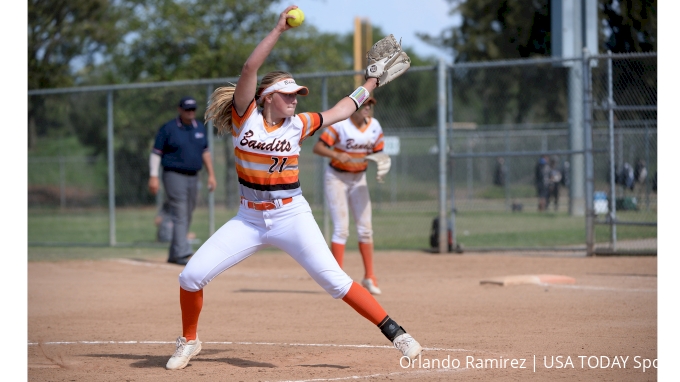 With a PGF title under her belt, Krause's next goal is to lead Pontiac to a state championship in her senior year. Besides the competition, softball has given her some valuable life lessons as well.
"It's taught me to be selfless," she said. "The game isn't about me. It's about my team and my teammates. I don't do it for myself. All the glory goes to God, and I do it for Him.
Regan Krause has verbally committed to play for Stanford.