WBSC Olympic Qualifier (Asia-Oceania)
WBSC Asia/Oceania Olympic Qualifier: How To Watch, Time, & Live Stream Info
WBSC Asia/Oceania Olympic Qualifier: How To Watch, Time, & Live Stream Info
The final WBSC Softball Qualifier September 23-28 will be streamed LIVE on FloSoftball from Shanghai, China.
Sep 13, 2019
by Chez Sievers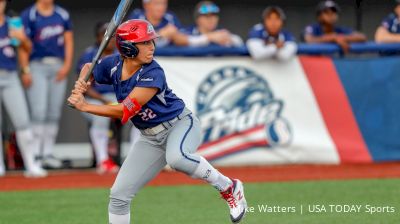 The WBSC Softball Asia/Oceania Qualifier will stream LIVE on FloSoftball from Shanghai, China September 23-28. The top six National Teams from the Asian Softball Cup final standings and the top two ranked National Teams from Oceania will play for the last remaining spot for the Tokyo 2020 Olympics.
Group A
No. 8 China
No. 11 New Zealand
No. 13 Philippines
No. 23 Korea
Group B
No. 6 Chinese Taipei
No. 7 Australia
No. 37 Indonesia
No. 42 Hong Kong
---
How to Watch
On TV: Now Available on Roku & Apple TV 4
On The Go: Download the iOS app.
STREAMING: Yearly PRO access is to ALL FloSports sites. SIGN UP HERE.
---
Monday, September 23 (All times listed in CT)
Date
Time (CT)
Matchup
9/23
9:00 PM
India
vs
Hong Kong
9/23
11:30 PM
Australia
vs
Chinese Taipei
Tuesday, September 24 (All times listed in CT)
Date
Time (CT)
Matchup
9/24
2:00 AM
New Zealand
vs
China
9/24
4:30 AM
Philippines
vs
South Korea
9/24
9:00 PM
Hong Kong
vs
Chinese Taipei
9/24
11:30 PM
India
vs
Australia
Wednesday, September 25 (All times listed in CT)
Date
Time (CT)
Matchup
9/25
2:00 AM
China
vs
Philippines
9/25
4:30 AM
South Korea
vs
New Zealand
9/25
9:00 PM
Chinese Taipei
vs
India
9/25
11:30 PM
Philippines
vs
New Zealand
Thursday, September 26 (All times listed in CT)
Date
Time (CT)
Matchup
9/26
2:00 AM
South Korea
vs
China
9/26
4:30 AM
Hong Kong
vs
Australia
Friday, September 27 (All times listed in CT)
Date
Time (CT)
Matchup
9/27
2:00 AM
A2
vs
B1
9/27
4:30 AM
B2
vs
A1
Saturday, September 28 (All times listed in CT)
Date
Time (CT)
Matchup
9/28
2:00 AM
A2
vs
B2
9/28
4:30 AM
A1
vs
B1