Rising Stars: From Club To College Softball
Rising Star: How 2020 Pitcher Taylor Caudill Adapts & Thrives
Rising Star: How 2020 Pitcher Taylor Caudill Adapts & Thrives
How 2020 Pitcher Taylor Caudill went from soccer, swimming, and dance to PGF MVP and Platinum Champion.
Sep 20, 2019
by Stephen Kerr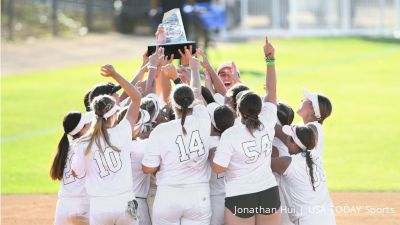 Unlock this video, live events, and more with a subscription!
Get Started
Already a subscriber? Log In
Monarchs 16U Gold right-hander Taylor Caudill is used to proving people wrong. When the southern California native decided to play softball exclusively, people told her she was too short. But she played anyway and even experienced a growth spurt (she's currently 5-foot-9).
After several years as a shortstop, she wanted to start pitching. But you're a natural at shortstop, she was told. You should stay with that.
Once again, she defied the doubters.
With the help of pitching instructor Chrissy Haines and Monarchs coach Jeff Blanco, Caudill developed a changeup, curve, and screwball. This past season, she led the Monarchs 16U squad to a PGF Premier Nationals championship.
"My main goal is to prove people wrong, and to make myself and my parents proud," she explained.
Taylor's mother, Wendy, believes one of the keys to her daughter's success has been the ability to turn other people's perceptions into positive results.
Making A Change
"She is very adaptable," Wendy said. "What we talked about is if someone tells you that (you should) do something else, then just go be the best at that."
Three years ago, Taylor decided to make pitching her primary position. The question then became: How much interest would a late bloomer like her draw from major college programs? A number of mid-major and small Division I schools recruited her, but none of them felt like an ideal fit. Taylor also developed shoulder problems that slowed her development.
It wasn't until a couple of weeks after winning PGF that she committed to Boise State. While she admits the timing was later than most commits, she's grateful that everything worked out the way it did.
"I just focused on myself, focused on finding a school that's the right fit, knowing that it's going to be OK, that I'm going to be happy," she said. "Now that it's happened, I'm not as stressed as I was a couple of months ago."
Taylor played several sports growing up, including soccer, swimming, and competitive dance. Wendy vividly remembers the moment Taylor decided to focus exclusively on softball. One day when she was 11, Taylor had a dance competition in the morning, followed almost immediately by an All-Star softball game. She went straight from the stage to the field, changing into her uniform during the car ride. In her rush to get to the game, she didn't have time to wash off the makeup and lipstick she was still wearing.
"The game was starting, she ran out to first base, and I was following behind and got to the stands," Wendy recalled. "Then, I hear some moms going, "does that girl have makeup on? Why is her hair like that"? She came right out, played first base, and the next inning hit a double or triple or something. People were just laughing."
It was then Taylor decided she would rather play softball for several hours than compete for a few minutes on the stage. She joined the Monarchs in 2016, the year they were formed. As impressed as he is with Taylor's talent, Blanco believes the mental toughness she's acquired is her greatest asset.
"It's the driving force," Blanco said. "She has another gear she can go to when she needs it. When things get tough, she comes back even stronger. That's a quality only the best pitchers have."
Perhaps the greatest example of that came in the Monarchs' 3-1 victory over the Orland Park A's in the PGF Premier Nationals championship game. Taylor struck out 10 and didn't allow an earned run. She also singled in the first inning to score the Monarchs' first run.
In the fourth, Taylor gave up a double that tied the score, but a double play got her out of further trouble. The A's loaded the bases in the seventh with one out and the Monarchs leading 3-1. That's when Blanco went to the circle for a pep talk.
"I told her if they were to show a graphic right now on TV of the percentages of us winning this game, ours are still very high," Blanco said. "They still have to make plays to get the win. Just concentrate on these last two batters. You have enough to get them out."
He was right. Taylor induced a groundout and an infield popup that snuffed out the threat, preserving the championship for the Monarchs.
"I think I was more focused on finishing the game than actually attacking the batter," Taylor recalled of the seventh inning. "I got a little angry at myself for letting that happen, considering what I had done in previous innings. I focused on not letting my team down, because we had done so much to get there. It's not just pitching that wins games, it's the defense behind you and the hitting that helps a lot."
Taylor was named the tournament's Most Valuable Pitcher, posting an 8-1 record with a 0.63 ERA. In 55.33 innings, she struck out 85, allowing 12 walks and 32 hits. In 21 of those innings, she set down the batting order 1, 2, 3. Her ability to pitch hitters inside was another major factor in her success.
"My inside pitch is definitely the one that gets them choked up most of the time," Taylor said. "We focus a lot on going up-and-in, getting them off the plate and getting their eyes to see a faster pitch."
The Future
During her freshman and sophomore seasons of high school, Taylor led Woodbridge High to consecutive league championships. After her younger brother Kyle, a golfer, transferred to JSerra, Taylor decided to join him. It was quite an adjustment going from a school that had a jayvee and varsity softball team to a smaller program. But, as in every other challenge she's faced, Taylor took it all in stride. The team finished .500 this past season.
"Some people may not think that's great, but considering the development we had as a team, the bond we created is better," Taylor said. "Of course, I would have loved to win, but it was still nice to know that I had a new group of girls I could go to."
Wendy believes her daughter's adaptability, along with a high softball intelligence, will serve her well as she moves up to the Monarchs 18U squad, graduates from high school, and enters the world of Division I softball.
"The coaches at Boise aren't just good coaches, they're good people," Wendy explained. "I think that's going to help with her transition, the environment, and the city. I think all those things will tie in together. To be a pitcher, you have to be the one who says, "I'm going to do this", and have that personality. Those people tend to do better in most environments because they have that backbone and tenacity."