2020 Top Club National Championship 16U
Rising Star: Speedster Reagan Johnson Is Lightning For The Thunderbolts
Rising Star: Speedster Reagan Johnson Is Lightning For The Thunderbolts
Centerfielder Reagan Johnson is quickly becoming one of the most sought after triple threats in Texas. Here's why.
Dec 9, 2019
by Stephen Kerr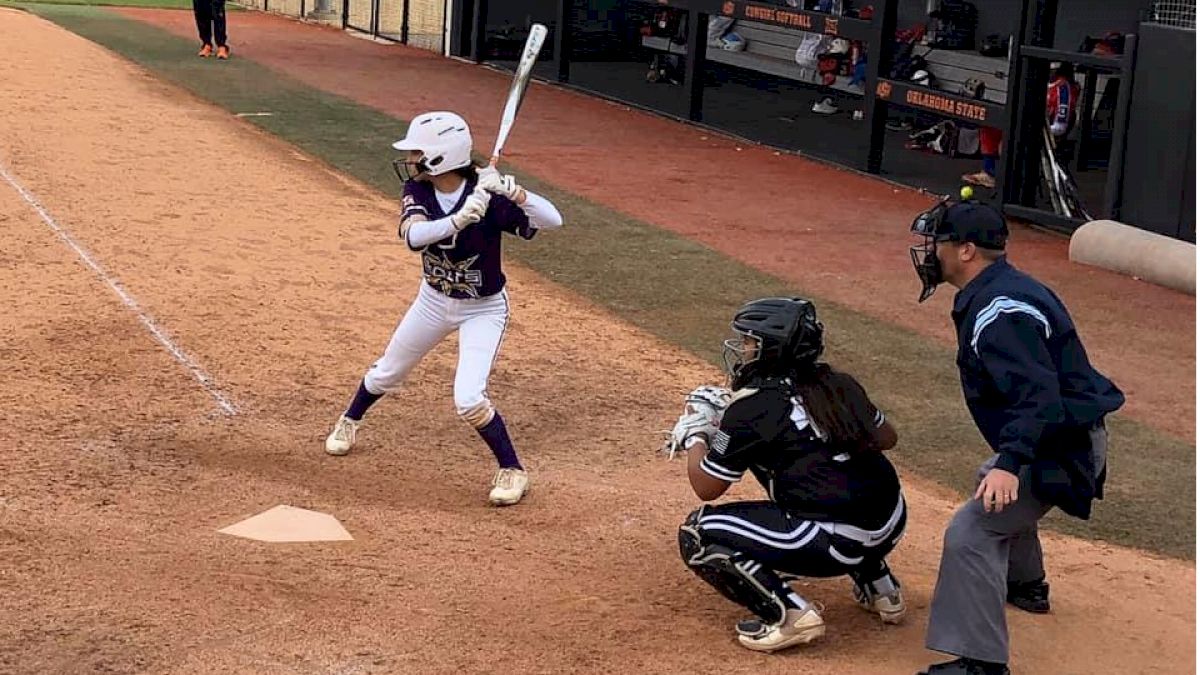 When Jay Roberson took over as head coach for the Birmingham Thunderbolts 16U squad this season, he inherited a team loaded with power. Through the first 20 games this fall, the Bolts have already hit 32 home runs.
What he really needed, Roberson realized, was more speed. In his 13 years of coaching travel ball and organizing events like the Bolts 5 Star Showcases, Roberson has sent over 50 players to Power Five schools and had accumulated an extensive list of contacts.
So he began making phone calls, looking for a player who was not only fast, but a great hitter. In every conversation, he kept hearing the same phrase: Reagan Johnson is the one you want.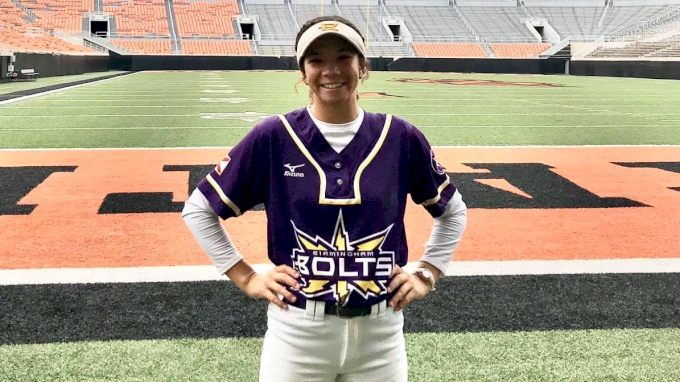 There was only one problem. Johnson, a native of San Antonio, was already playing for Texas Blaze-United Davis, a team she had been with the past four years. She hadn't given any thought to playing anywhere else until Roberson called.
Johnson talked it over with her parents, Stephenie and David, who at first were concerned about the logistics of playing for a team in another state. In the end, they left the decision up to their daughter.
"It was a great opportunity for me to play with some of the best players in the country, and compete against some of the best as well," said Reagan, a 5-foot-4 left-handed hitter and center fielder.
To say Reagan will provide the Thunderbolts with lightning speed isn't just a play on words. According to OnDeck, her time from home to first base is an outstanding 2.62. She swiped 23 bases for Texas Blaze last fall without being caught, and 55 during her freshman year at Karnes City High School, where she also stars on the track team. As a freshman, she finished as the state runner-up in the 300-meter hurdles, losing by just .02 seconds to a senior. She was a regional qualifier in the long jump, 400-meter, and 1600-meter relay.
"I run a lot," Reagan explained. "When I think about (running), I'm like, "I don't want to". But once I'm doing it, I love running."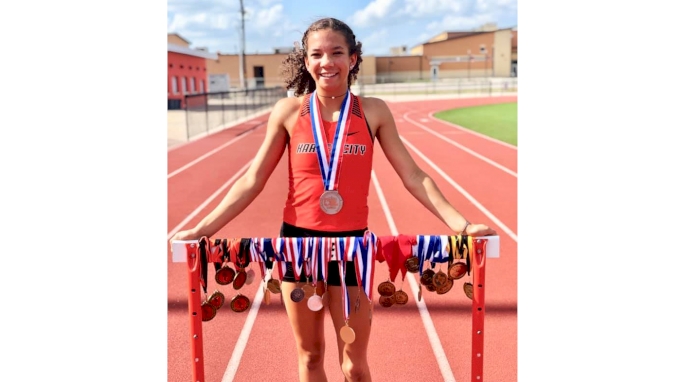 The combination of speed, slap hitting and power will make Reagan an additional weapon in an already powerful Thunderbolt lineup.
"She's a triple threat," Roberson said. "She'll do everything for us: swing away, slap, power slap, everything."
Stephenie estimates her daughter has hit at least five inside-the-park home runs during her travel ball career. One of them came during a Blaze game against Texas Bombers Gold at last month's Texas Gold Cup. Reagan hit a two-out, two-RBI inside-the-park homer through a defensive shift. It proved to be the difference in a 3-1 Blaze victory.
"I had two strikes," Reagan recalled. "I was like, "I'm getting a hit". The next pitch was inside. I pulled it, and hit it almost over the fence."
Her speed also comes in handy on defense. In that same game, Reagan made a diving catch in left-center that took away a potential extra-base hit in the first inning. She enjoys the constant movement and action the position requires.
"It's the best position of the outfield," she said. "You get to see everything. I like being busy. I don't like just standing there. It's boring. Once the ball is hit, I'm going to go get it."
Reagan played soccer and ran track growing up. But she has always been fascinated with softball. As a little girl, she would often watch college softball games on television.
"I thought it was the coolest thing ever," Reagan recalled. "I used to walk around and mimic the pitchers. I finally started playing Little League, and just fell in love with it."
Stephenie began to realize her daughter could become a special player at the 10U level when Reagan first began playing for a rec team called No Fear.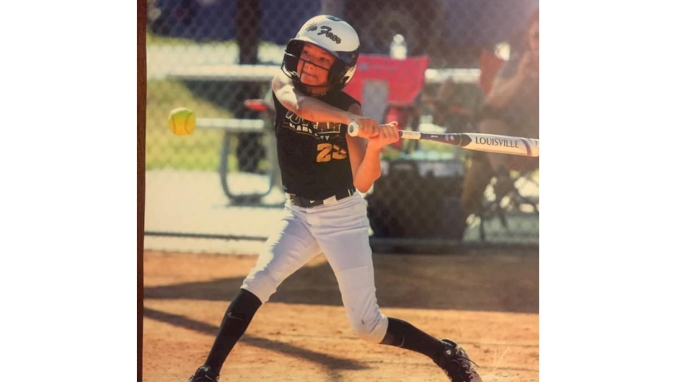 "She was running circles around everybody," Stephenie said. "We were shocked. We knew she was athletic, but she took to it quickly."
Like many parents, Stephenie and David were caught a bit off guard by the intensity and competition of travel ball. Reagan, however, seemed mostly unfazed by the transition.
"When she played her first year of 12U, she was asked to play with the 14U team at the Colorado Sparkler (tournament)," Stephenie said. "The first game, there were about 12 DI coaches there. She's always been very focused, and she works hard. We don't have to do a lot of prodding. She's disciplined about putting in the extra work."
As a freshman for Karnes City High last season, Reagan batted .583 and led the team to the regional quarterfinals. She was named Offensive Player of the Year in District 27-3A and believes the team can reach even greater heights this season. She saw her first action with the Thunderbolts at an elite camp this past weekend at Oklahoma State. She's excited about getting acquainted with her new teammates.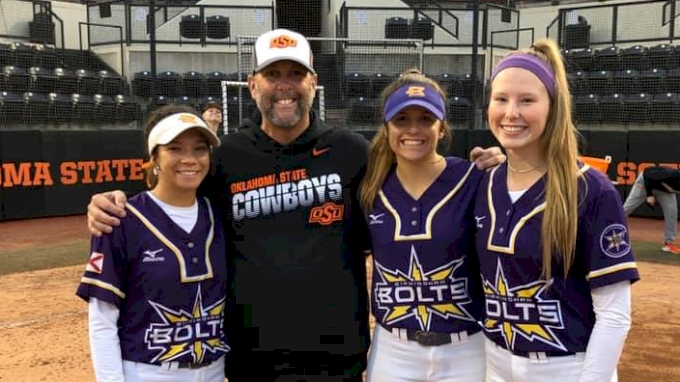 "I'm ready for the change, to be honest," she explained. "I hope to have the chance to compete for a national championship this year."
Once college recruiters are allowed to contact Reagan in her junior year, Roberson fully expects her to garner interest from plenty of Power Five programs.
"She brings a lot of competitive spirit to the team," Roberson said. "The kid really wants to be good. It's really important to her. She's a really hard worker during the offseason. You can have a very talented team, but if they don't have any toughness and grit, you can't win with them, no matter how good they are. She's a gritty, tough player."